A few weeks ago, we ran the
Color Me Rad 5K
race. What's the Color Me Rad race you ask...well it's the most colorful 5K you will ever run! (according to their website)
Like many races, this one benefited the
Leukemia & Lymphoma Society Team in Training of Central Ohio
and it really was a fun way to run a race. Basically the race was divided up into different sections and as you completed a section you ran through a color station where they threw colored cornstarch, or colored liquid, at you so when you complete you are completly tie-dyed!
Here we are all clean before the race. They gave us these 80's Ray Ban type glasses when we picked up our race packets and it was great for keeping the color out of our eyes.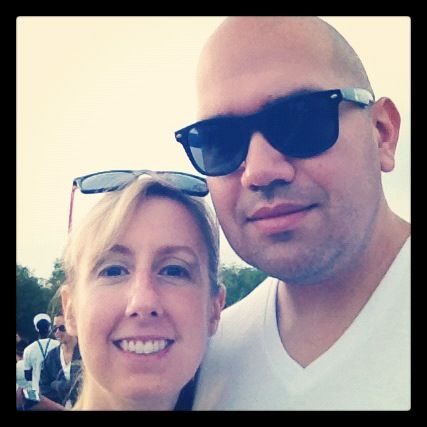 The first station was a pink powder and I hardly got any on me. I was a little bummed that my shirt wasn't going to get any color on me. Then I hit the next station where they shot colored liquid (not sure what it was) on me, and of course I got hit. I wasn't expecting the colored liquid and it was a little cold at first, but felt good at the end. We started the race at 8 am, so even though it was the middle of August, it was still somewhat cool that morning. Throughout the race we were hit with pink, yellow, blue, purple and green color.
By the end of the race this is what we looked like. I didn't get too much color on me until the end where we both got color bombed. They give you a packet of color at the end of the race and every 15 mins those who have completed the race get to throw their color up in the air (or bomb it at other people, like the back of my ear), for a fun color party!
So how did I keep my hair so clean, by wearing an old baseball cap and so glad I did. The color was supposed to wash out, but it took some scrubbing to get it off of our skin. At first I was afraid I was going to look like this all day, and I had a baby shower to go to later that day, so I was freaking out just a bit. Luckily it all came off, but not sure how well it would have came out of my hair. The FAQ section on the website said it might take a couple of washings.
We saved our shirts and the FAQ section stated that if we washed our shirts in vinegar and then ironed them that the color would stay in the shirts. We have not tried this yet, but I should do that soon...they are probably a little stinky...ha!
This was my first ever 5K race, and I am not a runner, but this was a ton of fun. We completed the race in 28 mins, but I don't think it was set up for a full 5K because I am not very fast and it takes me more like 33 mins to run a 5K. I was able to run almost the entire way and only had to stop once for about 2 or 3 mins to catch my breath. Pretty good for being a beginner runner.
I totally want to do another race, and there is a Zombie race coming up in October that looks like a lot of fun, so we will see what we end up doing next.