This is Abby, also known as The Beagle. She may seem like a sweet little puppy, and she is, but she is also very very bad.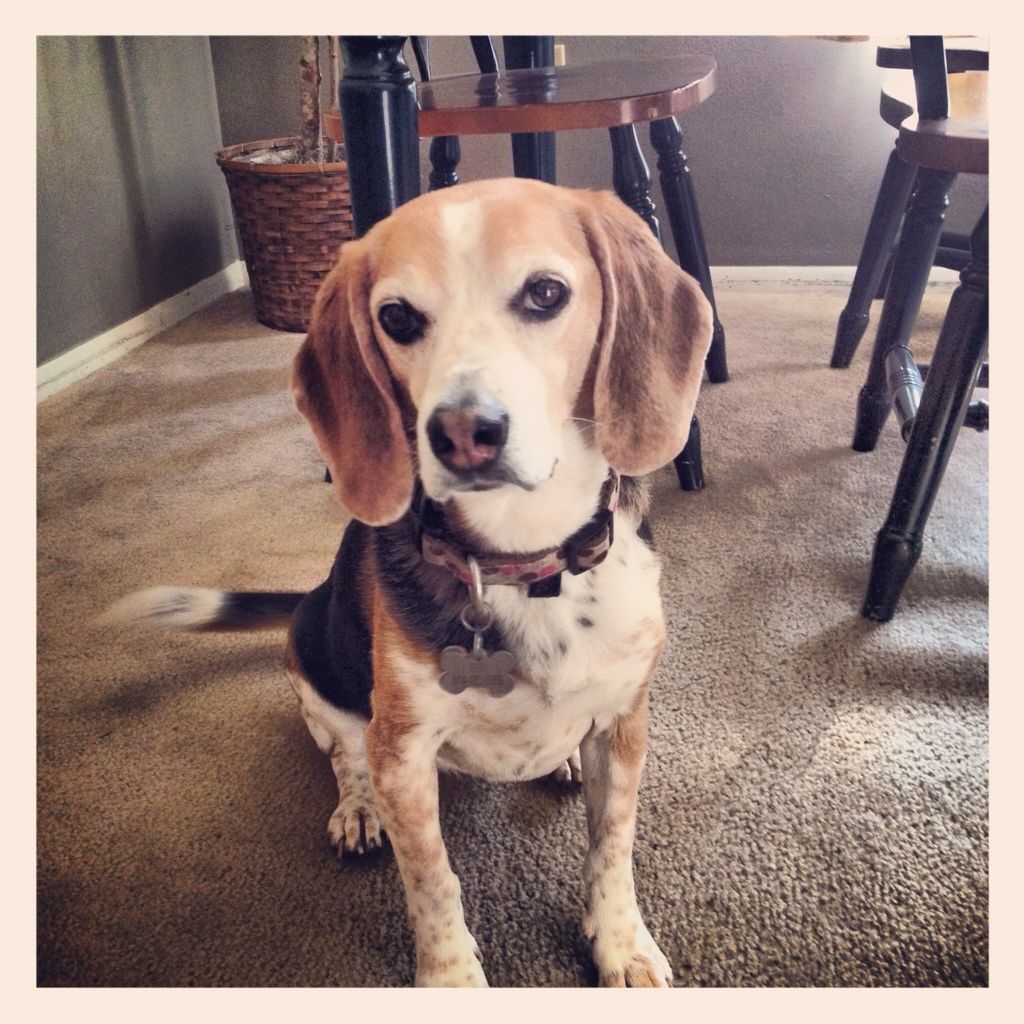 It all started a few years ago.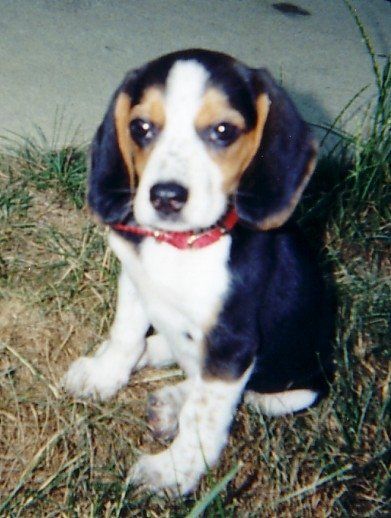 Ok, so she wasn't a puppy when it all began, but isn't she cute here! Just had to share :)
No really it all started about 4 years ago, when Abby was about 6 years old. Abby had some seperation anxiety issues and she was very food obsessed. She had been known to knock food off of the counter, and we joked she had a "Go Go Gadget Neck", you know like Inspector Gadget. I remember she knocked a full pumpkin pie off of the counter one year at Christmas. I thought my Mom was going to kill her, and my Grandmother was just shocked becase she did it right in front of us. But for the most part she was a somewhat behaved beagle, as long as I kept food off of the counter and kept the trash cans locked up.
Well around New Years, 4 years ago, she got really sick. She was lethargic and wouldn't eat for about 3 days. I finally took her into the vet and her red blood cell count was extremly low. They told me if I had waited just one more day, she might have died. They weren't sure at the time what was causing it, and still to this day don't really know what caused it. A radiologist said she was a "Medical Mystery" Here she is as one very sick little puppy.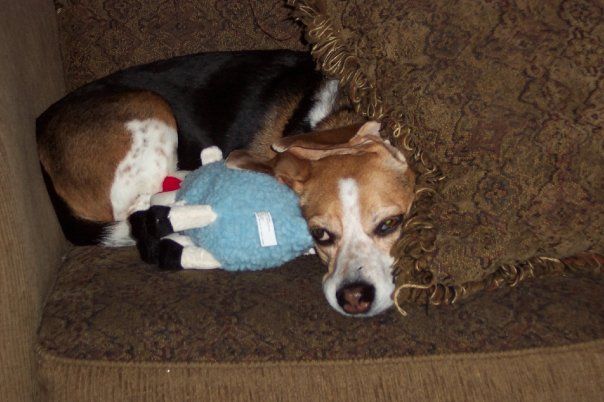 They ended up putting her on a very high dose of prednisone, and I am not sure exactly, since it was a while ago, but I think she was taking about 40 mg per day, and she was only a 30 lb beagle. Needless to say, this caused her to be kinda crazy, and so very hungry. She would beg for food constantly. The vet said to add a can of green beans or a handful of carrots to her food to help fill her up. Well she got so hungry that she started getting into my fridge and pantry and cleaning me out.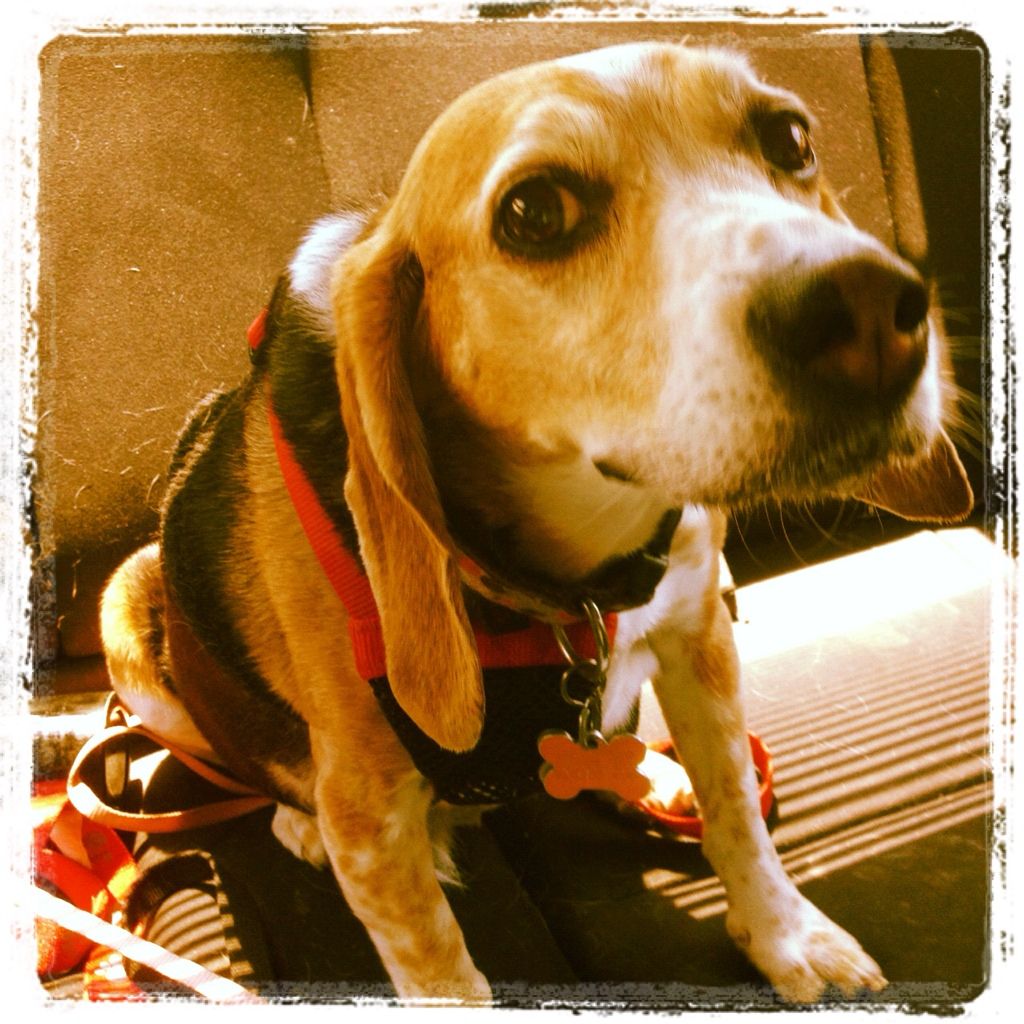 Yep that is her I am about to get into trouble look....or her I swear I didn't do it, but yet there is empty food containers all over the floor and the fridge is empty, look.
So for a couple of weeks I couldn't get her to stay out of the fridge/pantry. I would come home and find food all over my living room, and the fridge door open. Sometimes there would be egg shells broken all over the kitchen floor. One time I found a can of green beans she opened with her teeth, like a can opener. She was also really good at opening bottles, like unscrewing them, with little to no teeth marks.
She was also really good at hiding things for a snack later. I would find cheese singles in the couch cushions, and lunch meat in my bed. One time she got a roast and hid it in my pillow case. I had no idea she got into it, and I walked into my bedroom and was like, why am I smelling roast beef? It took me a while to find it in my pillow. And the funny thing is, she gets mad when I find her stash. Like she is ticked off that I stole her snack...Oh Beagle!
Up until recently, when she started staying over at Ricks, I had installed a baby gate that went across the entrance to my kitchen in my apartment. Oh and for a while she even figured out how to bust through the baby gate, so I had to keep a dog crate in front of it for a few years, and then learned how to bungee cord it all up to keep it closed. Yep, too smart for her own good.
So now that she is at Rick's, and has had a few instances getting into his fridge and trash, we have installed a temporary gate on his landing to keep her off of the first floor.
And because she has already escaped said gate twice now, we had to reinforce it with multiple bungee cords, and a 25 lb weight. I mean who else has a dog that does this? I totally want to meet you if you do!
Abby is really such a smart dog, and I'll admit for a while I had to work some long hours, so she had probably spent way to much time alone, plotting ways to outsmart me. And she has been very successful so far...ha! People are always asking, "How does she do it?" Well she sticks her little toenails into the ribbing around the fridge door and just opens it up with her paw. Once she gets it a little open, she wiggles her body into the fridge to fully open it up and starts feeding away. Yes I have seen her do it, she has opened it a few times while I was standing in the kitchen.
When I tell my story, people are always telling me, you should take a video next time. Well I sure hope there isn't a next time, but I am sure there will be...ha! I keep joking we need to install a video camera like this one (which I watched non stop all night last night...aren't they so cute!).
Maybe some day we will install a webcam and really see what Abby is up to while we are gone. I am kind of afraid to know :)