Today, thanks to Hurricane Sandy, we had our first snow fall of the season. It was a little sad, but also a little exciting at the same time. Does that make sense? There is still the little kid in me that get's excited over the first snow fall, but then the adult in me remembers that we still have like 5 or 6 months of this, oh and we can't miss work...no snow days for me :(
But it was still fun to watch the puppies get excited over the snow. I think Abby probably gets the most excited. I think Napoleon hates it, mostly because it hurts his little feet.
Here are the puppies this morning going...umm...what's all this white stuff on the ground...must sniff!
Here is little Napoleon in his snow jacket this morning. I literally had to put his leash on him and drag him out of bed in order to go out this morning. He isn't stupid...he knows it's crazy cold outside! He is the only one with a coat because as Rick told me the other day, he's a delicate flower...ha!
It was kind of pretty, but kind of sad to see my pretty mums all covered in snow. So far this one is lasting through the season, but my others now just look like green bushes with dead brown flowers. I think that is what I miss most about winter is all the plant life is dead and just looks all brown and sad. I totally get cabin fever around March when the gardening supplies start coming out at the stores. I just can't wait to plant pretty flowers!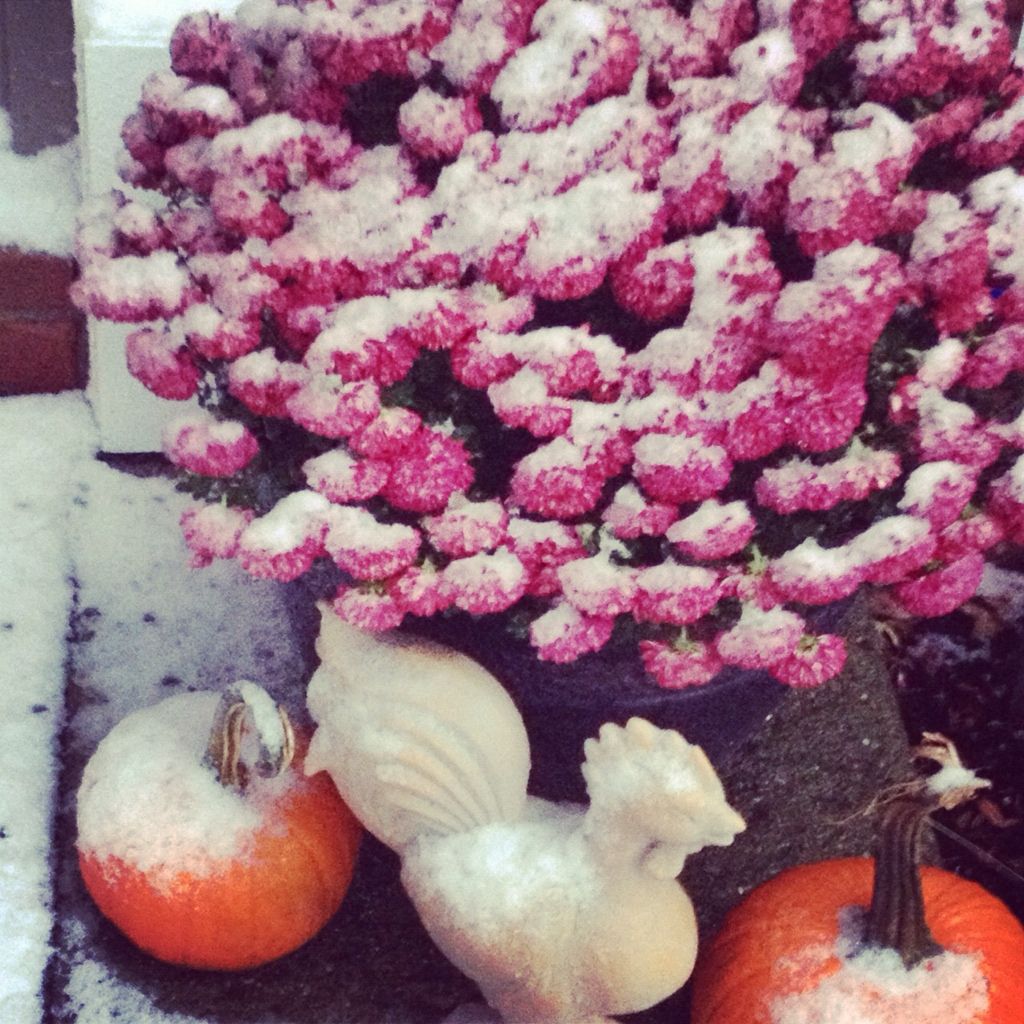 So now that winter is arriving (early), let's talk about a summery recipe to help extend summer a bit. This is one of my new favorite quick and easy pasta recipes. What's great about this recipe is that you can use whatever meat or veggies you have on hand, and you don't need to worry about using a sauce. The juices from the meat, olive oil and veggies create the sauce. It's a perfect recipe to use up those end of the summer veggies like squash or peppers or whatnot.
I love to use squash and zucchini in this recipe, and have used different types of sausages. This time I used a turkey sausage that I found on sale, but I have also used sausage with fire-roasted red peppers just to add even more flavor. Adding some cherry tomates also helps to add flavor because as they burst, their juices release and make for a very flavorful sauce. Just make sure to reserve some of the pasta water (before draining) so that you can add a little in case the pasta is a little dry. The pasta water mixes with your drippings from the meat and veggies to thicken up and turn into your sauce.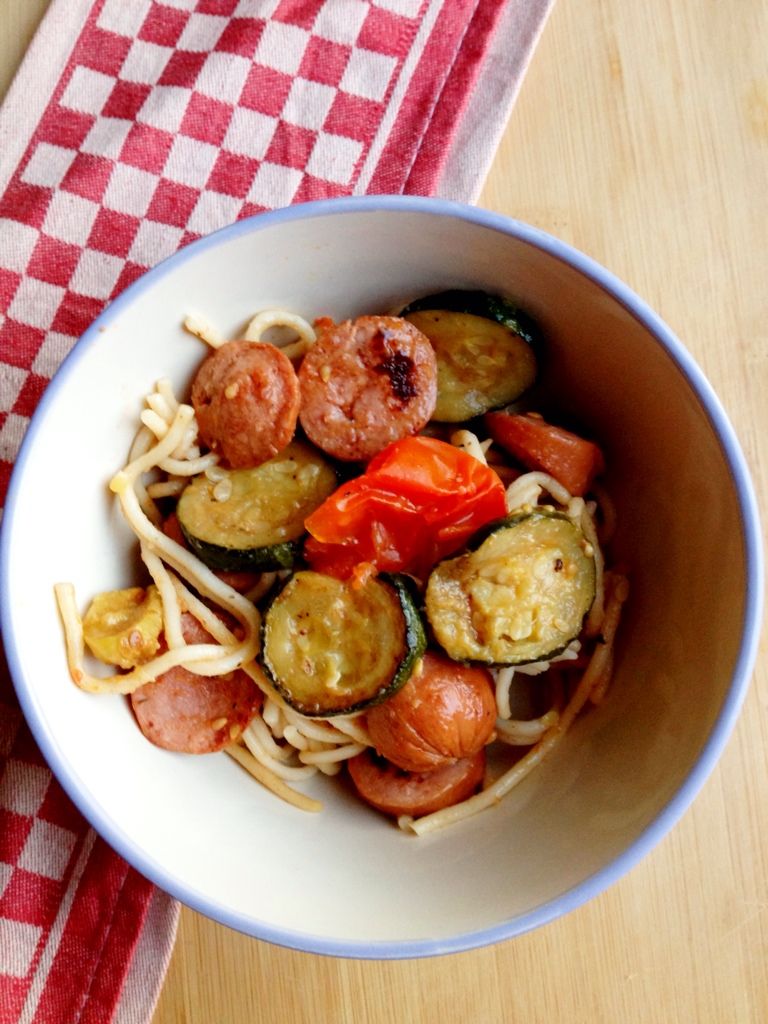 Summer Spaghetti with Spicy Chicken Sausage and Veggies
Ingredients:
·
3/4 lb preferred sausage removed from their casings if you can, or just slice into thin slices
·
2 Tablespoons extra virgin olive oil
·
1 garlic clove (I used minced garlic and the original recipe called for 4 garlic cloves. I used less because of food allergies)
·
2 zucchinis, halved and sliced
·
Fresh basil (although I totally forgot to put this on my dish :(
·
Romano or parmesan cheese, if desired (I did not include cheese because of food allergies and it was still very good!)
Directions:
1. Heat a large skillet over medium-high heat. Remove the sausage from their casings/or just slice into rounds, add to the skillet and cook until no longer pink, breaking it up as it cooks. Remove to a plate and set aside.
2. Turn heat down to medium and add extra virgin olive oil to the skillet. Add garlic and cook until smelling flavorful, about 1 minute. Add zucchini, season with salt and pepper, then sauté until tender, about 4-5 minutes. Add cherry tomatoes then place a lid on top of the skillet and allow tomatoes to get hot and tender, about 3 minutes, stirring once or twice.
3. Meanwhile, cook spaghetti in a large pot of salted boiling water. I cooked 8 oz of gluten free rice pasta and 8 oz of regular pasta. Make sure to reserve 1 cup pasta cooking water before draining. Because I was preparing a gluten free version, I used the pasta water from the pot of rice pasta to keep out all of the gluten.
4. Add cooked sausage to the skillet with the zucchini and tomatoes. Add this mixture to the top of your pasta and drizzle a little pasta water over your serving. Serve topped with torn fresh basil, and grated Romano or Parmesan cheese, if desired.