In the Fall I become obsessed with anything pumpkin and squash related. I love all kinds: butternut, acorn, zucchini, summer squash. You name it, I cook it during the Fall. So when I came across this recipe for making mac and cheese with butternut squash, I just had to make it.
The great thing about this recipe is that by using the butternut squash, you don't need flour or a heavy milk/cream to thicken up the sauce, and you don't need to use as much cheese as regular mac and cheese. The squash also adds a lot of fiber to the dish, so it's actually a much healthier version of mac and cheese. The downside is that it did take me about an hour to make, and it did have a few extra steps, but believe me it's totally worth it!
Another side note, I tried roasting my butternut squash in the morning while getting ready for work, thinking that might cut down on some of the cooking time. It actually didn't but that might have been because I put it in the fridge and it got cold and a little hard, so if you want to try roasting it first go ahead. It might have made it easier to mash, but since this is the first time I made this I am not sure.
Second, I also did not include some of the ingredients since I am trying to fit some of my food allergies (no wheat and light on the dairy), so if you want the original recipe you can find it
here
. Some of the things I cut out where the brown butter sauce and the breadcrumb toping (trying to keep it gluten free). I also used rice milk instead of skim milk, and all parmesan cheese, the original recipe called for a combination with fontina cheese. You could really use whatever cheese you want.
However you make it, this is one very creamy mac and cheese and it's a perfect comfort food for when the temps start to drop and you just want something warm and creamy to eat while cuddling up under a blanket with the one you love, oh and 3 pups :)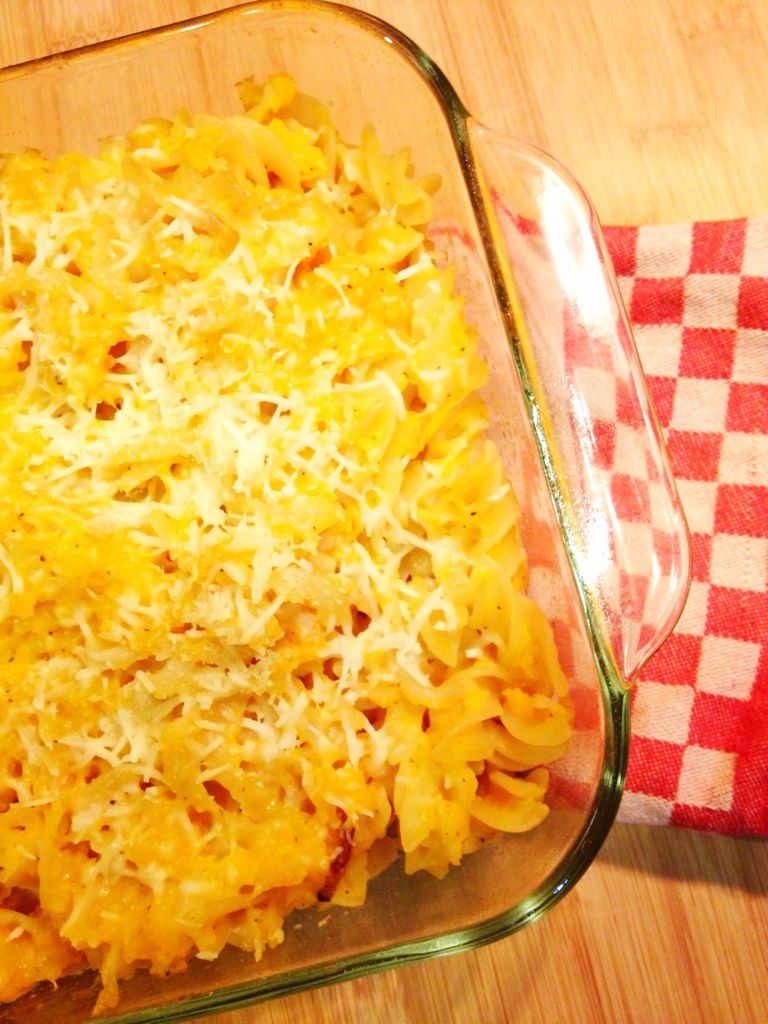 Butternut Squash Mac and Cheese
Ingredients:
3 cups uncooked pasta shells of your choice

4 cups 1/2-inch cubed uncooked butternut squash (I just used one large butternut squash)
2 tablespoons olive oil
1/2 teaspoon salt
1/2 teaspoon pepper
1/4 teaspoon nutmeg
3/4 cup low-sodium chicken or vegetable stock
1 1/2 cups skim milk (or unsweetened almond, coconut or rice)
8 ounces freshly grated parmesan cheese
Directions:
Preheat oven to 375 degrees F. Prepare water for pasta and once it comes to a boil, cook pasta according to directions, then drain.
While water is boiling, heat a skillet over medium-low heat. Add olive oil, then toss in squash with salt, pepper and nutmeg. You can try roasting the squash ahead of time by cutting it into large pieces and baking at 375 for 45 mins to possibly help cut down on the cooking time.
Add stock and cover skillet, cooking for 15-20 minutes, stirring occasionally, until squash is soft and can easily be mashed. Remove cover and reduce heat to low.
Mash squash with a potato masher or forks, smoothing it out with a spoon to remove all of the chunks. Add in milk, and 6 ozs of the parmesan cheese, stirring until melted and smooth, about 5 minutes. If mixture still seems way too starchy, add in additional milk 1/4 cup at a time, stirring for a while.
Fold shells into the sauce, taking a few minutes to fully toss the shells so they are all coated. Top with remaining parmesan cheese (or as much as you see fit) and bake for 15 minutes. Enjoy!