Anyone else loving Fall cooking? These two recipes are ones that I found last year at this time, and just loved. I was so glad I came across them again to enjoy this year.
I am loving all things squash, and Rick's parents gave us an acorn squash a couple of weeks ago when they visited. The first thing I thought when I saw it was that I just knew that I needed to try and make Sweet-Roasted Rosemary Acorn Squash Wedges again. This is a
Pioneer Woman recipe
, so of course it can't go wrong right?!? The sweet buttery/brown sugary glazed sauce, with just the hint of rosemary is a great combination with the acorn squash. It's just a nice warm comfort food that you can enjoy once the evenings start getting brisk because of the Fall weather.
I also had some pork chops in the freezer and I wanted something to compliment the acorn squash. I came across a
Cooking Light recipe
for Cider-Glazed Chicken. I ended up using the pork chops instead and doubling the cider glaze just to have extra glaze to drizzle over the pork and keep it moist. I am so glad I did because the extra sauce was great also drizzled over some brown rice...yum!
This meal just yelled Fall and it was also great as left-overs the next day. Definitly something I will probably try again and keep trying for years to come.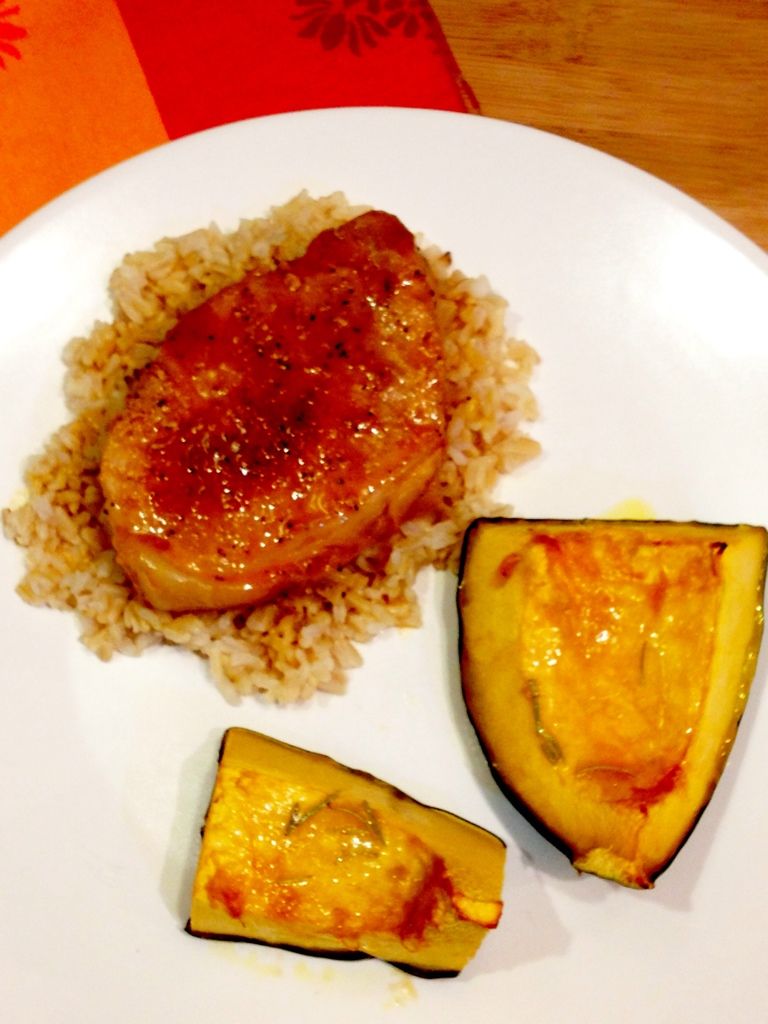 Cider-Glazed Porkchops
Makes 4 servings
Ingredients:
1-2 tablespoons cooking oil or butter

1 cup

refrigerated apple cider

2 teaspoons

Dijon mustard
Directions:
Place oil or butter in a large heavy skillet over medium-high heat. Sprinkle pork chops with salt and pepper and then add to pan. Cook pork chops for 3-4 minutes on each side or until done (maybe longer if your cuts are thicker). Remove from pan. Add cider and mustard to pan, scraping pan to loosen browned bits. Cook 3-5 minutes or until syrupy. Add pork chops to pan, turning to coat. Serve over brown rice, including some of the glaze over your pork chops and rice.
Sweet-Roasted Rosemary Acorn Squash Wedges
Serves 3 - 4
Inspired by
Pioneer Woman
Ingredients:
1 whole

acorn squash, cut into 8 wedges

A couple of dashes

olive oil

Salt to taste

1/2 stick

butter

1/4 cup

brown sugar (lightly packed)

1 tablespoon

rosemary (minced) (or you could substitue a couple of shakes of dried rosemary
Directions:
Place wedges in a baking dish and drizzle with olive oil. Sprinkle lightly with salt, then roast in a 350-degree oven for 20 minutes. While they are baking, combine butter, brown sugar, salt, and rosemary in a bowl and mix into a paste.
Remove squash from oven and smear paste all over squash. Return to the oven for 30 minutes, until brown and caramelized. Halfway through roasting, your paste will have become a sauce. Brush sauce over the top of the squash and then continue roasting until time is complete.
So what are you cooking up this Fall?