Happy Monday everyone! Hope everyone had a great weekend and are surviving the storms today!
This weekend seemed like a whirlwind storm, but it was a fun weekend. Thursday night my brother came to stay with us. He was taking the Columbus PD test on Friday morning, so he spent the night Thursday night so he could be a little closer for his 8 am testing appointment. Between tests, I took him to
Jason's Deli
(my favorite lunch spot) for lunch.
I took the entire day off, so in the morning I had an eye appointment. Suprisingly, my eye sight has gotten better. Not enough that I don't need glasses or contacts, but I think the eye doc was a little suprised they had gotten that much better. She kept asking me, are you sure you aren't in front of the computer as much. I told her that I have been in a lot of meetings lately (which I normally take my laptop to anyway), and she was like, well maybe that is paying off!
I then went and voted at the early voting location. I was kind of shocked that 1) there were so many people voting early, and with 2 weeks left until election time, and 2) how many people had booths set up out front to try and sway you one last time before you vote. I guess I shouldn't be suprised, but it was kind of crazy and stressful. So glad that is over. If you are looking to vote early, I would do so NOW. I think it's only going to get crazier.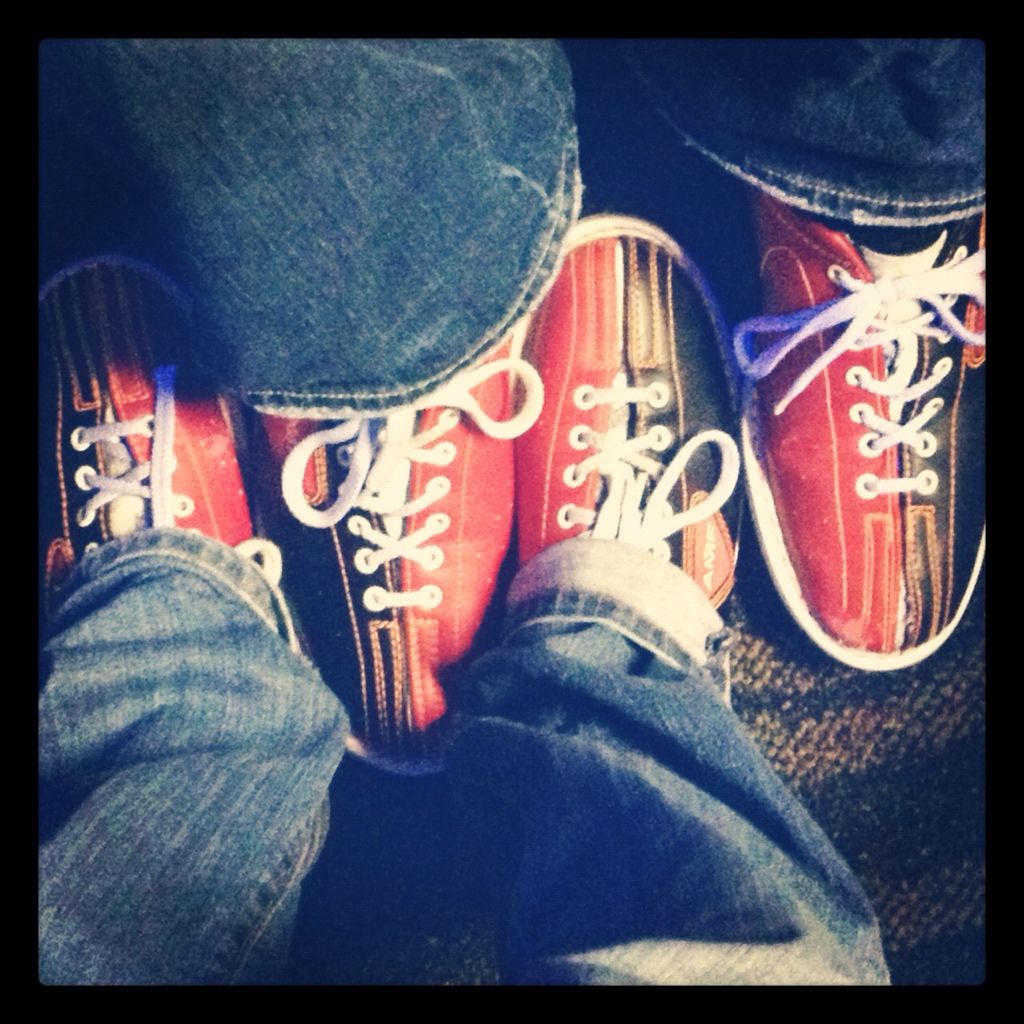 Then Friday night, after eating some of
Pioneer Woman's Bow Tie Lasagna
that I made the night before, we went bowling. We wanted to take my brother out for some fun to celebrate that his test was over, and one of Rick's friend's invited us to go bowling. We had an amazing time. There were a couple of groups that were dressed up, and we saw Uncle Eddie from Christmas Vacation and a guy dressed as a chick in a leiderhosen costume. It was somewhat disturbing, but also hilarious!
So at around 12:30 am on Fri night/Sat morning, both Rick and my brother finally realized that we were supposed to pick up the moving truck at 8 am. Even though I told them multiple times, it finally set in. I then got yelled at (in a comical way), that there was no way they were getting up to get the truck at 8 am...ha! I'll admit I wasn't crazy about the idea either, but 3 weeks ago when I set up the truck, 8 am didn't seem that early...ha!
But we did get the truck (at 10 am) and spent all day Saturday moving. Thankfully everything (well except a few things I still need to take over in my car) fit into the truck and I am offically moved into Rick's condo. Its funny because I keep calling it Rick's condo. I keep forgetting this is my home now also. I still have the keys to my apartment for another month, so I think eventually it will sink in.
On Sunday we took things easy. We slept in and then Rick made waffles for breakfast. We then went to the grocery store, and then went and saw Frankenweenie at the movies.
Oh my this was such a cute movie. I told Rick it was funny we were going to see Frankenweenie during the Frankenstorm (although it really hasn't started here yet, but it was really rainy, cold and windy). It really was a cute storyline, but I'll admit I did cry a few times. Not to give anything away, but the dog has to die before he can be turned into Frankenweenie, and I can't stand to see animals (especially dogs) get hurt or die in movies. Maybe I am weird, but it really bothers me. Plus, the dog Sparky looked and reminded me so much of Bryn, so that didn't help either. Rick said that he liked the movie, but couldn't imagine trying to explain it to a little kid. Overall though, it is really cute and I would recommend going and seeing it. It was only about 1.5 hours long, so it was a cute little flick to go see on a cold/rainy weekend, kids or no kids :)
And because I can't post a Weekend Recap without sharing some cute pup pics, I will now share with you how spoiled and lazy our pups were this weekend. I guess moving took it out of them as well!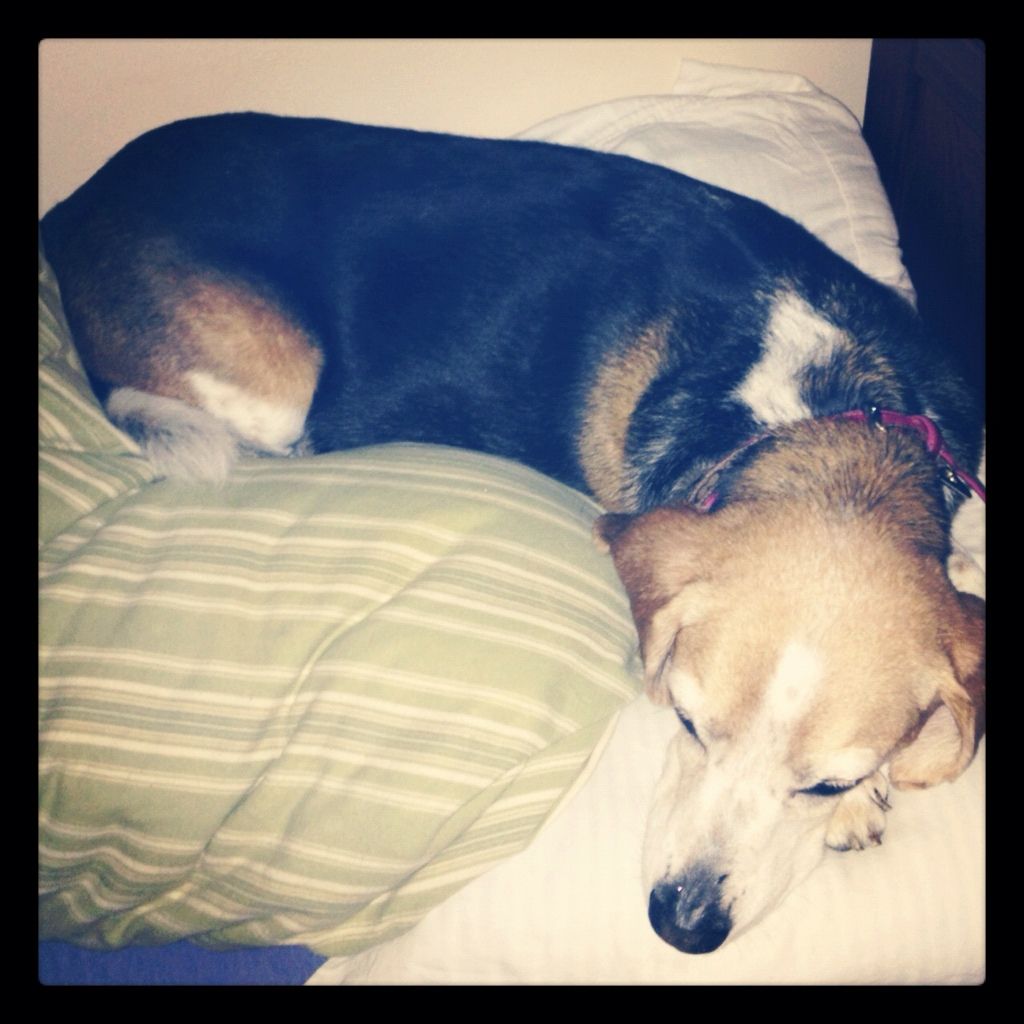 Saturday night I woke up in the middle of the night to find Miss Abby laying on my pillow, almost laying on my head! See that little part of green pillow, yes that is all the space I had. It got super cold in the condo that night because Rick forgot he turned off the heat while we were moving and had all of the doors open. She must have been cold, but she looked super comfy! And yes I did think to snap this pic in the middle of the night, while half asleep.
Then on Sunday, both Bry and Napoleon were being picky eaters, or so that's what Rick said. So I found Bryn sitting on the couch, curled up, and eating her breakfast. Doesn't she look comfy!
Then later that night Rick was hand feeding Napoleon on the couch. Talk about spoiled dogs...ha!
Then Sunday evening, Abby finally, after 2 months, decided to sleep on her dog bed that my Mom made her. She wouldn't go near it for the first month, and then a few weeks ago she finally started laying next to it. Crazy dog, she finally realized, yes this is a comfy bed!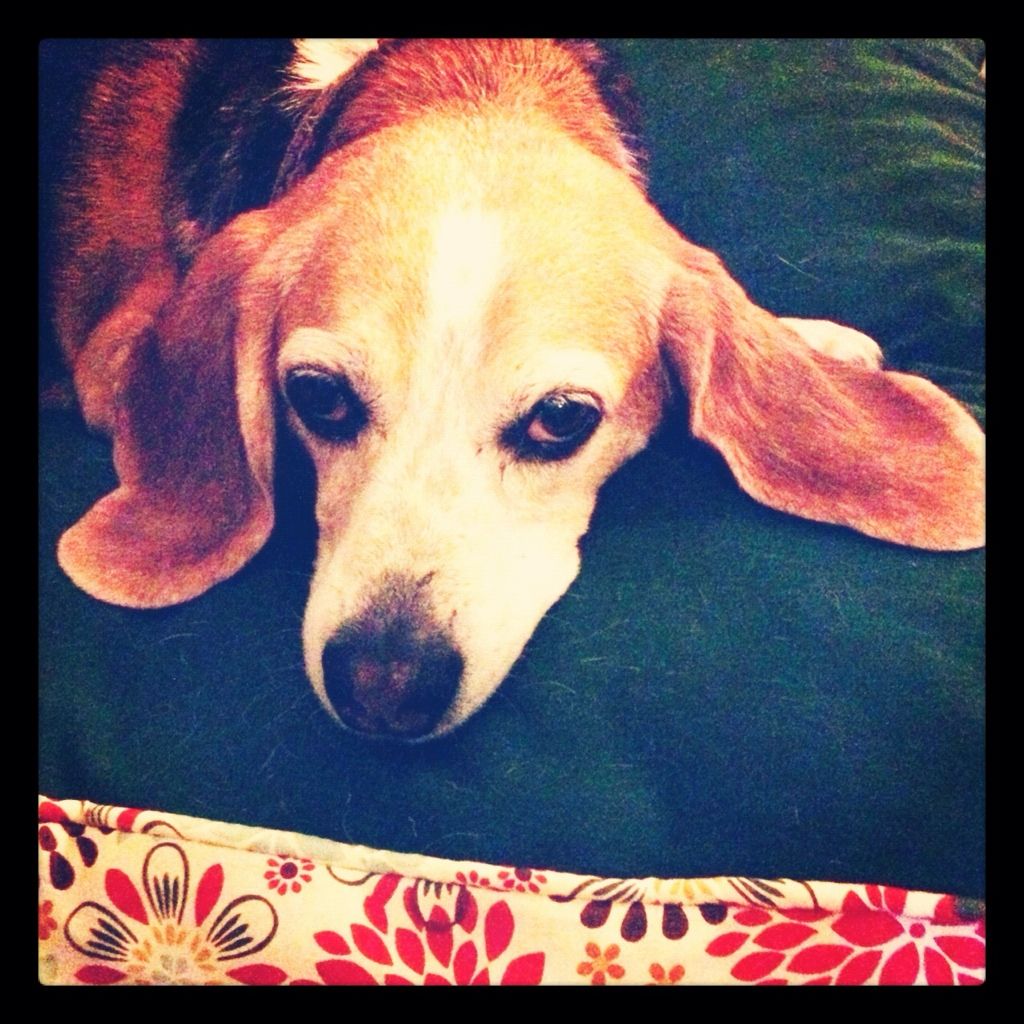 Here is a close-up of her ears all sprawled out. She looks so cute and innocent when she is sleepy.
Hope you are having a great Monday and staying warm and dry. We are supposed to be getting rain and high winds the next couple of days, and then possibly snow on Wednesday. I feel so bad for the trick-or-treaters. Let's hope it holds off, but for now they are warning us that Hurricain Sandy is possibly coming to Ohio in the next couple of days! We are stocked up on food, so we will be ready!