This weekend Rick had Guard again, so it was just me and the pups this weekend. It was a busy weekend, but not a lot of fun Pinterest quality type photos were taken this weekend...ha! Before I get into my weekend recap, I wanted to share a Puppy Product Review.
Now I know many may think I have gone off the deep end. My mother has already determined this based on
this post
(see her encouraging comment at the end...ha!). But I found these fun Pumpkin Flavored Dog Treats at Trader Joes this weekend, and I thought, why not do a product review.
Now I won't be tasting these treats, so it was kind of important that the puppies voice their opinion. Therefore, a video Puppy Product Review just had to take place. Check out what the puppies thought of their new treat.
Great news Trader Joes...your Pumpkin Flavored Dog Treats were a success! They lady checking me out said 1 of her dogs didn't care for them, so I was kind of worried that Napoleon (who has a taste for the finer things in life) may not care for them. But suprisingly they all did!
So this weekend did include spending a lot of time with these cuties...
And this cutie...don't you just love those beagle eyes?!?
The rest of the weekend was dedicated to moving my clothes and shoes over to Ricks (took Thursday and Friday evening to do this). I have determined that I have a lot of clothes that I didn't even know I had, and I do not need to go shopping any time soon. I need to challenge myself to try and wear everything in my closet first and then go shopping...ha!
As you can see Rick has one small rack and I have taken over the rest. Watch out fellas...that is what happens when a girl moves in. But there are other positive things like getting a lot of
good home cooked meals
.
I also need to figure out how to organize my shoes. Right now they are all stacked up in their boxes (yes I like to keep my shoes in their original boxes) on the floor. We were thinking of installing some shelves to stack the shoes on.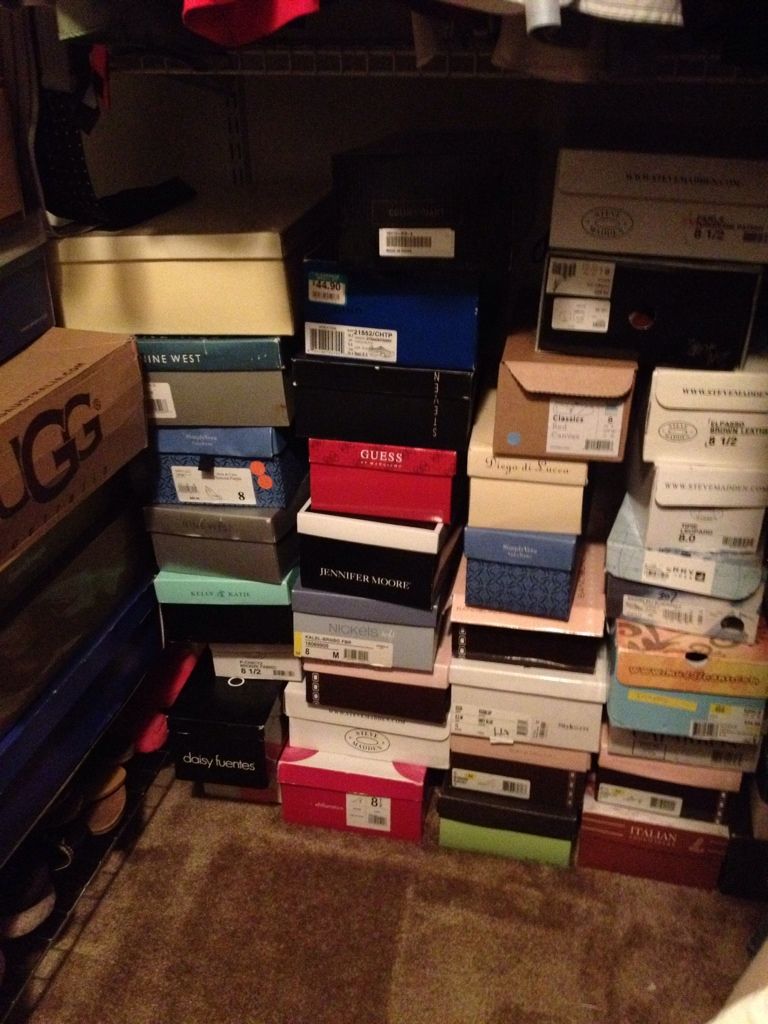 I also need to find a way to organize my jewerly as I have a ton of necklaces that I think would work great by installing a towel bar to hang them on. The closet is still a work in progress, but at least everything is in there. I'll have to share updates once we get around to organizing. If you have any tips let me know.
My friend Lisa helped me move some things on Saturday, and later that evening we made some spaghetti squash and watched this movie:
It was just ok. I was expecting it to be hilarious, and there were a few funny parts, but it seemed to drag on a bit. Anyone else watch this? If so, what did you think? I think I was expecting it to be as funny as "What to Expect When You are Expecting" which came out around the same time. It wasn't horrible, but I was glad we rented it on Netflixs instead of watching it in the theater.
And just a heads up, I think I am going to start "Tasty Tuesday" posts so that I can share some of my favorite recipes. So come back tomorrow to see what we are eating!
Hope you had a great weekend and Happy Monday!
Linking up with: