Happy Thursday everyone! We are almost to Friday and I am so grateful for that. This has been one very long week, and at work we keep saying it's been a week of Monday's.
Today I am linking up with Katie over at
Keep Calm and Carry On
for her
"Saw It, Pinned It, Did It"
link up. I love this idea because it forces me to actually finish some of the projects I have pinned on Pinterest. :)
Today I wanted to share with everyone an easy way to cover your pillows. Last week I covered some throw pillows that I already had, with fabric to match the curtains in our Master Bedroom. I actually purchased an extra curtain panel at Target, when I went to purchase my curtains, so that I could use that fabric to make a few accent accessories for the Master Bedroom and Master Bath. It was probably pretty close to what I would have paid, if not possibly less, than if I went to the craft store and purchased the same amount of fabric. And it totally matches everything! Bonus!!
So here are the finished pillows. Ta-da!
I found this pin on Pinterest which showed how to sew a simple envelope-type pillow cover. I had an idea of how to do this, but wanted to find a couple of examples to see if what was in my head was going to work out. This is a very simple way to cover a pillow and allows you to remove the covers to change them out, or if you want to wash them every-so-often (which is totally needed when you have pups).
Link to pin
So here we go on the steps to make this pillow cover.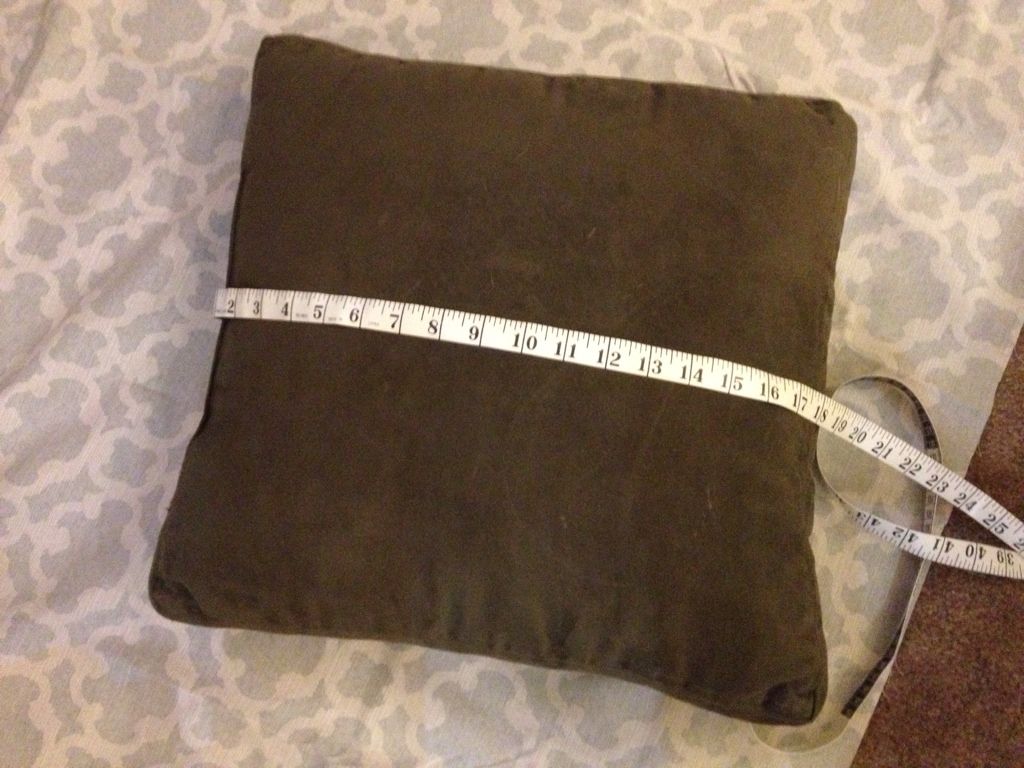 1. Measure your pillow. Mine was a 19" square. For the length going top to bottom, I added an extra inch making it 20". For the length going left to right, you really just need to wrap it around your pillow and find out how long you need to make the panel. I just wrapped it around the pillow and left about 2 - 3" of fabric crossing over each other to form the envelope pocket.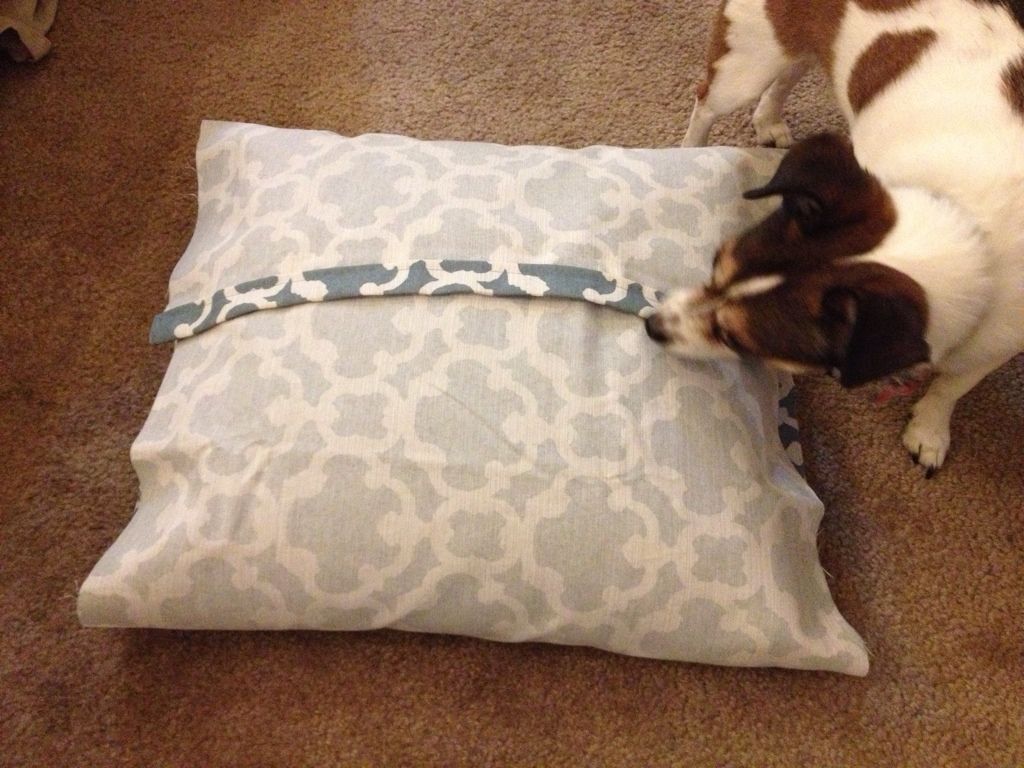 Think of wrapping a gift and how you want extra to cross over so that you can get coverage. Oh and add about 2-4" onto your left to right length for a seam on each end to finish off the ends. As you can see I have about 1" folded over twice (2" extra on each side, for a total of an extra 4" to your length) to show where my seam is going to go. Make sure to do this on both sides. Oh and always make sure your fabric is inside out. You are going to sew everything backwards with the outside facing fabric on the inside of the pillow cover for now. Isn't my little helper so cute!! He was making sure that I was measuring properly. :)
2. Once you have your measurements, you will need to cut your fabric. I like to make tick marks in various places and then connect with a ruler (or level like you have here), to make a straight line that I can cut. Make sure you don't use a pen or maker that can bleed through onto your fabric. I just used a light pen mark. There are fabric pens just for this purpose, but I just grabbed the first thing I saw.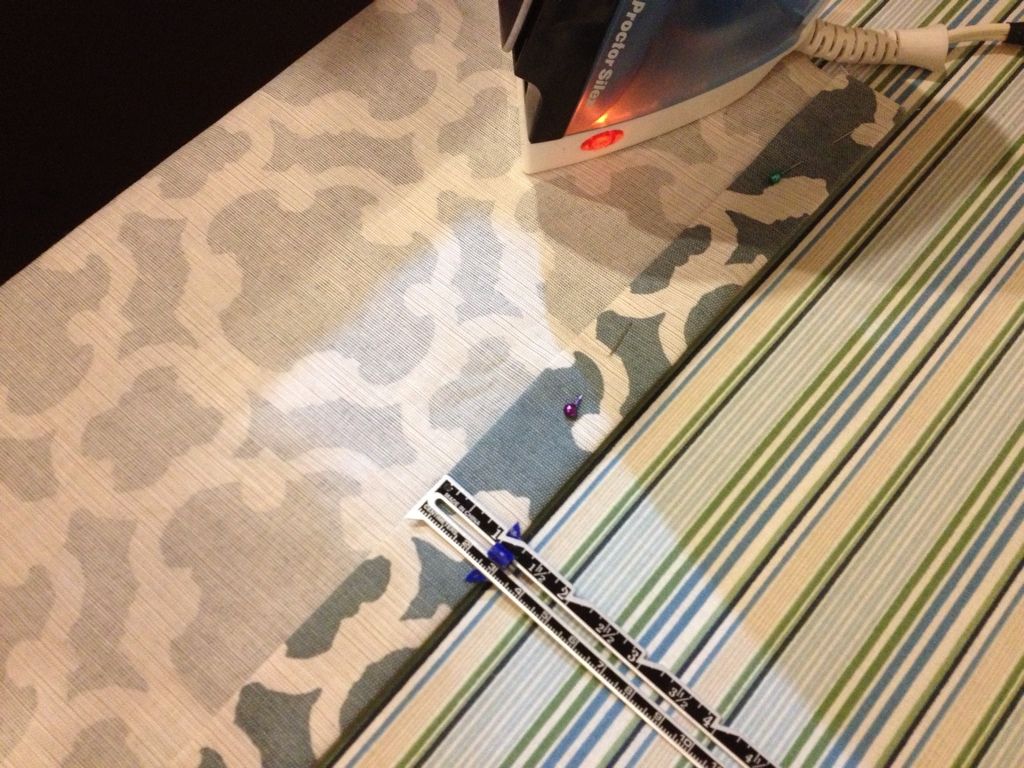 3. You then need to sew up the short sides to finish them off. I think I used a 1" seam, folded over twice (so I needed an extra 2" on both ends). I always like to iron my seams while I am pinning them. I think it just makes a cleaner fold. It also good to iron out your fabric before you start pinning so that it is as straight as possible. Wrinkles can really change up the length of your fabric.
4. Once you have pined your side seams, sew them up with a straight stitch.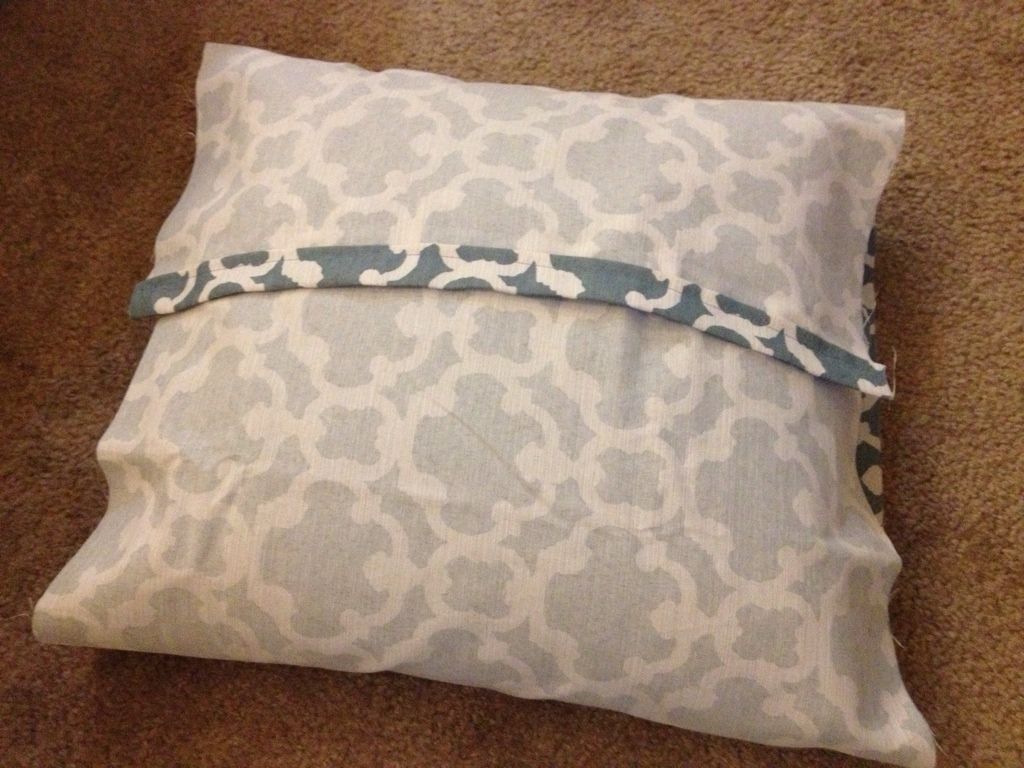 5. Then I wrapped around my pillow again to make sure that everything was still fitting. This will also help you determine how to fold up your pillow so you can sew the long sides. You will need to make sure that the back of your pillow is using the center of your fabric, and then wrap around to the front. Measure to make sure your flaps are balanced also. Make some measurements, because you are going to have to unfold and then fold again to pin and sew.
6. Pin up your long sides, although you do not need to fold over this time as this will be on the inside of your pillow.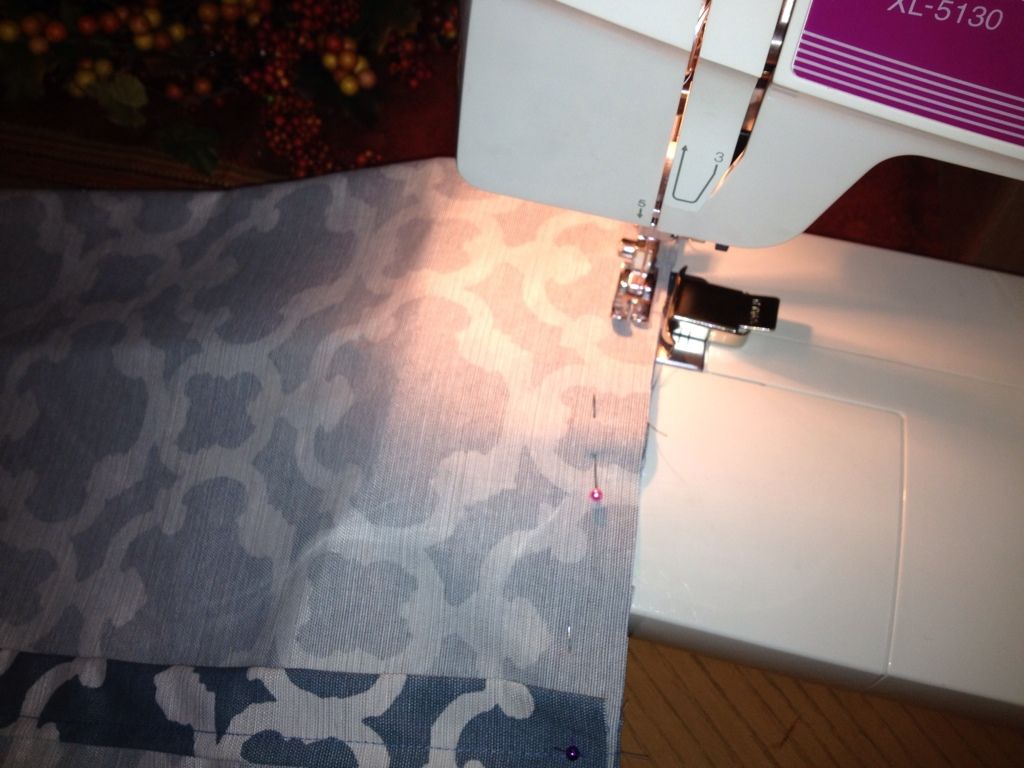 7. Then sew up your long sides, which is your top and bottom.
8. Then turn your pillow cases inside out and put on your pillows.
Here is the finished product, with my matching curtains. I want to make another pillow that is chocolate brown, and include an initial made out of this same fabric as well. I am in planning stages for that project, so I'll be sure to share once I complete it.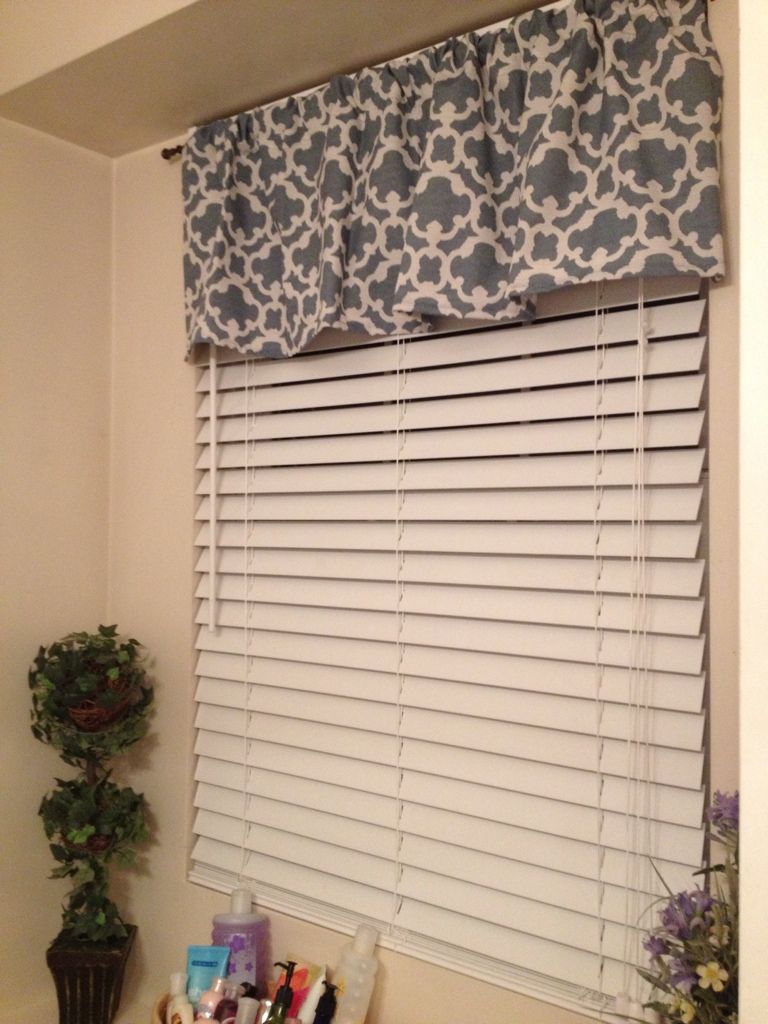 I also used a strip of this fabric to make a shorter panel for the windows in the Master bath. This has helped to really pull the two rooms together.
So what do you think? Does this look easy to you? I think if you have a sewing machine and know the basics of sewing it is a pretty simple project. For someone who has never sewed before it could look hard, and this is the first time I have written out sewing instructions, so I am not sure if I am using the correct terms, but please send me a note, or leave a comment, if you have any questions. I have a lot of sewing experts in the family, so if I can't answer it directly, I will sure find out an answer for you. :)