Today I wanted to share a few of my favorite dishes from this year's Thanksgiving meal. These are the dishes that I would definitly make again next year, or even possibly for Christmas if I was asked to bring something. If you are looking to cook Christmas dinner this year, or Thanksgiving dinner next year, I would definitly try these.
I unfortunatly didn't get a picture of each individual dish. It was difficult enough trying to get everything to the table warm, so by the time we had everything done and out, I was just ready to eat...ha! But here is the table with all of the food.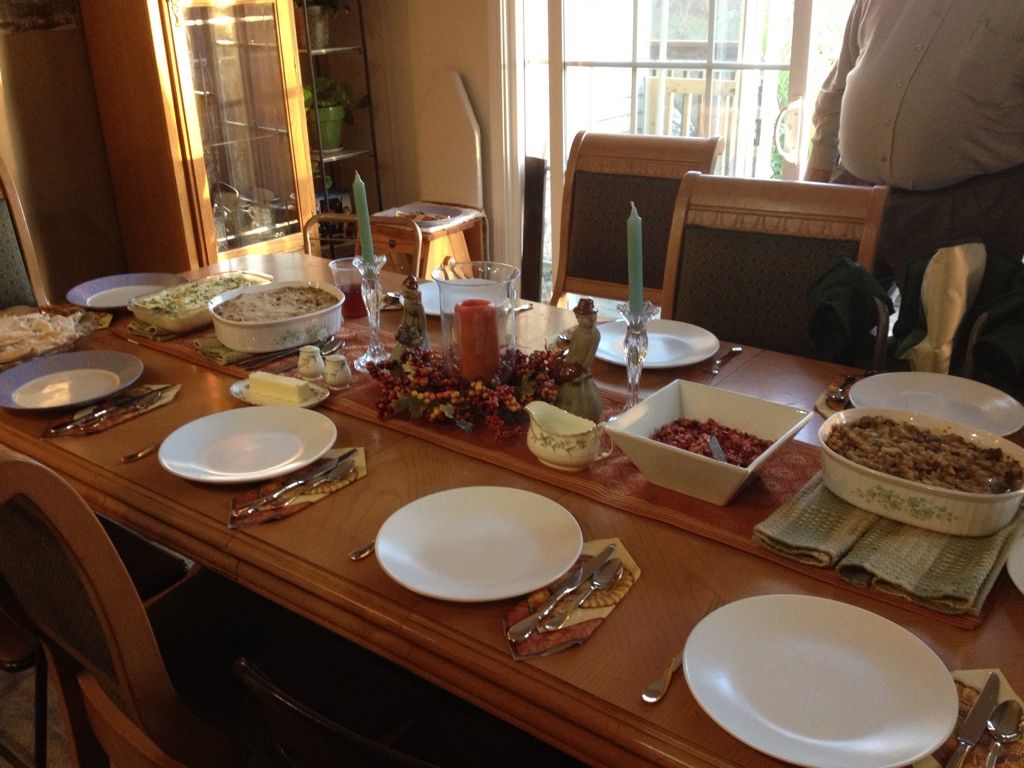 I first wanted to start with the turkey. I was pretty proud of myself, and it was rather simple, and very tasty. I had watched Thanksgiving Live on the Food Network the weekend before, and heard the different chefs discuss how they cook a turkey, so I took some ideas from them, and really just winged it for the turkey. I used a lemon and an orange in the cavity, along with some butter and herbs, and it gave it a slightly citrus taste to it. It was so good!
Citrus and Herb Turkey
Ingredients:
-- 1 turkey (23 lbs)
-- 1orange
-- 1 lemon
-- Salt
-- Pepper
-- Garlic and herb seasoning
-- Dried Rosemary
-- 1 stick of butter
Directions:
We bought a frozen turkey on Sunday, and left it in the fridge until Thursday morning to thaw out. Then I pulled out the turkey around 7 am and put it in the kitchen sink full of water (after removing the giblets). Around 11 am I began the prep. I pulled the turkey out of the sink and put it in a cooking bag (Rick assisted with this process). I sliced the lemon and orange to about 1/4" - 1/2" thick and placed inside the cavity. I then sprinkled salt, pepper, rosemary and the garlic and herb seasoning inside the cavity. I didn't actually measure this out, but maybe used like a couple of teaspoons each. I then melted a stick of butter and sprinkled each of the herbs (again, maybe a couple of teaspoons each), into the melted butter and poured over the turkey in the bag. I then massaged the butter and herbs into the turkey. Then I closed up the bag and tied it, poked a few holes in the bag, and put the turkey in a preheated 350 degree oven. For my 23 lb bird, the box of cooking bags said to cook for 3.5 hours. I put the turkey in at 11:30 am, and it was ready by 3 pm. We ate at 4 pm, so this allowed our turkey to rest for an hour, and also gave us oven space to heat up the sides for about 45 mins prior to dinner time.
Next up is the stuffing. I had always wanted to use cranberries and apples in a stuffing recipe just to give it added flavor and texture, and the sausage really complimented the flavors. The only thing difficult about this recipe is there is a lot of chopping. We actually made this side the day of, but next time I will definitly chop the day before. You really then just brown your meat and cook the veggies in a skillet, and then mix with your breadcrumbs and turkey stock. BTW: I used breadcrumbs from a bag...it was my first Thanksgiving meal...so don't judge...ha! This dish was a huge hit, and Rick's sisters told me to me to hang on to this recipe for next year!
Cranberry, Sausage & Apple Stuffing
Recipe from
All Recipes
Ingredients
1 pound sweet Italian sausage, casing removed
6 cups coarsely chopped leeks
3 tart apples – peeled, cored and chopped
2 tsp dried rosemary, crushed
12 cups white bread crumbs (from a bag)
1 1/3 cups turkey or chicken stock
Directions
Cook and stir sausage in a large skillet over medium heat, crumbling coarsely, for about 10 minutes. Remove sausage to a large bowl with a slotted spoon. Empty pan of grease.

Into the same pan melt the butter. Add the leeks or onions, apples, celery and poultry seasoning; cook until softened, about 10 minutes. Add the rosemary, dried cranberries and cooked sausage. Mix all with the dried bread cubes. Season to taste with salt and pepper. Moisten with the chicken stock.

Stuff turkey with about 5 cups for a 14 pound turkey. Add additional chicken stock to moisten stuffing if needed. Remaining stuffing can be baked in a covered buttered casserole at 350 degrees for about 45 minutes. Uncover and bake for another 15 minutes to brown top.
Another favorite side was the sweet potato souffle. I saw this on a cooking show a few weeks before Thanksgiving, and thought it was kind of a different take since you used more of a brown sugar crumble on top as opposed to the marshmallows. It made it so much more sweet, and it was kind of like eating dessert for dinner. I might make this again just for a regular dinner it was so good, and not too hard to make. The only issue I had was that I didn't cook the sweet potatoes in the oven at a high enough temperature, so they weren't soft enough when I removed them from the oven. I had to continue to cook in the microwave to soften them, up. I would recommend cooking them at like 400 or 425 instead of 350 for 60 mins.

Sweet Potato Souffle
Souffle:
1/2 cup butter (1 stick), at room temperature, plus more to grease pan
5 medium sweet potatoes
2 large eggs
1 cup granulated sugar
1 1/2 teaspoons vanilla extract
1/2 cup milk
Pinch of salt
Topping:
1 cup finely chopped pecans
1 cup brown sugar, packed
1/2 cup all-purpose flour
1/4 cup butter (1/2 stick), softened
Directions
For the souffle: Preheat the oven to 350 degrees F. Grease a 2 1/2-quart baking dish with butter. Poke the sweet potatoes with a fork and bake on a foil-covered baking sheet until they are soft, 1 hour. When cool enough to handle, peel the potatoes, place the flesh in a large mixing bowl and mash until very smooth. Add the eggs, sugar, butter, vanilla, milk and salt. Combine well with an electric mixer or hand mixer. Turn the mixture into the baking dish.
For the topping: In a medium bowl, stir together the pecans, brown sugar, flour and butter until thoroughly combined. Spoon the mixture over the sweet potatoes, making an even layer. Bake the casserole until slightly browned, 40 minutes. Let the casserole sit for 5 minutes before serving.
This last dish I loved. I know some people shy away from cranberries, and I typically do, but this was so much better than your typical cranberry dish. It was more of a salad, not your typical jello type dish, and the added oranges really brought out a different flavor. You may think you are putting way too much sugar in this dish, but you really need it to help sweeten up the cranberries. You might be able to make with splenda to help cut calories, but really who cuts calories at Thanksgiving...ha!
Cranberry-Orange Relish
Ingredients
One 12-ounce package fresh cranberries
2 oranges, peeled
1 cup sugar
1/2 cup pecans, finely chopped
Directions
Using a food processor, pulse the cranberries and oranges. Transfer the chopped fruit to a 1-quart bowl and add 1/2 cup of the sugar, stirring to mix. Add more sugar to taste, as the sweetness of the oranges will vary. Add the chopped pecans and serve. Please note that this will keep in the fridge for up to 2 weeks.

Oh and I forgot to share this yesterday. Check out this fun amaryllis that Rick's sister Kristen brought me as a hostess gift! I have always wanted an amaryllis, and I am hoping that I can keep it alive at least through the holiday season...ha!
Rick also brought me some roses the other night, primarly because he has been making fun of me all weekend about what he bought me for Christmas. He keeps telling me he got me a Jeep bumper with a winch, and I am like, but I don't have a Jeep, you do. And he is like, and the problem is what?? I guess his Mom pulled him aside on Saturday to make sure that he wasn't indeed buying me a Jeep bumper with a winch. I love her :)