Today I am linking up with Sarah, over at
Total Basset Case
, for her Holiday Blog Hop.
Since Thanksgiving is just around the corner (exactly 1 week and 1 day away folks!), I thought I would share some of my Thanksgiving traditions/memories, and a Thanksgiving menu that combines both my family traditions, with some new fun recipes I have found online. We are actually talking about possibly hosting Thanksgiving this year, and I am completly nervous because I have never 1. cooked this big of a meal before, and 2. cooked for this many people before. So this was my way of also coming up with a possible menu for next week. If anyone has any suggestions, or favorite recipes, please add them in the comments below :)
So every year for Thanksgiving (minus a few years here and there), we have been going to my Grandparents house in West Virginia to have Thanksgiving with my Mom's side of the family. We usually drive down Thursday morning and get there around noon. We always listen to Christmas music on the way, and look at the first signs of Christmas lights on the way back (since it's usually dark when we leave).
One fun memory that we always talk about this time of year is the time we were flipping through radio stations on the drive down and we came across this Julia Child's cooking show. She was explaining how to prepare a turkey on this show and all of the sudden she says (in her Julia Child accent) "you must massage the beast!!!" We all started to bust out laughing because 1. it's funny to think of massaging a turkey, and 2. who knew a turkey was a beast!!
Also, every year once we get to my Grandparent's house, we always start off with eating appetizers around the cafe table in my Grandmother's kitchen. We eat, and chat to catch up, and keep my Grandmother company while she cooks lunch. We usually eat around 1'ish or so.
After lunch, we tend to do a couple of things: 1. nap, 2. take a walk around the circle, 3. play board games, 4. make crafts. One time we all brought our band instruments (this was when the majority of us Grandkids were in high school band) and played Christmas carols for my Grandparents.
Then after taking some family photos in front of my Grandparent's house, we typically all head for home with left-overs and a to-go bag of Chocolate Chip Cookies (this happens every time we leave it seems...ha!).
So below is a Thanksgiving menu (with links to similar recipes, and some new ones I want to try), of what we might serve on Thanksgiving. For most of the recipes I could not find pictures, so unfortunatly I just have a list of these items.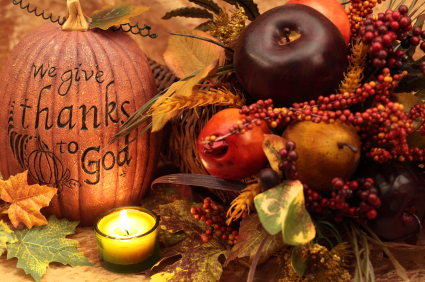 ~ Thanksgiving Menu ~
~ Appetizers ~
Cheeseball & Crackers
Veggie Crudites
~ Main Course ~
Turkey
Green Beans
Rolls
~ Dessert ~
~ Drinks ~
Sweet Tea
Wine
Beer
Coffee
So as you can see, I have a lot of shopping and preparing to do!!
I also wanted to share some of my fun Fall/Thanksgiving decorations. Fall is my favorite season, and my second favorite seasonal decorations (Christmas will always be first).
Here is the front door (although my pretty red mums got hit by the frost these last few days and are starting to look rather sad).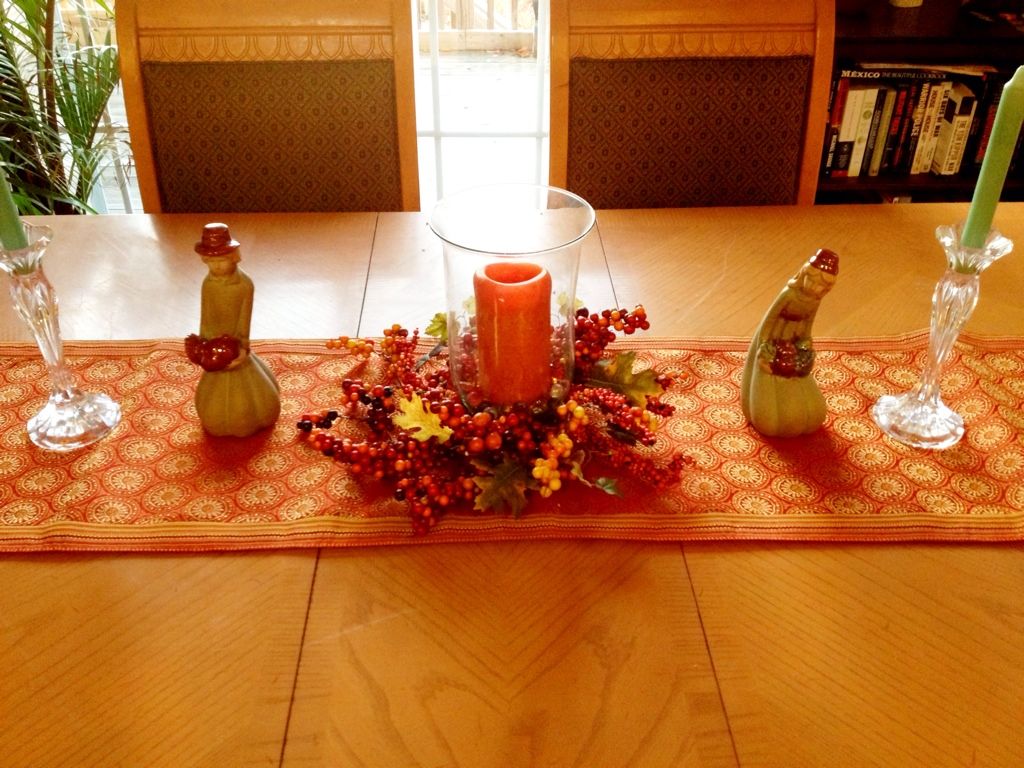 And here is my table centerpiece that is all ready for Thanksgiving. The little pilgrim people are a little strange looking, but for some reason I love them! :)
So what are your plans for Thanksgiving? Are there any recipes that I totally need to try?