I am so excited to share some more fun pumpkin recipes! Today I have a very special treat. Not only am I sharing my pumpkin butter recipe (which I love to give away to my family and friends this time of year), but I am also sharing my Grandma's Pumpkin Bread recipe.
I came across this pumpkin butter recipe last year and made a whole bunch to give away for Thanksgiving and Christmas. It's just like having pumpkin pie in a jar. It's a very thick spread, and goes great on biscuts, muffins, bread, really anything! It's especially tasty on pumpkin bread or pumpkin muffins.
And speaking of pumpkin bread, my Grandmother's recipe makes the most moist pumpkin bread. And it has a great flavor full of cinnamon and spice. I remember her making this all the time for Thanksgiving to have around to snack on. She also has been known to bring this to our Family Reunions which typically take place in the Fall.
I made a couple of loaves for Rick to take with him last week, and he said it was a huge hit with the other soldiers at guard. Over the weekend I also made a gluten free version since I have been having to cut gluten out of my diet. I just swapped out the regular flour for all purpose gluten free flour and it suprisingly turned out rather well. It's a little more crumbly, and kind of resembles the texture of corn bread. It worked out very well as muffins though, since they were so much smaller and wasn't like an entire loaf that can crumble. I am definitly keeping this in the freezer to help it last longer.
According to my Grandma, the Pumpkin Bread recipe is actually from her Aunt Mary Kelly, which was her mother's sister, who would then be my Great Great Aunt! I love recipes that are passed down through the generations :)
If you get a chance, definitly try these recipes, and let me know what you think!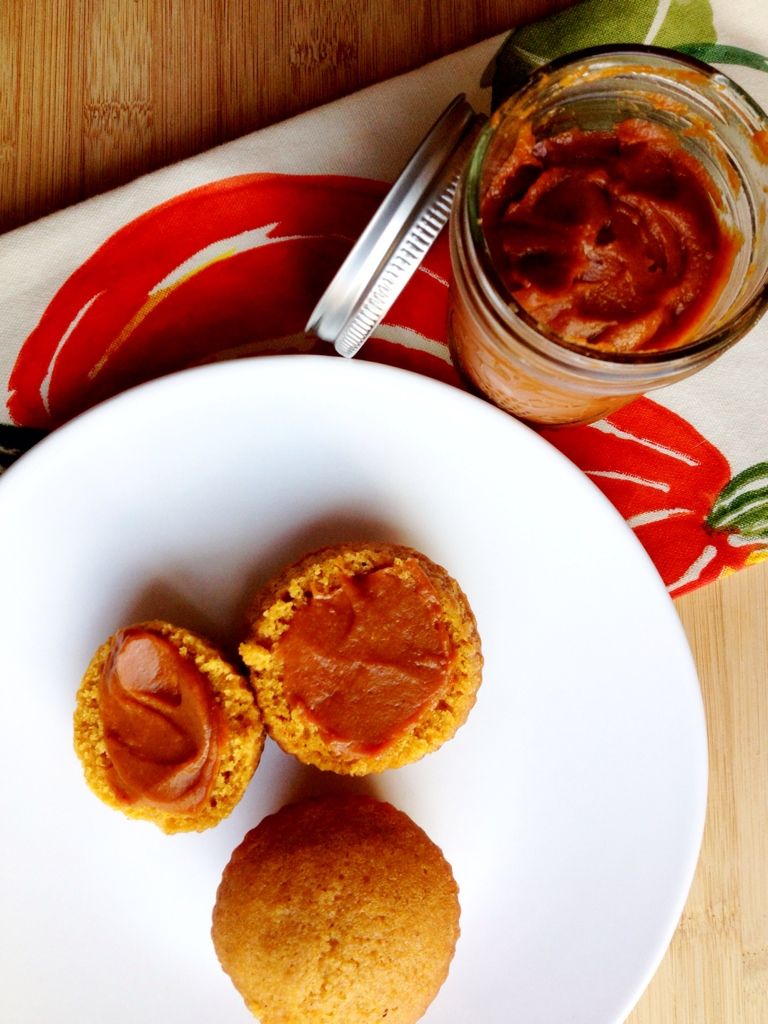 Pumpkin Butter
Recipe from
Miss Janice
Yields 8 Ball jars (8-oz jars)
Ingredients:
4 15 oz. cans pumpkin
1 1/2 cups apple juice
4 tsp. ground ginger
2 tsp. ground nutmeg
4 tsp. ground cinnamon
3 cups sugar
1 tsp. ground cloves
Directions:
Combine all the ingredients in a large pot and stir well. Bring the mixture to a boil and then reduce the heat and simmer for 30 minutes or until thickened. Stir frequently, and you may want to cover it loosely with a lid as it is so thick it will pop and you will end up with pumpkin butter all over the stove top (not that I learned this from experience :) ). You can then place the mixture into sterile containers and chill until served, or you can can it like I did and give it away as gifts.
Canning Process:
Place your mason jars, lids and rings into a pot full of water. Bring to a rolling boil. Then remove your jars, lids and rings and place on a towel. Fill up your jars while they are hot. This process sterilizes the jars, and also keeps them from breaking when you fill it up with the hot pumpkin butter. Try and get as many bubbles out as possible and clean off the top of the jar before closing up with your lids and rings. Then place the jars back into the boiling water, making sure they are completely covered with water and continue to boil for 10 mins. It's good to have a rapid boil at this point. Then turn off the heat and let them sit in the water to cool down. At this point it will start to vacuum seal your jars. If you hear a popping noise, your lid might have popped up. Just push it back down and it should take. Please note that I am not a canning expert, but I have done this a couple of times and it seems to work :)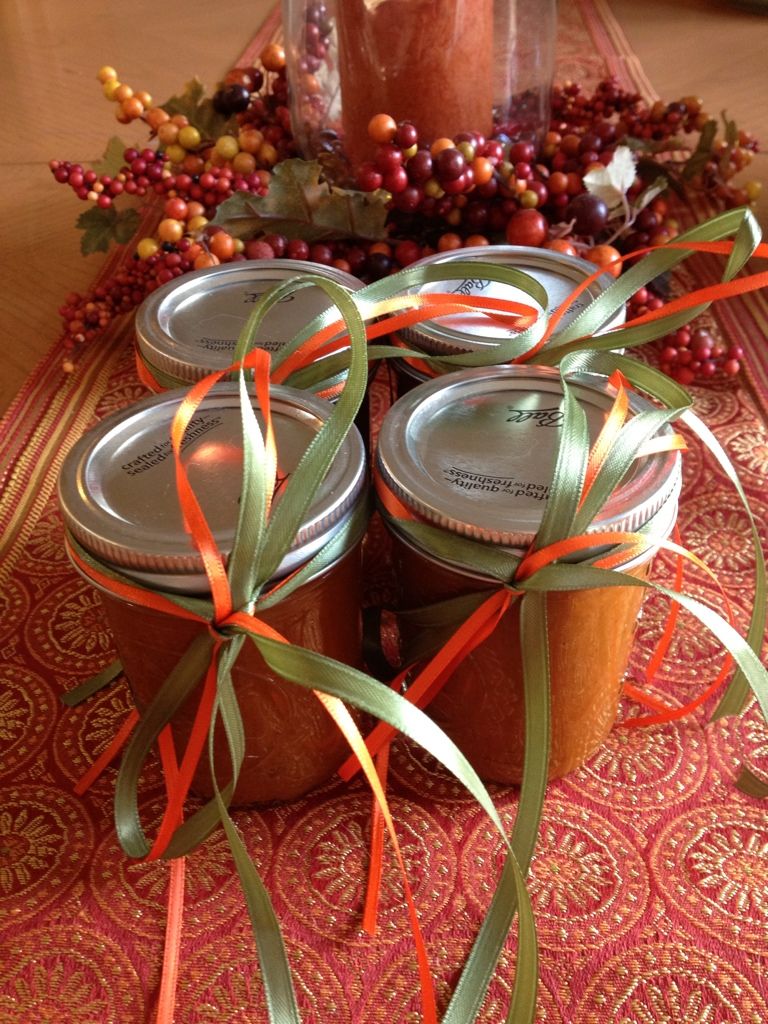 You can then decorate your jars and give them away as gifts!
Grandma's Pumpkin Bread
From my Grandma Sayre
Makes 3 loafs
Ingredients:
3 1/3 cups flour
2 tsp baking soda
1 1/2 tsp salt
1 tsp cinnamon
1 tsp nutmeg
3 cups sugar
1 cup oil
4 eggs
2/3 cup water
1 small can (15 oz) pumpkin
1 cup chopped nuts (optional)
Directions:
Preheat your oven to 350. Mix sugar, oil, water, eggs and pumpkin with an electric mixer. Mix the remaining dry ingredients (minus the nuts) in a seperate bowl and then slowly incorporate with your wet ingredients (1/2 cup at a time). Mix until smooth. Then add the nuts. Pour into 3 greased loaf pans and bake in 350 oven for 1 hour. If you are making muffins, I would bake them for 30 mins. While still warm, wrap in foil and let mellow for at least a day. You can then put the loafs, wrapped in foil, in a large ziplock bag and either store in the fridge, or in the freezer.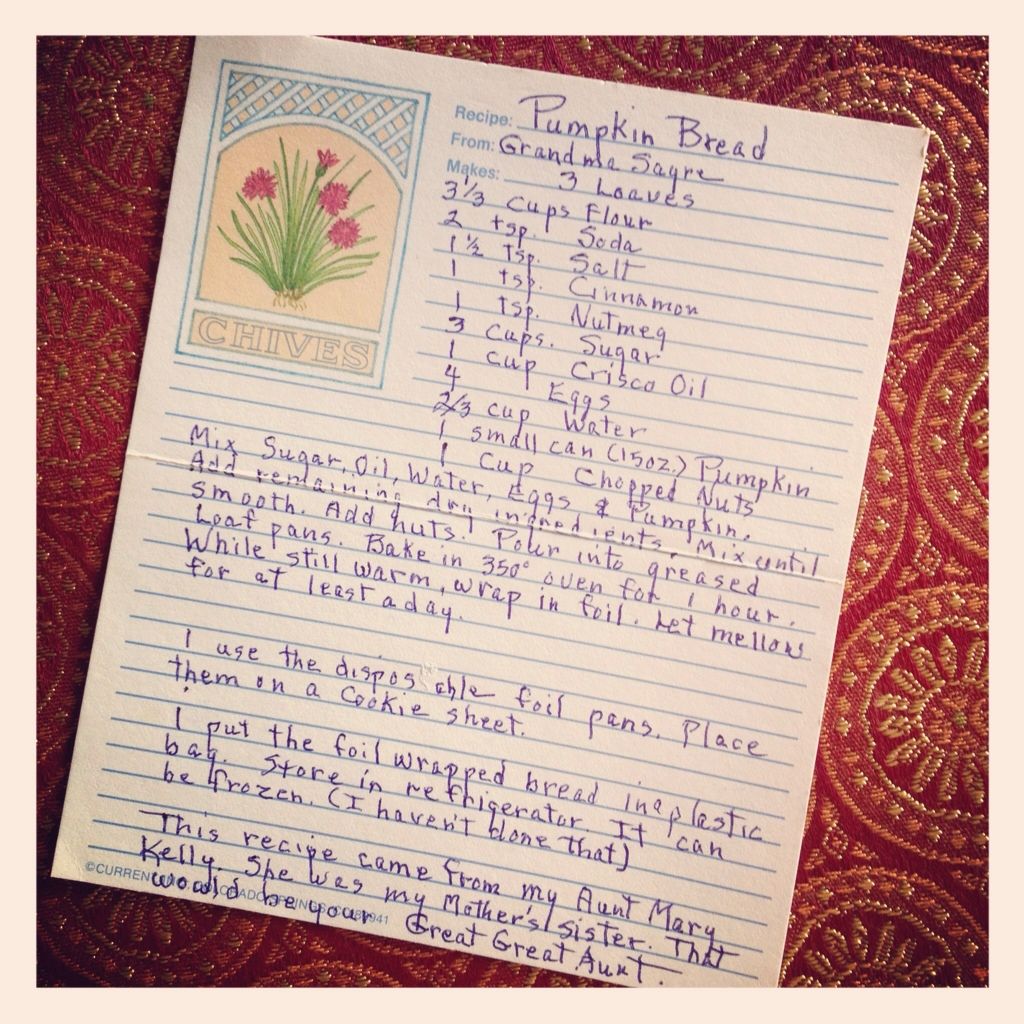 Here is the recipe card my Grandma gave me. It's nice to have all of these recipes online available at your fingertips, but there is just something about having a recipe card handwritten from your Grandma that just means so much more!