Happy Monday everyone! This weekend Rick left for his annual Guard training, so he was gone all this weekend, will be gone all this week, and will come back late on Sunday :( So since I had a lot of alone time this weekend, I spent the majority of the weekend cleaning and organizing from my move last weekend. Sadly I enjoy cleaning and organizing, so it was kind of a fun weekend for me...ha!
On Saturday, my friend Lisa and I borrowed her Dad's pickup truck to move a few items that didn't fit on the truck last week. It was kind of a commical experience, us borrowing the truck, and we might have had to call her Dad a few times to:
1. Explain how to get the tailgate down. We could not for anything figure out how to get the tailgate down on his truck. Yea we tried unlocking it, and pulling on it, but were both afraid we were going to break something. After calling her Dad, he explained we needed to lift up on the tailgate and then pull down.
2. Then we called him a few hours later because Lisa had put the parking brake on, and couldn't get it off. We both tried pumping the parking brake and it was so stuck!! We even tried removing the floor mats thinking that maybe they were causing it to be stuck, and still no luck. After calling him a second time, her Dad explained to us, while laughing, that there was a lever we needed to pull to release the parking break. He thanked us for providing a laugh for him that evening and told us he believed we were both natural blondes...ha!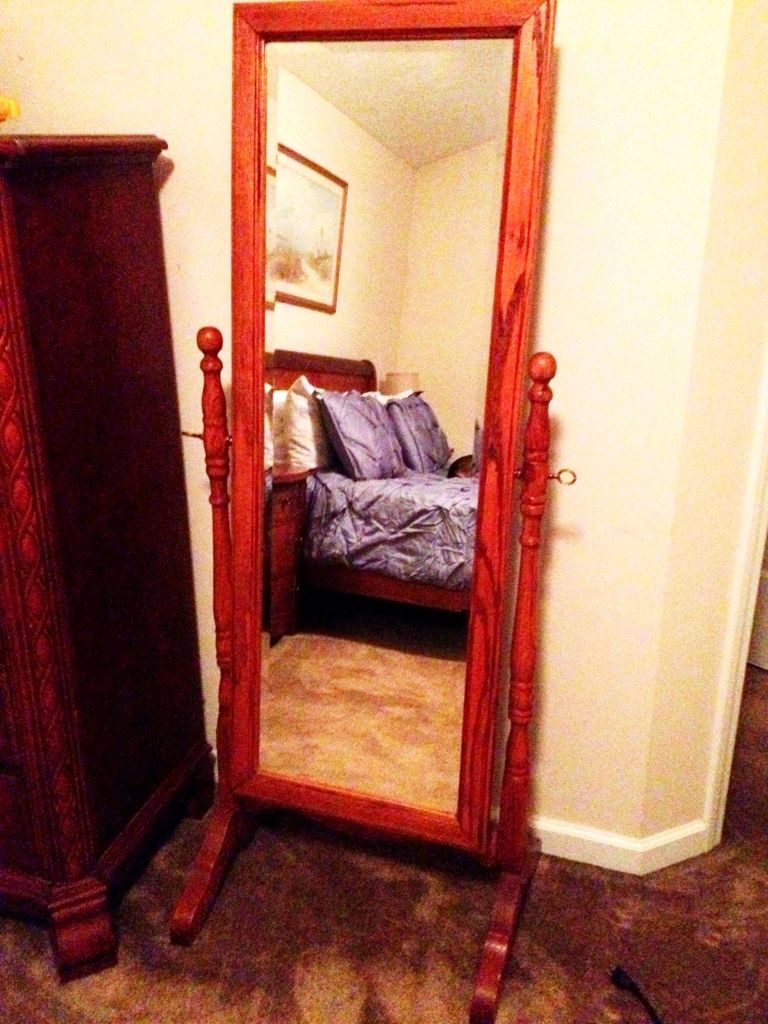 We finally got everything moved including my dressing mirror. I love this mirror that my Mom gave me a few years ago for Christmas. She actually bought this at the little store at her church for $5. She then refinished it and gave it to me for Christmas.
I also purchased some new curtains and bedding for our master bedroom this weekend. I saw these curtains at Target last week and I could not stop thinking about them. That is how I tend to make big decisions like this, if I keep thinking about it for a few days, and I go back and it's still at the store, then it's meant to be :)
I also found this bedding at Target that matched the curtains perfectly. I was kind of nervous about spending a good chunk of money on curtains and then not be able to find bedding to match. When I found this bedding which was the exact same color, I knew it was meant to be. I also hung my lighthouse print over the bed and thought it went really well with the curtains and bedding. As you can see, Abby loves the new bedding! I would also like to paint the bedroom in the next couple of months and have been thinking of what paint colors would go well with the new curtains and bedding. I am constantly changing my mind, but right now I was thinking of a lighter brown. Does anyone have any suggestions?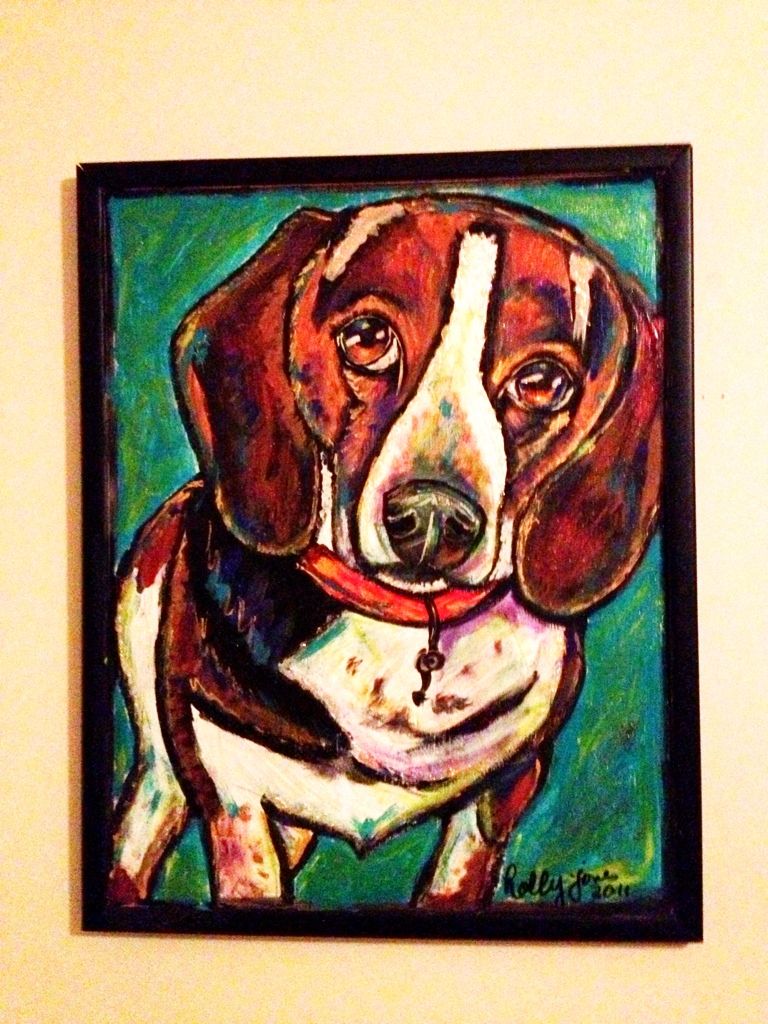 I also hung up my Abby painting. I bought this for myself for my birthday last year. I know that Abby won't be around forever, so I wanted a fun painting of her that I could have forever. I know that sounds kind of crazy, but she will always be my first baby, and will always have a place in my heart. Ok, now that I am tearing up...ha! I found a lady online and commisioned her to paint a picture of Abby that I had provided to her via email. I think it was about $125 + shipping, and I thought that was an amazing deal because it is a very large painting, and so cute. She used glitter paint to highlight some areas so it is fun, whimsical and shimmery!
I also bought an extra curtain panel and am going to cut it up to make some shorter curtains for the bathroom, and maybe some pillows for the bed. This will be a project for this week while Rick is away, and I will be sure to share my results as I continue to decorate and organize the condo.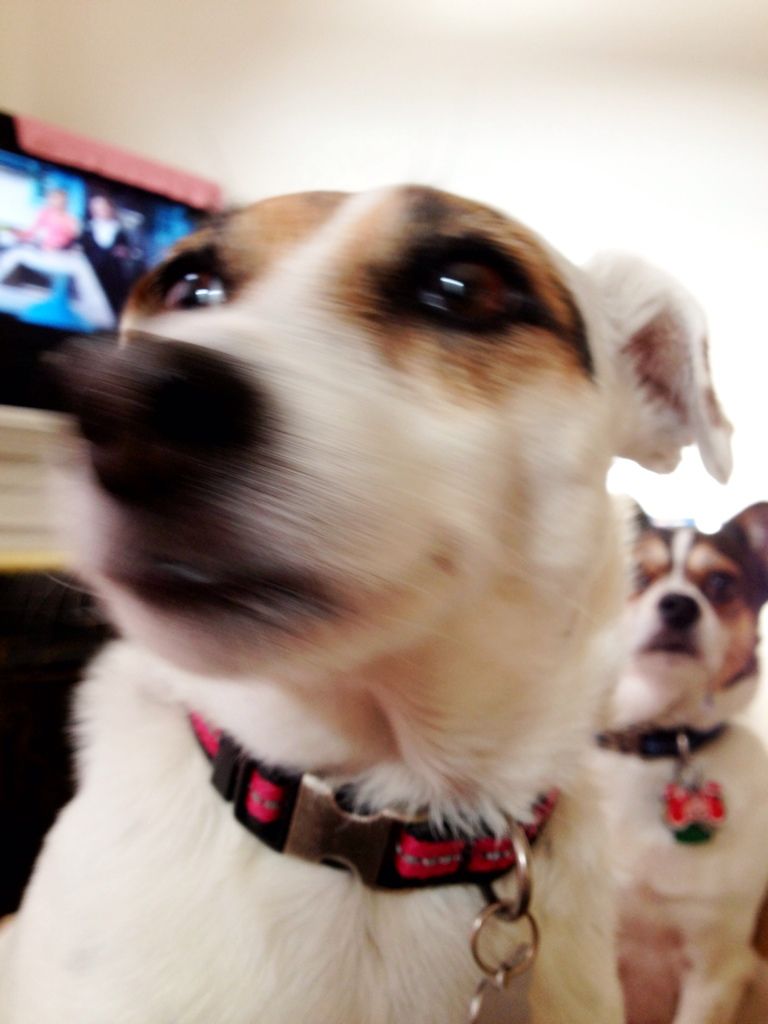 And here's a fun pic of the pups from this weekend. I texted this to Rick and said "this would be your view if you were here. :)" Bryn loves to get in your face and try and lick. Sunday morning she was planted on my lap trying to do just that, and Napoleon was looking on like, "that crazy chick!"
How was your weekend? Did you get into anything fun?
Linking up today:
and
Life of Meg