Today I wanted to share my Christmas card wreath. I actually made this last year, when it was all over Pinterest and the blog world. I am not sure where I orignally saw it, but I rememered it being a really fun way to show off your Christmas cards. It's not really great for a ton of Christmas cards, unless you are ok with a bunch of overlapping, but since I don't typically recieve a ton, it was a great way to show off the few that I do get every year.
Today I am also linking up with Katey over at
Keep Calm and Carry On
and Steph over at a
Beautiful Mess
for their
Saw It, Pinned It, Did It
link up.
Here is my finished Christmas card wreath with cards so far from this year: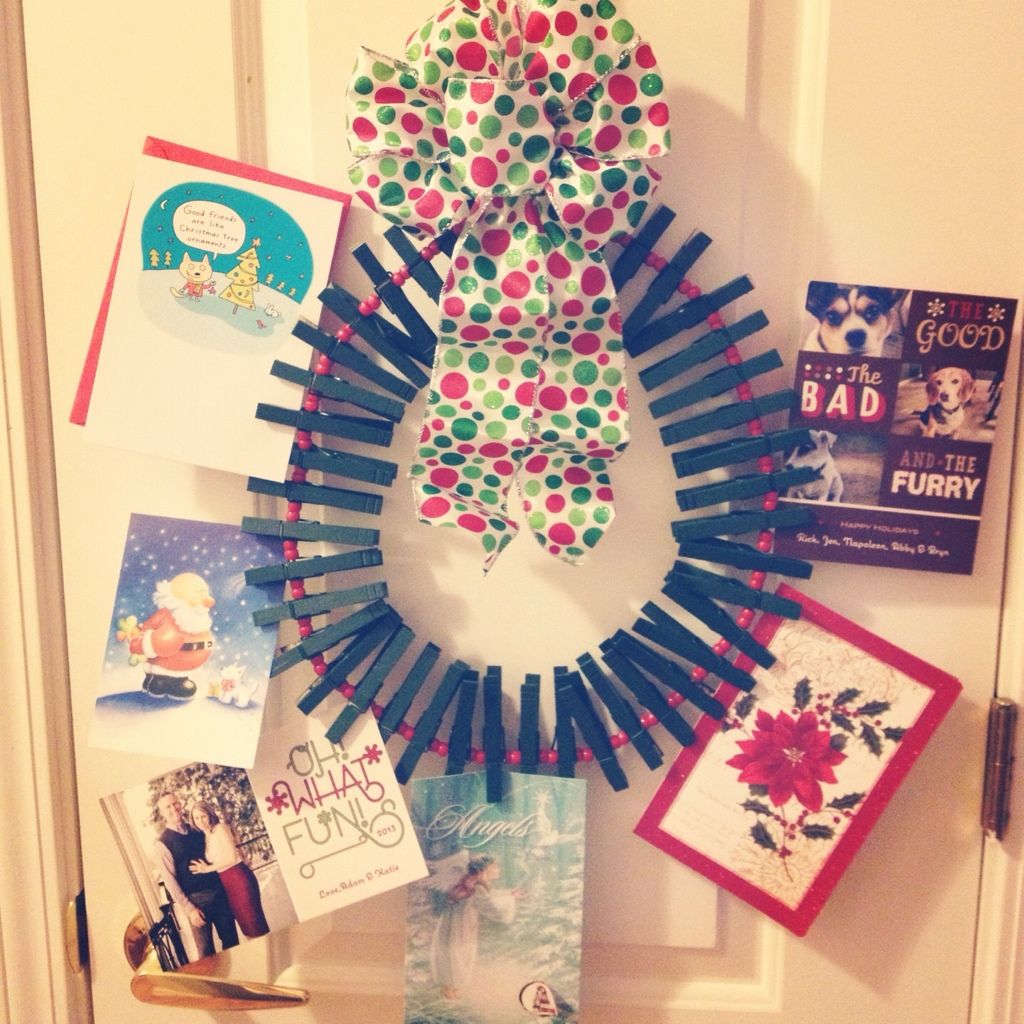 I did change out my bow this year because the one from last year got all smooshed from being boxed up all year :) Because I did this last year, I don't have any step by step pictures, but I can give you a run down of what I did.
You will need:
1. Wire clothes hanger
2. Wooden clothespins
3. Green spray paint
4. Box (to assist with spray painting the clothespins
5. Plastic beads (I chose red. but silver, gold or white would work also)
6. Tough tape like electrical tape
7. Bows/ribbon to finish it off
Directions:
Carefully unwrap you hanger and bend into a wreath-like circle. You might need gloves for this, or pliers to assist. I can't remember how I actually did this. Then take your clothespins, and clip them to top of an open box, and spray paint them green. You will need to go a couple of light coats to ensure that you don't get a lot of drippy paint. When the clothespins are dry (you might want to dry them overnight, but they should be dry in a couple of hours), clip them onto the wire hanger, putting a plastic bead in between. Then secure the ends of the wire hanger together with tough tape. I believe we (we being my Mom and I...ha!) used electrical tape. Use bows and ribbon to finish it off and hang up and enjoy!
Here are a couple of other fun examples that I found on Pinterest. The first one looks similar to the original pin I found.
I thought this was a fun way, to decorate it all up. I think they just used different scrapbooking papers that you modpodge onto the clothes pins.
And here is more of a simple all natural look, which I also don't mind either.
How do you display your Christmas cards?
PS. Does the all natural one above look like a dog might of chewed on one of the clothespins in the upper right hand corner? Ha! That's something Abby would have done.