A few days ago I was looking for some delish and easy comfort food to make for a lazy Sunday. I hadn't had chicken noodle soup in a long time, and for some reason it just sounded so good. I searched a couple of my favorite recipe sites, and came across this super easy recipe from
Iowa Girl Eats
.
Of course I modified it slightly to make it gluten free, and to accomodate the ingredients I had on hand. Iowa Girl Eats used egg noodles, and I ended up using gluten free spaghetti. I then cooked the chicken and veggies in the broth for about 30 mins, and added the spaghetti about 8 mins before the chicken/veggie/broth mixture was done since my spaghetti package stated it needed 7 - 8 mins to cook.
One thing to note, gluten free rice spaghetti is very starchy, so it made the broth very thick. We really loved this and it reminded us of the chicken noodle soup from Bob Evans. If you use regular spaghetti you might not get the same consistency, but you could possibly add some flour to thicken up the soup a little.
Also, as it sat there, it got even thicker, so the left-overs the next day were almost like Chicken Spaghetti. I didn't mind this, and neither did Rick. Rick loved it so much he asked to add this to our dinner rotation. It's definitly a recipe I would recommend trying, and I will be making this again in the near future :)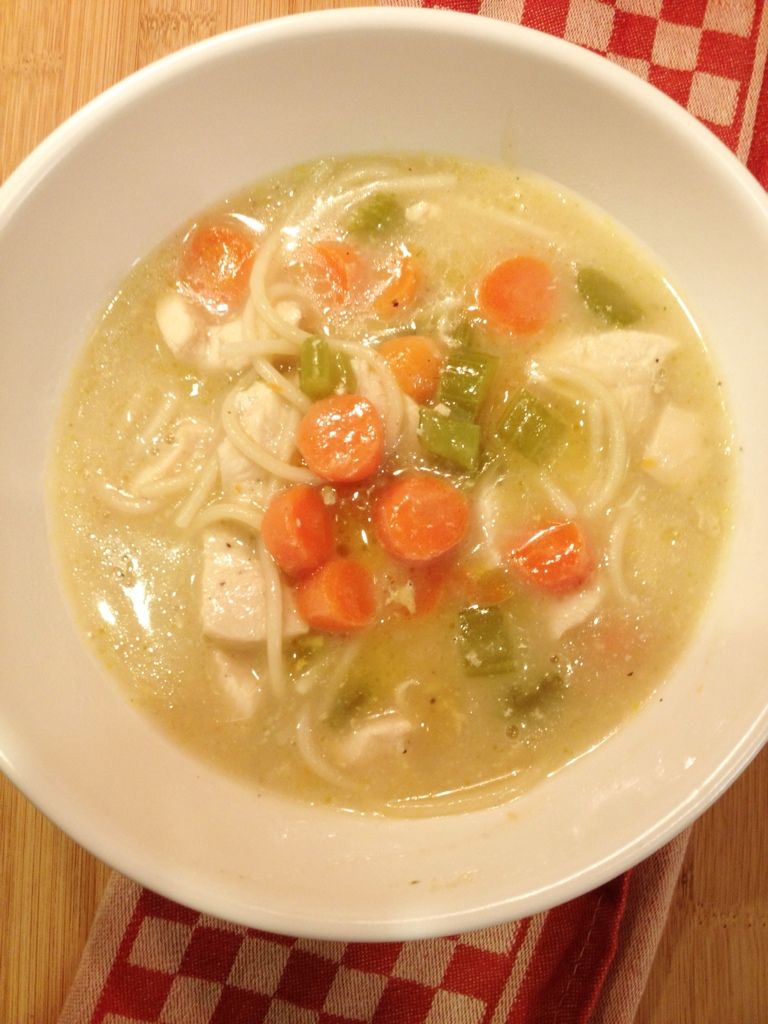 Homemade Chicken Noodle Soup
Ingredients:
2 teaspoons oil

2 large carrots (or 20 mini carrots), thinly sliced
3 ribs celery, chopped
salt & pepper
2 garlic cloves, minced
2 large chicken breasts cubed
2 boxes of chicken broth

3 cups of water

16 oz spaghetti (I used rice spaghetti)
Directions
Add oil, carrots and celery to a large dutch oven. Cook the veggies until tender, about 8 mins. Add the garlic and cook for 1 min. The add the chicken, salt & pepper to taste and then 2 boxes of chicken broth. Cook mixture about 20 - 22 mins and then add your spaghetti. You may need to add water to ensure there is enough liquid for the spaghetti. I added about 3 cups. Cook until the spaghetti is tender, approx 8 mins, or according to the directions on the box. You could then add some flour to thicken up if preferred. Let sit a few mins and then enjoy!!