So it only took 2 weeks, but our Christmas tree is finally finished! I kind of started from scratch this year on decorations, so it took a little more time than usual to get all of our decorating done. I will probably continue to decorate up until Christmas Eve. There are so many cute Pinterest projects, I have to do them all!
Today I also wanted to share my DIY Tree Skirt. Many of you may have seen this on Pinterest as the "
No Sew Tree Skirt
."
For this version (above) you glue (using a glue gun) strips of fabric as ruffles to an existing tree skirt. I thought this tree skirt was so very cute, and it fit our decor so well, that I just had to make it!
I made mine a little differently, but the results look identical. I actually ended up sewing on the ruffles. The thought of all of that glue-gunning made me think I would burn all of my fingers off. And it takes like 20+ glue sticks, and at the time I could not find my glue gun or glue sticks to save my life, thanks to moving :) So I decided to sew on the strips.
It maybe took a little longer, since you had to pin on the strips first, and then sew them. But I am hoping the results will last longer since the strips are sewed on. I also didn't have a tree skirt that I wanted to use as a base, so I ended up making a base out of cheap muslim fabric. I did already have a tree skirt my Mom made for me years ago, but I didn't want to cover it up, so I used that as a pattern to cut out a base from the muslim fabric, and then sewed the strips of fabric onto it. This worked out super great because the muslim fabric was a cream color, so it blended in really well with the burlap.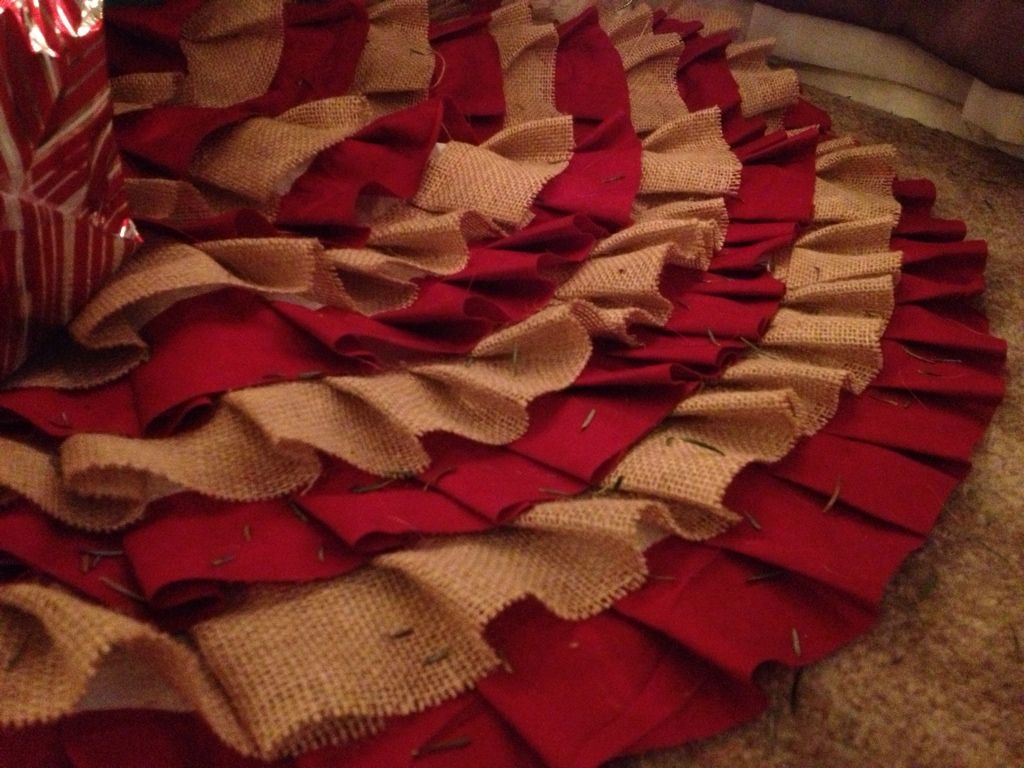 This project was pretty easy, and a simple sewing project, if you know how to sew. I used 3 yards of muslim fabric for the base, 2 yards of red and 2 yards of burlap for the ruffle strips. I think I cut my strips 2.5" wide. I thought that I was going to run out of red fabric, but I ended up having just enough for this project.
As I mentioned, this was a pretty simple sewing project, but at one point I did have some trouble with my machine and might have said to Rick "F*!c Pinterest, were going to Target." Ha!!! My machine kept getting jammed up because I must have put the bobbin in wrong or something, so Rick brought in some reinforcements.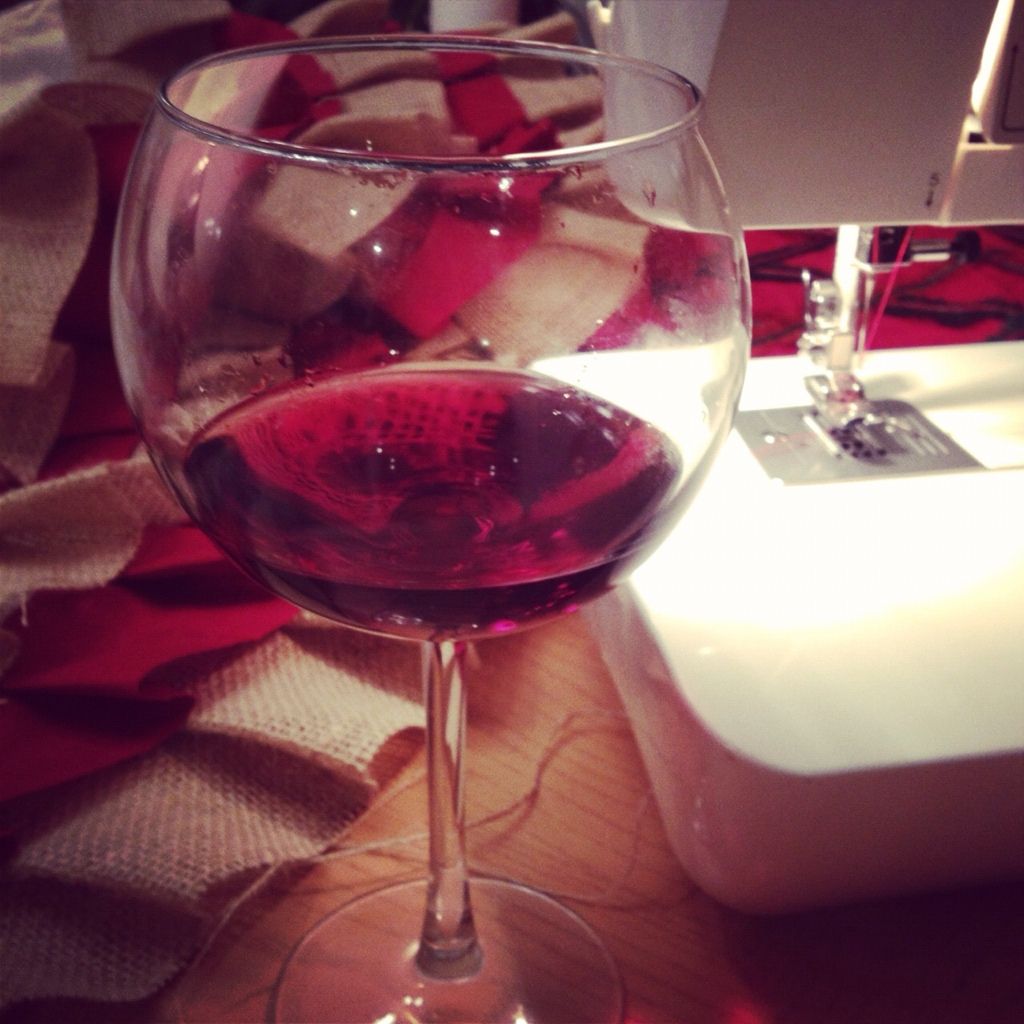 Once I figured out my bobbin issue, and drank a little wine, we were back in business. It did take me a week to finish it, but those are slight details...ha!Towards the end, Rick said "Wow this is looking really nice. It's going to be a nice heirloom to pass down to your kids. You can be like, look kids, it's the tree skirt that took me two Christmases to make." He can be so sweet at times, and then he throws in a zinger like that.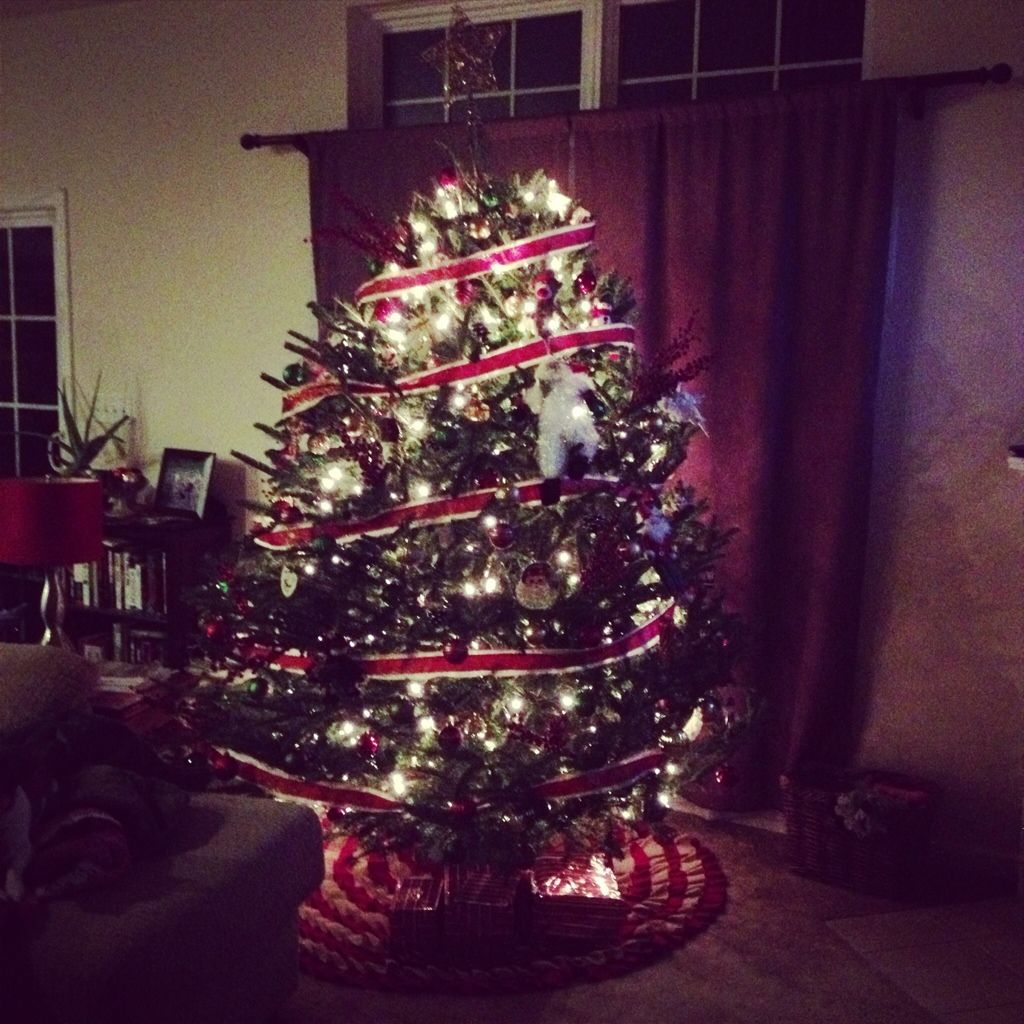 Here is the finished tree with the living room lights down. I love how it sparkles!
Have you tried anything fun on Pinterest lately?