I am a little obsessed with lists. I have a bunch of lists going right now in the back of my planner...blog post ideas, goals, projects, what to cook for dinner...the lists go on!
So I thought it would be fun (for me at least) to share, one of my many lists, what winter projects and goals I want to work on between now and spring (April'ish). I like to tackle my goals/projects in smaller chunks, as it seems easier to accomplish.
Before I start though, I did want to share a quick pic of my first organizing project of 2013!! Yes you can call me a dork now.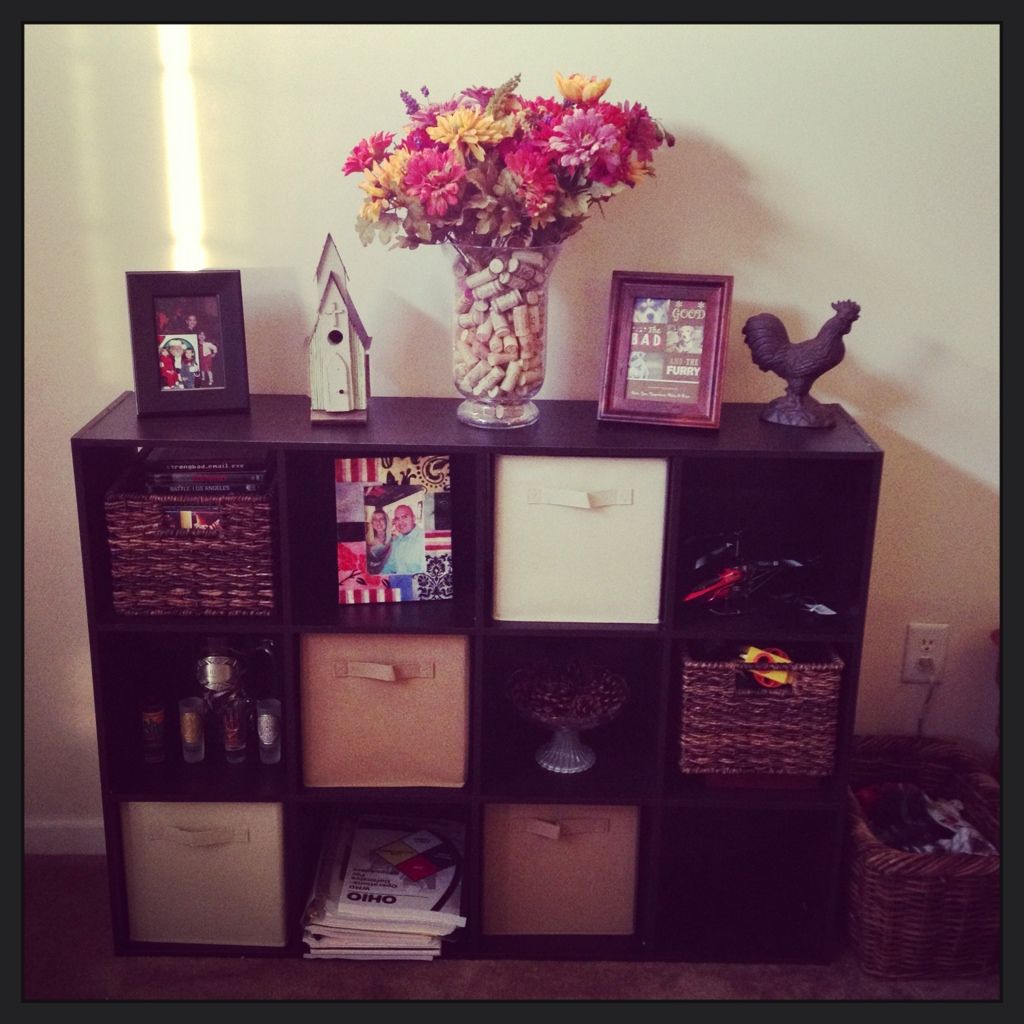 Rick had a DVD rack sitting here full of DVDs and also became the catch all for other items such as X-box equipment, the
IBADDs
(because we have more than one now...I think we now have 3), and what not. So I thought this might be a more attractive way to organize all of these items, and gave me a place to put a few pictures as well. I still need ot figure out a way to organize his magazines/books in the bottom two empty cubes, but it's looking so much better for now!
2012 Winter Projects/Goals
1. Painting the condo - We have been kicking butt with our
painting projects lately
, and my goal is to paint all of the rooms in the condo before spring time. This weekend the master bath is on the docket to be painted, and then I want to focus on the main living areas like the kitchen, dining and living rooms.
2. Mirror frame - I really want to put a frame around the mirror in the 1st floor bath, and found a few pins on
Pinterest
on how to do this. It seems rather easy, and Rick said he can cut the frame, so it's something we both want to do in the next couple of weeks. I'll be sure to share the results!
3. Organize jewelry/scarves - I had a somewhat organized system for both, but my obsession with buying accessories is getting some what out of hand and I have outgrown my current system. I'll probably look for some ideas on Pinterest, but am totally open to ideas if anyone has any.
4. Make photo books - I have been wanting to make a coffee table book of my
trip to Maui
for about a year now, and am thinking I might put together one for 2012 as well. I typically print out all of my digital pics and put them in albums, but am so far behind in printing I thought it might be easier/cheaper to just put together a photo book. And a lot of my pics are now Instagram pics, so I am not sure how to even print out square pics.
5. Household binder - I saw this over at
I Heart Organizing
, and have been slowly gathering all of the information to put in this binder. For my binder, I want to include important phone numbers, insurance information for the year, a budget, and a few other misc things that would be awesome to have for quick reference.
6. Pay off car and credit card - My car is already scheduled to be paid off sometime in April/May, and my balance on my credit card should be able to be paid off by then also. It will be nice to have some extra money to put into savings or to possibly take a vacation in the near future!!!
7. Plan a trip - Speaking of vacation, we have been having some initial discussions about what we want to do this year. Do we want to take a week long trip, or a few weekend trips, or maybe both. Still very early on, but can't wait to get away!!
8. Organize the pantry - First off, I am glad we have a pantry, but it is sort of small, and so hard to see things in the back. It's also packed full right now, and if I end up buying another can of chopped tomatoes, corn or chicken stock, I think it's all going to bust! I really need to go through it, get rid of things and take stock of what we do have so we can eat what we have and not keep buying things over and over. Oh and another goal is to plan meals around what's already in the pantry!! Ha!
9. Plan our garden - I was informed last night that we will begin planning out our garden in the next couple of weeks. Although it feels like planting veggies seems so far away, I am a little excited to begin this process because it means spring is around the corner!
Extra credit:
Here are a few other items that may not get finished until Spring, but I figured I would add to the list in case we get extra motivated.
1. Photo wall - I want to put together a
photo wall in the stairway
going up to the 2nd floor. I need to start planning this out so I can find pictures and frames to use.
2. Curtains for the living/dining room - I know what I want, but I just haven't found what I want just yet. I might end up having to make these, which is why I am pushing it to possibly a spring project. I also want to see how the paint turns out before I determine what color curtains I want.
What are some of your projects/goals for 2013? Do you like lists as much as I do? :)