I am very excited to share my latest DIY organization projects this week. One because they are fun and easy ways to organize your jewelry and accessories, and two because I am so happy I have FINALLY gotten my jewelry and scarves organized!
I have been looking for ways to organize my jewelry and scarves ever since I moved about 3 months ago. So what do you do when you have a problem? You go to Pinterest for a solution!
DIY Jewelry Rack
There were a couple of different options on Pinterest to hang long necklaces, but I love fell in love with this
pin
.
So this is how my jewlery started out looking. I keep all of my jewelry on top of a bookcase in our closet which holds Rick's shoes. I was using a plastic box with dividers from
The Container Store
to hold the majority of my jewelry, and the overflow usually ends up next to it on top of the bookcase. This results in me probably losing pieces (hopefully not!!) and my necklaces getting all tangled up in each other.
In order to make this jewelry rack:
1. Take a metal garden rake (which I got at Walmart for $5.97!!)
2. Cut off the wooden handle with a saw, or drimmel, or whatever you have.
3. Add a piece of ribbon to the top to help finish it off, securing the ribbon with a little hot glue, and tied into a bow.
4. Hang it up with some screws or nails, and have fun organizing your necklaces.
I hung this rack in our closet over the bookcase with my other jewelry. I hung all of my long necklaces on this rack, and am keeping smaller necklaces, bracelets and other misc jewelry in the plastic divider box. I store my earrings on this little framed earring holder that one of my previous supervisers made and gave me for Christmas a few years back.
So before I share the scarf rack, I need to share a few funny stories about this project. So it's the middle of January right, and lawn care items are just not the hot item this time of year. So I went into Walmart to try and find an inexpensive rake. I could not find one anywhere, so I found an employee to ask for their help. I came across this older man, who was super nice, and he helped me to find one in the very back of the closed garden center.
He then asked me what I was doing with a rake in the middle of January. I mean it was in the teens last week. I said a craft project and he was like,
are you a teacher?
I said no and I almost said...ever heard of Pinterest? Ha! I explained what I was doing and he was like,
oh that sounds interesting
. He was very nice but I am sure he thought I was nuts!
I then came home and asked Rick if he could assist me with my DIY projects. His response:
DIY stands for Do-It-Yoursef
. I might have posted this on Facebook and then mentioned that he lost some boyfriend points that night. My friends and family had fun giving him a hard time the next couple of days...ha!
DIY Scarf Rack
This scarf rack is even easier.
My original scarf organizer consisted of a hanger. It worked well when I had like 5 scarves, but I am now far beyond 5 scarves. It was so bad, when I started to oranize them, I realized I had scaves I had totally forgotten about and have probably never even worn!
So what did I do? I found a towl rack from the home/bath section of Walmart for $11.97 and had Rick hang it in the closet on an empty wall. Who needs an empty wall in a closet anyway right? That's just wasted space!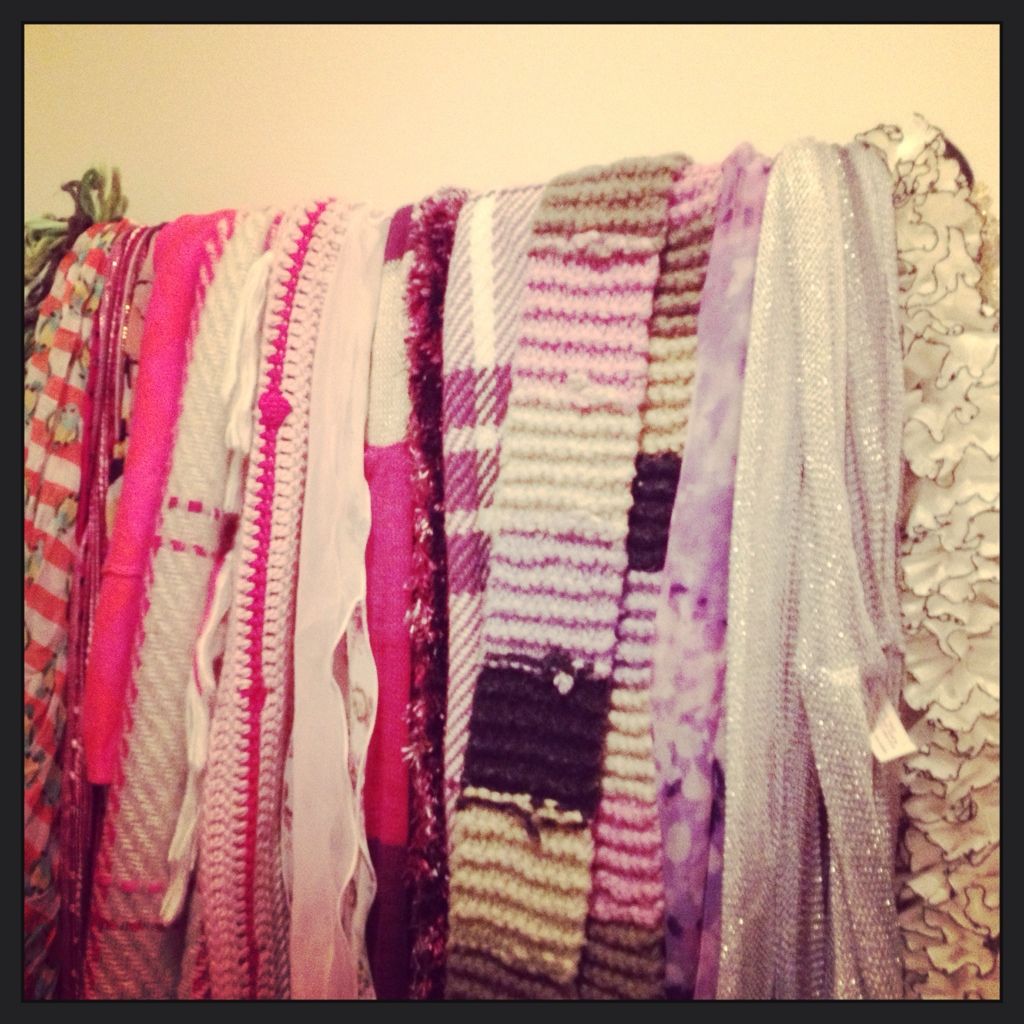 I then just hung my scarves on the rack, color-coded by the way. The hardest part about this project is that the template in the package to help you drill the holes for the wall anchors was completely wrong, and Rick had to cut the bar down by about 1/2 inch. Lesson learned: Double check the template before you drill! I guess that's what I get for getting such a cheap towel rack...but in the end it all worked out.
So how do you organize your jewelry and accessories? We still have some projects planned for the master closet, which includes adding shelves to organize my shoes. A very important project for the future!!
Today I'm linking up with Katey over at
Keep Calm and Carry On
and Steph over at a
Beautiful Mess
for their
Saw It, Pinned It, Did It
link up. Check it out for even more fun Pinterest projects!

Follow Me: