So I keep seeing all of these Fun Facts posts, and totally have to jump on the bandwagon here. I figured it would be fun to share some fun random things about me, so you get not just one, but two posts in one day!! Hopefully you will find these fun, and not think I am crazy, but you can if you want :)
~ The picture above was taken in my car after getting my hair done. It is only ever this straight right after getting it done. I have naturally wavy hair, and can never get it this straight!
~ I have OCD and am obsessed with everything being in a bin or some type of organization product. I have small bins in my sock-drawer, containers in my kitchen drawers, baskets under my bathroom sink to hold everything.

Here is my recent organization purchase…I double heart bins!!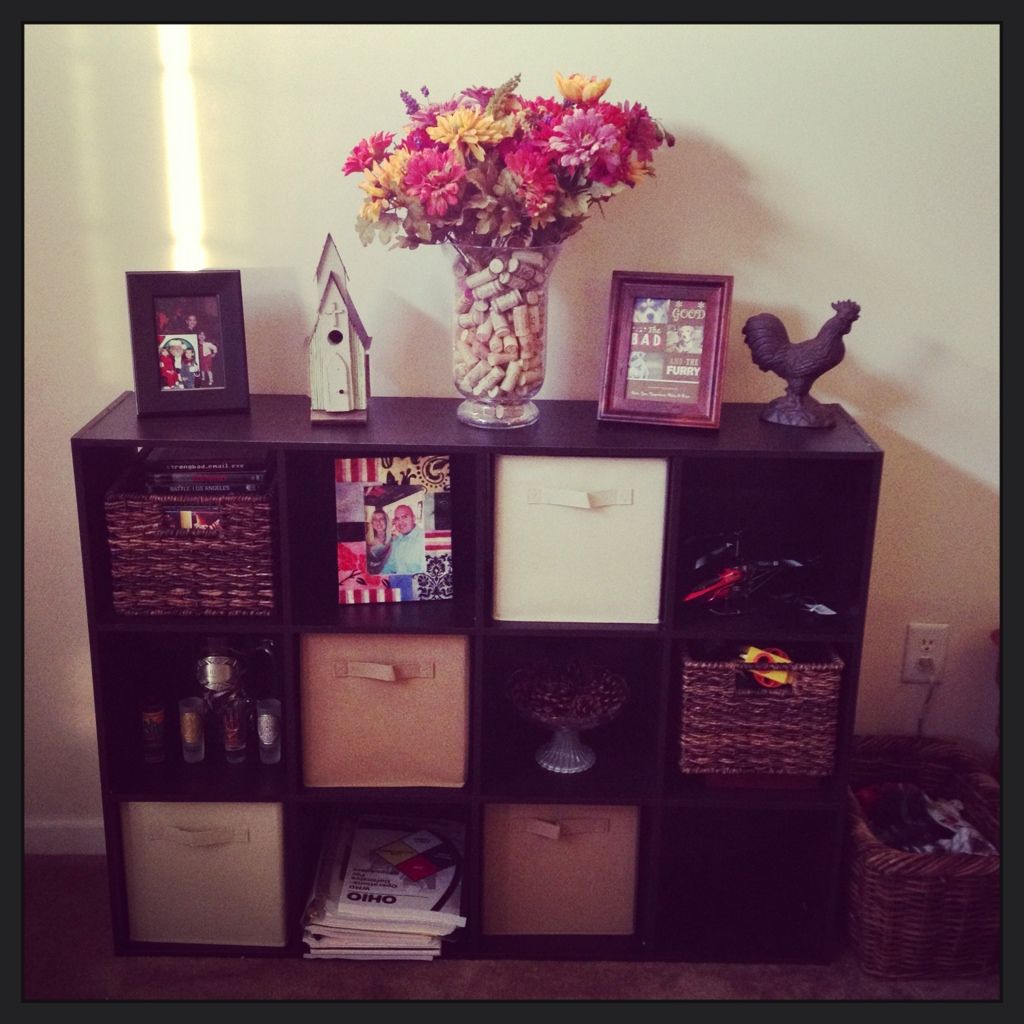 And yes those books/magainzes have been straighted-up since this pic was taken...ha!
~ Every time Rick goes out of town for Guard, I end up reorganizing something. He then jokes he can't find anything for at least a week, sometimes two.
~ I also just love her beagle ears, they are soft like velvet, and have been known to rub them on my cheek, especially if I am stressed or upset. She has been my little buddy for the last almost 11 years, and has been there through some tough times for me. I love her probably more than you should ever love a dog. Ok…sappy time over
J
~ I am deathly afraid of bees and really any insect that stings you. I also hate snakes and had to kill one once. It was on my back patio, and my neighbors probably thought I was totally nuts because I was out there in my sweats and tall dressy boots, screaming and stomping around my patio. I finally got that sucker, which was a baby snake, and swore for 2 weeks that the momma snack was going to come back and get me…true story!
~ My dream job would be an interior designer. I almost went back to college for this, but didn't think there was much of a market for it here in Columbus. Instead I went to grad school and got my MBA...not as much fun...ha!
~ My brother wants me to open a bakery since I love to bake, and he said he would open a BBQ/grilling restaurant next door…he loves to grill/smoke meats!
~ I am obsessed with food trucks, and my goal is to eat from every food truck in Columbus. I have probably tasted about 15 so far within the last year.
~ I am obsessed with certain celebrity reality shows: Tia & Tamera, Giuliana & Bill, Tori & Dean: Home Sweet Hollywood. I love it when they are so down to earth, and they almost seem like normal non-celebrity folks. I am not a fan of the Kardashians. I may also watch some of the Real Housewives shows.
~ I am loving The Carrie Diaries, and it feels somewhat like the good old days with SATC, but I kind of feel weird because it's sort of a teen show. It's going to become one of my closet addictions.
~ I'm obsessed with Instagram. I can go a day or two without getting on Facebook or Twitter sometimes, but if I miss an afternoon of Instagram, I feel totally behind. I love looking at everyone's pics!! Feel free to follow me @jhastin12. Oh and if you have an Instagram account, leave me a comment with your name and I'll follow you back!
So tell me about you?
Linking up with:

Follow Me: