When I heard about this linkup from Erin over at Living in Yellow over the weekend, I just knew I had to participate. I mean how many times do we complain about girl issues, and how much easier it would be to be a boy.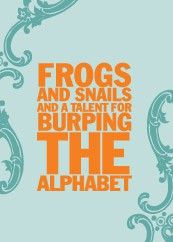 What little boys are made of
Well to get started, I first wanted to do a little research to see what I was missing out by being a girl. So I did what any girl would do, I asked the boyfriend. I asked him, "what's so cool about being a boy? What am I missing out on? Oh and you can't say, you can buy a canoe," because that's what he has been talking about for about 6 months now. Well here is his response:
Of course you would want to buy a canoe. You know YOU would want to take the dogs out on the river to go fishing.
Oh and annoying girls is a lot of fun.
And finally, as a boy you are pretty much awesome at doing the things you want to do. Things you are not awesome at you don't do. For example, I'm awesome at playing video games; not awesome at cleaning.
That's all I could get out of him. He was watching Finding Bigfoot, and was a little distracted.
So that ladies, is apparently what we are missing out by being girls, from a man's perspective…ha! So what would I do if I were a boy, from a woman's perspective?
~ I would be able to have man hearing (especially when watching Finding Bigfoot). I would only hear the things that I wanted to hear. Never any more bad news, right? Or listening to annoying people.
~ I would have more time back in my day because it would take far less time to get ready in the morning, and less time standing in line for the bathroom. Why are the lines to the ladies' room so long??
~ Speaking of bathrooms, I would be able to burp and fart and not worrying about being lady-like.
~ I could wear more comfortable shoes, although not as fun/trendy
J
~ If I were a boy I would definitely learn how to cook, oh and play the guitar. These are things I would do to wow the ladies. I love a man that can cook and then play a few tunes on the guitar. Singing not necessary as I cannot sing!
~ If I were a boy I would definitely listen to my mother and sister(s) on how to treat a lady properly.
~ I would also grow up to be an amazing husband and father. I would spend tons of quality time with my family, and show my children the ways of the world.
So what would you do if you were a boy? Or if you are a boy, what would you do as a girl? I would love to hear!

Follow Me: