Happy Monday everyone! Did you have an amazing weekend? Mine went by way too quick!
Rick was out of town this weekend for Guard, so I had a single-girl's weekend and got to enjoy a little SSB (Secret Single Behavior). Remember Carrie from Sex and the City's SSB? She stacks saltines with grape jelly and eats them, standing up in the kitchen, while reading the latest issue of
Vogue
. We all have our SSB and this weekend I got to endulge in mine a little.
I first woke up to being covered in puppies. I mean I love spending time with Rick, but sometimes it's nice to have the whole bed to yourself, covered in these cuties:
Who's with me?!?
One of my favorite SSB's is spending Sat mornings in bed, drinking coffee, and watching cooking shows. The Sat morning shows on the Food Network are my favorites. Of course, the dogs helped keep me company during this time. Or maybe they were trying to steal my cinnamon rolls. Abby has also been know to drink my coffee when I am not looking...no lie...what dog does that?? Seriously!
Abby is trying to sway me with her beagle eyes...you know you want to give me your coffee and cinnamon rolls.
Another favorite SSB is drinking a little "adult" choclate milk (aka chocolate wine). If you like Kahlua and Cream, you will love this!
I had some girlfriends over Sat night, and we made dinner, had some wine, and finished off the night with some chocolate milk and no-bake cookies...yum! You would think we were 6 if you didn't really know what we were drinking...ha!
My friend Amy has a 4 month old, so we spent the majority of the night playing with her. I had her on my lap for a while, and Napoleon got so jealous. He kept putting his front paws on my knees and looking up at me like..."why aren't you holding me?" He looked so sad. He finally jumped up on Amy's lap and was back to being content. He just needs so much attention...ha!
Sunday was spent cleaning, organizing and painting the master bath. I want to reveal the master bedroom and bath later this week, so I'll hold off sharing those photos for a few more days.
Cleaning and organizing is another SSB. For some reason organizing just calms me down...it's an OCD thing...I just can't explain it. The world could be falling apart, and zombies could be attacking, but if my kitchen drawers are all organized, I don't even care! There is still a lot of organizing to be done in the condo, but thankfully that is cheaper than therapy! :)
And to leave you with a few cute puppy pictures from this weeked: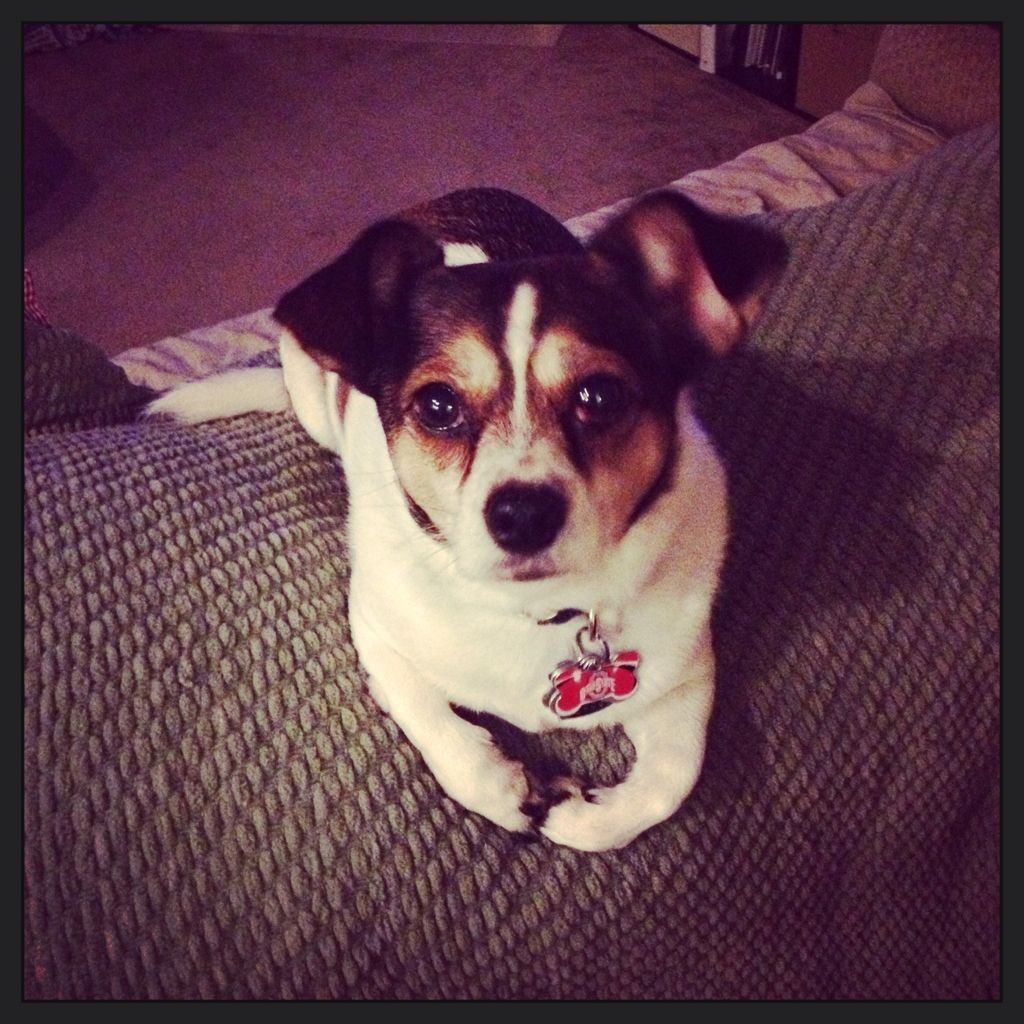 Here is Napoleon doing a little praying on Sun. Probably praying that little baby won't come back and steal all of his attention. And doesn't he look like a cat, all perched on the back of the sofa. He has a lot ofcat-like tendencies.
Sun night Abby was sitting on this chair and just looked happy as pie...well I am sure she would be even happier eating pie :) We joked that is what a behaved beagle should look like, and it doesn't happen very often.
Hopefully you had an enjoyable weekend and an even better start to the week! Here's to looking as happy as the beagle!!
Linking up with: