Happy Monday everyone! Hope you all had a great weekend. We had a somewhat uneventful weekend, unless you call breaking our bed eventful...ha! I'll share more on that later, but if you are expecting a crazy saucy story, well remember folks, this is a puppy friendly blog :)
So as I mentioned the last two weekends actually have been pretty uneventful, which has been totally fine with me. It's nice to finally have some downtime after a pretty crazy last couple of months.
A few things we have been doing during this downtime is painting. I have been wanting to paint Rick's condo, well, since I first came over to his place. He has a really nice condo, and it has good bones, but the entire place just needs a good paint job. So one of our goals for 2013 are to paint the entire condo. Top to bottom, all rooms!
Last weekend I painted the half bath on the first floor.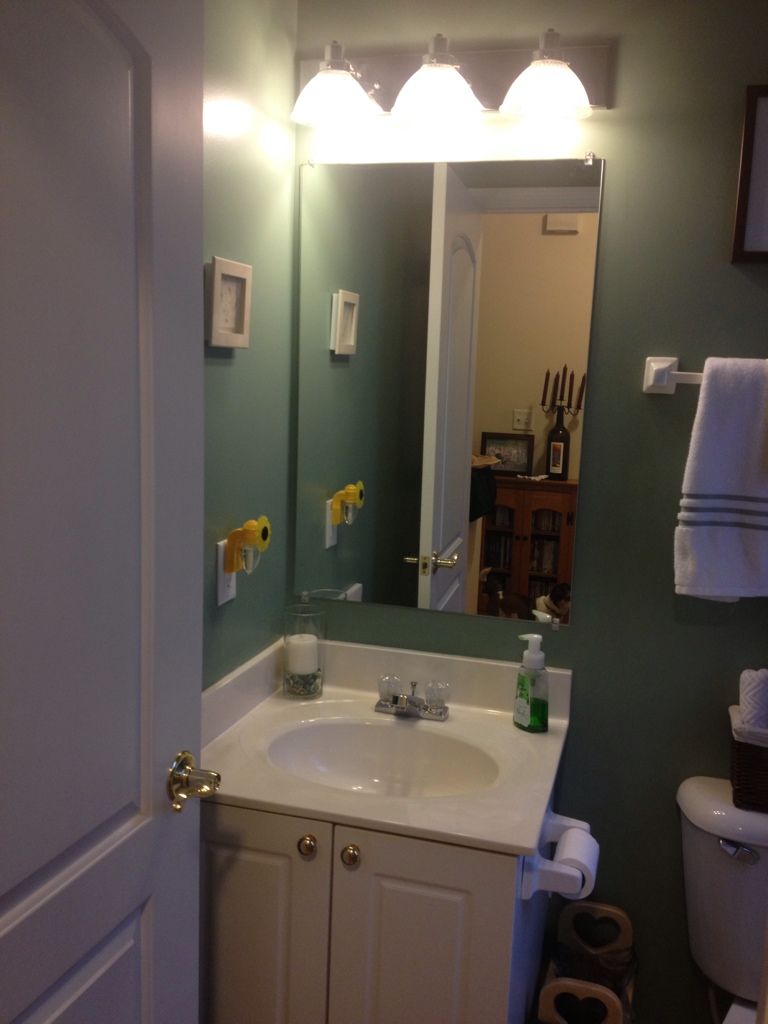 It's a medium sage green color and looks awesome against the white trim. Do you see the puppy in the mirror? He is my little shadow!
It's a little more yellowish in this picture due to the glare from the light fixture, but you should be able to get the point. There are a few more projects for this room and then it will be done. We want to put a white frame around the mirror, replace the blindes with much longer ones (so people won't see is going to the bathroom...embarrassing!), and possibly replace the handles on the vanity and the towel rack.
Then this weekend we conquered the master bedroom. And when I say conquer, I mean it was a big task. I thought I could have it painted in 3 or 4 hours and be done. Oh no, it took like 7 hours to paint and boy was I exhausted when I was done!
We had a little fun though...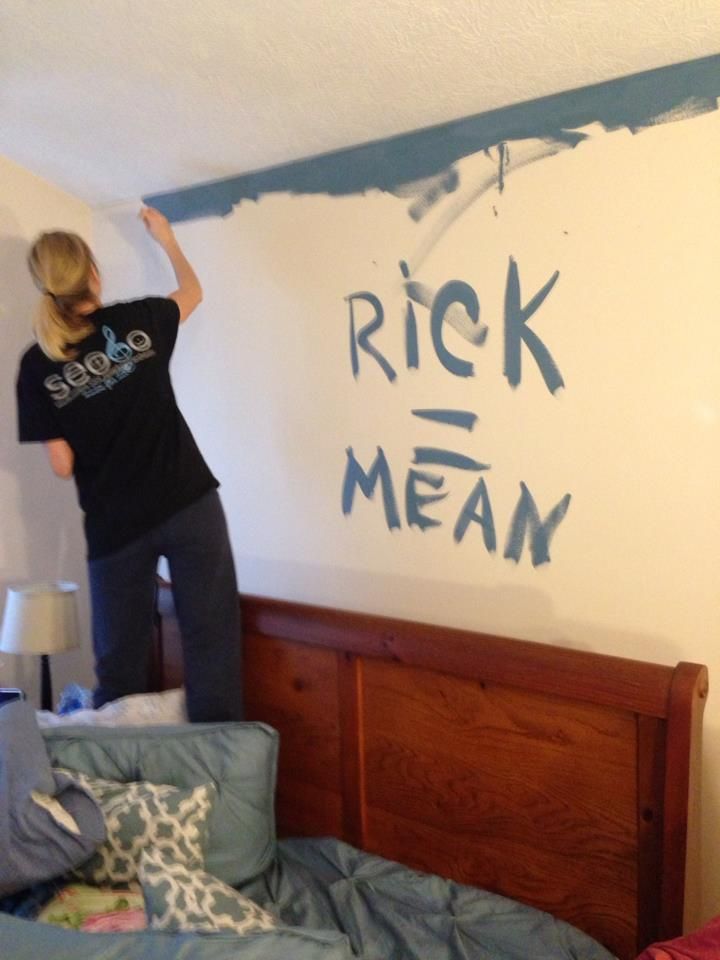 I can't even remember what Rick said to me to make me write this, but he quickly put it up on Facebook to show the world that he is a meanie...ha!
And this is where the breaking the bed part took place. We were trying to move the bed away from the wall so I could paint behind it. When we were first moving it out, we heard a few creaks and then tried to be a little more careful. We were able to pull it out from the wall just fine, but when we were pushing it back, the leg on the footboad split where the side pieces connected, and the bed came crashing down.
I might have freaked out, but Rick was calm and said "don't worry, I will fix this and make it even sturdier than before!" See he likes to over-engineer things. Like our bookcase from Target that just goes together with a few screws...yea he Gorilla-glued the heck out of that thing, and it is never coming apart. You could throw it from a 5-story building and I bet it would still stay together.
In the mean time, we used a few gun magazines, and a few Muscle & Fitness magaiznes to hold up the bed. I guess that is one thing they are good for. I have been known to kill a few bugs with a gun magazine...true story!
Well, we finally got the bed back together, just in time for us to go to bed. I didn't test it's sturdiness, I'll just take Rick's word on that...ha!
And here is the finished room!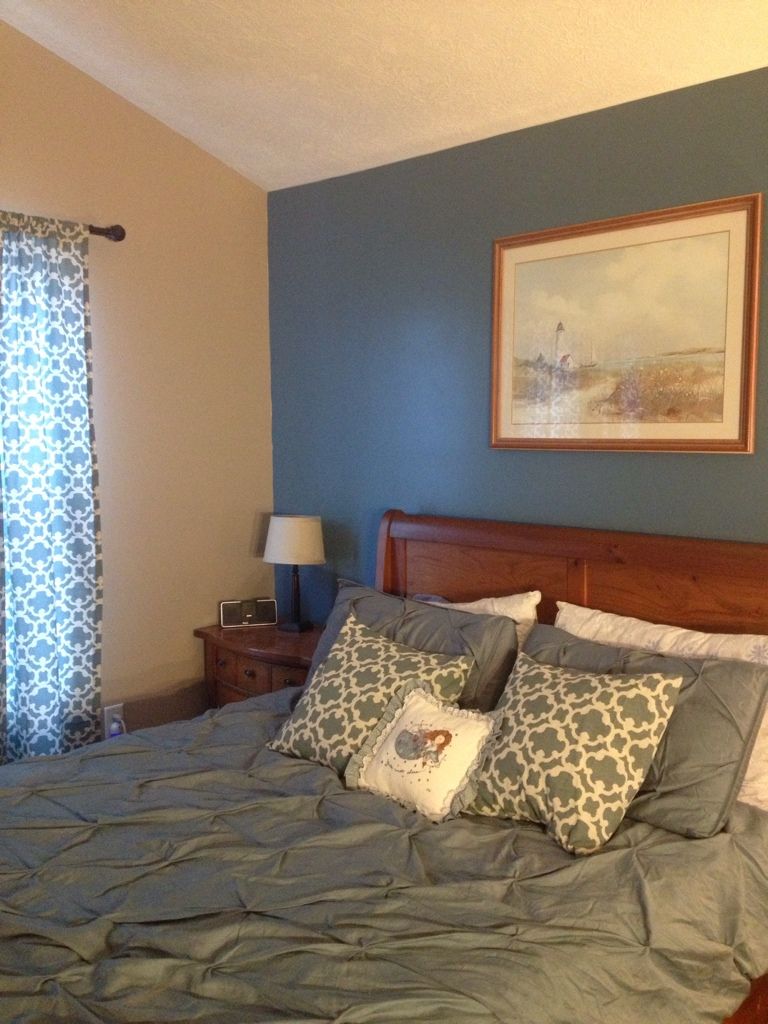 We painted the majority of the room a stoney/brown color, and then painted one accent wall a rich colbalt blue. I just love how it turned out and can't wait to make a few more finishing touches to the room. For now I just want to add a few more decorative accessorices, and maybe purchase some new side table lamps.
Next weekend I am going to tackle the master bath and paint the same stoney/brown color. That is if I can move by then. Who knew all of this painting would make me so sore. I feel like I've been hit by a bus!!
Hope you had a great weekend and a great start to your week! Did anyone do anything fun this weekend?
Linking up today with: