Happy Hump Day! Are y'all glad it's Wednesday!!
So today's post is kind of spur of the moment. I had a post planned for today, but just wasn't feeling it. So right before I walked out the door I said,
hey Rick, take my pic
. He was like...
oh ok
. Ha! I am so not a fashion blogger, but love seeing what other people are wearing, and was kind of inspired by beautiful
Sarah
when I read her post this morning.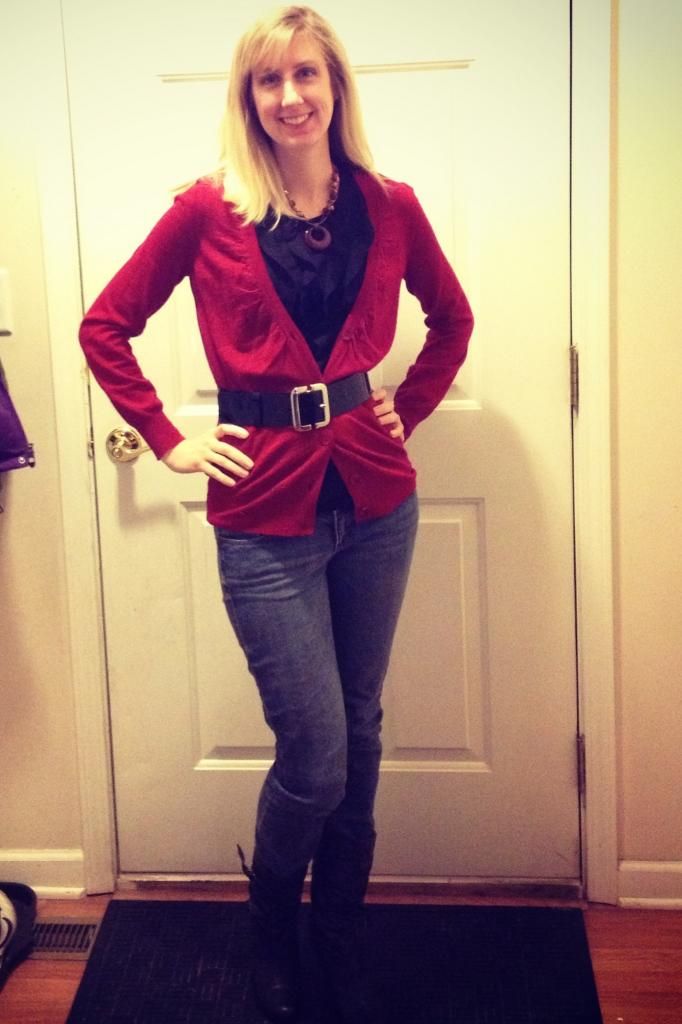 Ruffle Top: Limited; Cardigan and Belt: Loft; Skinny Jeans: Express; Boots: White Mountain, from DSW; Necklace: Lia Sophia; Earrings (which you can't see): Tiffany
I would like to try and do this more, so my goal is to plan these out and try and get better pics other than this quick iPhone pic as I am walking out the door. Just keeping it real I guess :)
In other news, there are a lot of new faces around here and I just want to say thank you to each and every one of you for stopping by and leaving such sweet comments. They totally make my day :) I try my best to respond and visit your blogs, and am going to try even harder as I want to get to know each of you much better!
Oh and are any of you on The Vine?
It's this new app (for iPhone only maybe??) that everyone is talking about. It's like Instagam, but videos. I finally got signed up (after I tried multiple times signing up for the wrong app...ugh...so frustrating), and so far I am enjoying everyone's videos. I have a few videos posted of the dogs, and have some ideas for some more fun things. If you are on this app let me know how to find you in the comments, and be sure to check me out. I am still trying to figure out how to find people. I have my
Twitter
account linked up to it, so if you are on Twitter, and follow me, you should be able to find me there.
And if we are not connected via Twitter,
let's get connected
! Also, if you haven't done so already, check out my
Facebook page
. If your blog has a Facebook page, let me know and I'll follow you. I am using my blog page to follow all of my favorite blogs and am slowing adding all of them. So let me know in the comments below and I'll be sure to check out your page also.
See I told you it wasn't a planned posted, and lots of randomness would occur...and I delivered!
Today I'm linking up with:

Follow Me: