Ever have one of those weekends where just the strangest things happen? Well let me share with you our interesting weekend.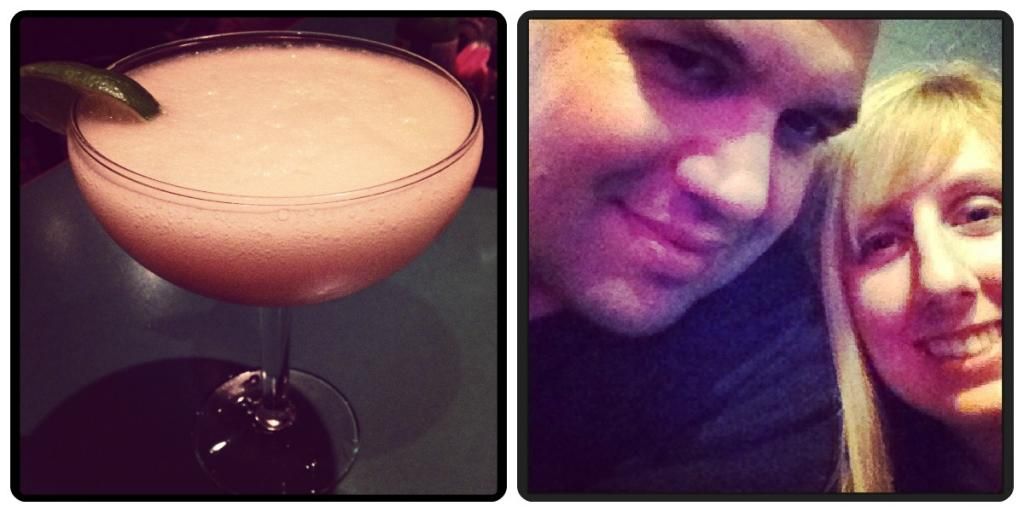 Friday night started off pretty normal. Early in the evening, Rick and I made a trip to the gym and got in a good run (I'm up to running 3 miles now...go me!!). When then headed off for some Mexican to celebrate National Margarita Day. It's a very important day right? And you must celebrate properly with margaritas of course!!
We then picked up our friends Jackie and Nate to go out for a few drinks. We knew we were going to a hole in the wall bar, but we weren't sure what exactly we were walking into. Let's just say there was a wide variety of people in this bar.
Now let me start by saying, I am not judging any of these people. I just want to show what a variety of people were at this fine establishment (where sleeves are required...very fancy!). There was this one guy who was wearing tall fishing boots. I think Jackie was a little jealous and wished she had some fishing boots like his. She kept saying "look at those fishing boots. He is wearing fishing boots in here" ha!! Then there was another guy who was wearing a bright orange beanie cap, bright red skinny jeans, and a rhinestone playboy bunny belt buckle. Oh, and he also had very long hair and a face full of piercings. To round things out, there was a girl straight out of the 80's/early 90's, with a varsity-type jacket, doing some flashdance type dancing up near the jukebox. She was having a lot of fun...all by herself. And speaking of the jukebox, they were playing 80's hip hop when we walked in, then in went into some metal music (which might have given me a slight headache), then some Sublime, and then ended the night playing Poison and some Def Leppard. Now don't get me wrong, besides the 30 mins of metal, I kind of liked the music. I guess I kind of liked the people watching also...ha!
Saturday afternoon was back to normal. We ran some errands, and then went to Whole Foods for a lunch date. I love Whole Foods, but I'll be honest, I get so overwhelmed when I go there. I could get lost in that store for hours, and probably come out spending thousands of dollars. We ended up getting some almond milk cheese (which I have been dying to try), some cherry BBQ sauce (amazeballs), beer for Rick, a few slices of pizza for lunch, and some bakery goodies (oatmeal pie for him, strawberries & champaign macaroon for her...yum!!). We ate our pizza in the little café up front and dreamed about all of the different foods we wanted to try. I think there will be more Whole Foods lunch dates in our future :)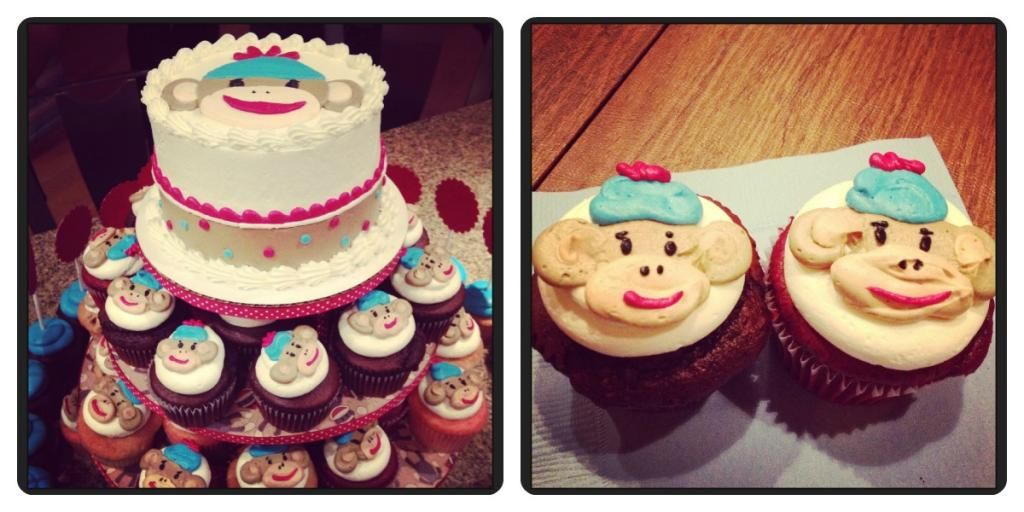 Saturday night we attended a couples baby shower. It was for one of Rick's friends/coworkers. I have never been to a couples baby shower. Have you??? Well the couples baby shower started off like any other shower. There was food, and the most adorable sock monkey cupcakes (and don't you love that top cake? I think the couple was going to freeze it for the 1st birthday...perfect smash cake don't you think??). There was even a sweet baby girl in attendance (always perfect for baby showers!) and the cutest presents. There was also a marriage proposal, which was so sweet!! I have never seen a proposal before, so I felt very lucky to be included. Then the night took a slight turn, and ended with the boys taking shots of tequila and whisky. Well I guess the boys needed some fun after all of the cute cupcakes and baby gifts.
On Sunday we were back to normal, and I ended up meeting Jackie at the gym for spinning (I haven't been in like 3 months, so my butt might have been kicked a little...ha!). I also did a little painting in the guest room/office. It's coming together, and should be done in the next weekend or two! I also picked up a new lens for my camera, a 50 mm f/1.8, which I am LOVING!! I am obsessed with using the low aperture and having fun blurry backgrounds. Here is one of my favorite pictures from this weekend. I have a few more I want to share later on in the week.
Look at that sweet face! Napoleon is the most photogenic of all of the pups. He just sits there like a little model. He might start charging me soon. As Rick would say "yea he'd do that."
At the baby shower on Saturday, I got to talk to a pretty well known photographer in the city, and he gave me a few tips, so I have been excited to try them out. I have been taking pics of all kinds of crazy things around the house. I can't wait for the weather to finally get nice so I can get outside and take pictures of something other than the houseplants and the dogs...ha!
So what did you do this weekend? Anything crazy or fun?
Happy Monday!!

Follow Me: