So I have a secret confession to make today. I absolutely love alpacas! I love how they are awkward, but yet also somewhat cuddly and cute looking. I might also have dreams of someday owning a small farm where we can have a few. It will be like a Martha Stewart type farm, all pretty and perfect, and no smells or cow manure to step on. It's my dream right, so it can be that way!
I have never been to an alpaca farm before, but I have looked them up online to see if there are any nearby that I can visit. There are a few in Ohio, so I am hoping maybe we can check that off of my bucket list sometime this summer.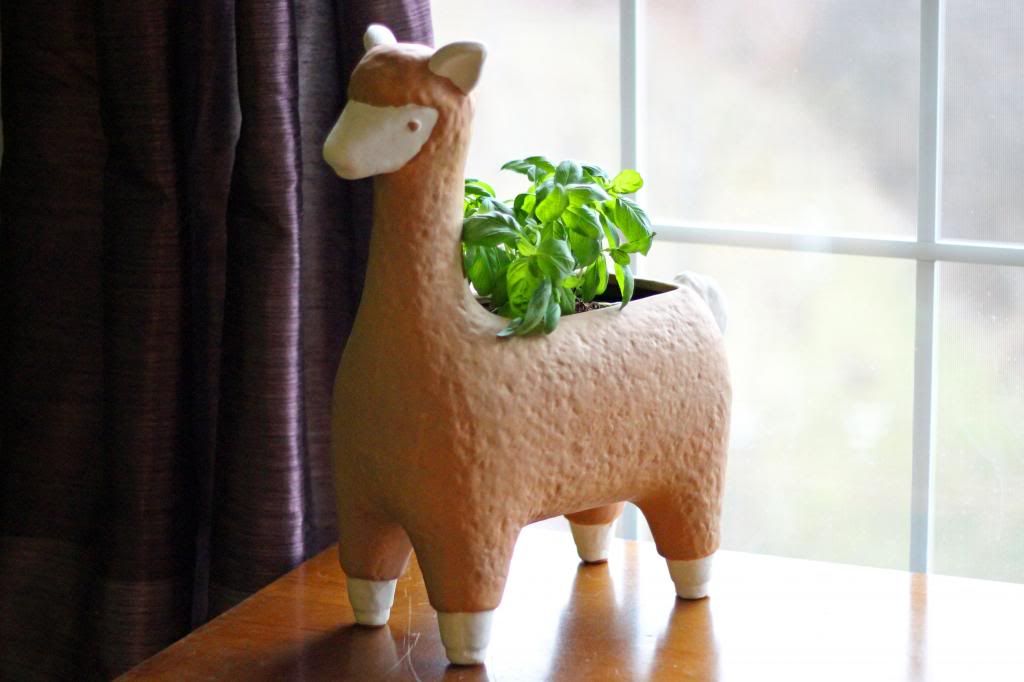 Thankfully Rick is just as crazy as I am, and he helps fuel my obsession of alpacas. For Valentine's Day he got me an alpaca planter from Anthropology. I think the sales girls thought he was nuts when he said he was getting this for his girlfriend for Valentine's Day. Little did they know, I actually loved it!
I named her Georgie, and planted some basil in her. I told Rick that alpacas like basil, so it was only necessary to give them what they want. He was like "is that right?"
Rick's family is thinking of getting a few alpacas someday. Rick's dad said this is in thanks to me. If they do, I might secretly pretend its mind and give it a name. Rick said they might let me name it anyway…ha! Then I will secretly hope that these alpacas have lots of babies so I can really have one of my own someday when we own a house with some land.
For now I will continue to enjoy my little alpaca planter, with the cute little cotton tail, who provides me with lots of fresh basil. I also really love basil, so it's a perfect match. Me and my little Georgie.
Do you love alpacas?
Linking up with
Because Shanna Said So
for Random Wendesday, and
This Kind of Love
for What I'm Loving Wednesday.

Follow Me: