Hi ya'll! Hope you had am amazing weekend. Since there weren't a ton of picture worthy events this weekend, I wanted to share a few pics from the last week.
1. Valentine day treats for my love.
2. I got an alpaca for Valentine's day! Yep an
alpaca planter
from Anthropology. My most favorite gift ever...well for 2013 at least!
3. I also got a Home Depot Gift Card for some fun house projects I have been wanting to get around to. There was some painting this weekend, but I am still trying to decide if I like the color. Ever paint a room and then go, why did I choose that color? I am having a little buyers remorse, but am holding off to see if it grows on me.
4. Some flowers from my love for Valentine's Day.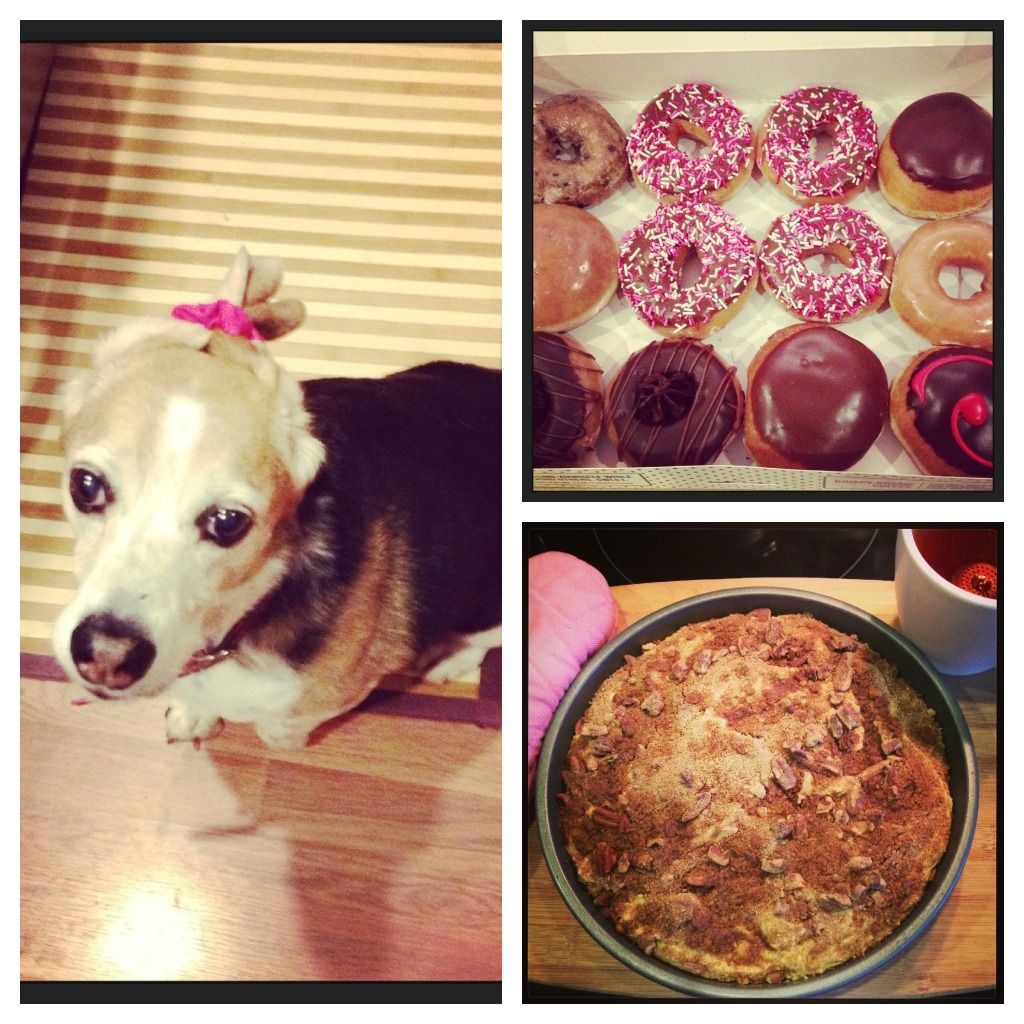 5. Late Saturday night we decided Abby needed a new do. Actually her ears have been rather smelly lately, so we were trying to air them out. It was funny because she didn't really mind the scrunchie...ha!
6. We might have hit if Krispy Kreme on Fat Tuesday for some guilty pleasures. I might have actually eaten 3 donuts that night...so bad!
7. I made some gluten free coffee cake on Sunday morning, trying to be good again after my Krispy Kreme feast, and it wasn't too bad. NOT as good as a donut, but my belly didn't hurt, so I'll take it.
Some other crazy/fun things that went down this weekend:
I almost bombed dinner Friday night. I tried making Chinese, and it turned into a humorous chain of events, which almost resulted in a melt-down...God bless Rick :) And yes I have made these recipes many times, not sure what my problem was. My egg roll wrappers were moldy, so I ran out to the Walmart just down the street to pick up more, and when I got them home, they were also moldy. So I sent Rick out to Giant Eagle to buy yet another package. Thankfully 3rd time was a charm.
Then when I was making the Honey Chicken, I had this wise idea to heat up the honey in the microwave so it would pour more easily. Well I cooked it too long and my honey bear melted...all over the microwave. We ended up using pancake syrup in place of the honey and it somehow worked out. Rick said it smelled like breakfast though...ha!
I also got to see some of my favorite people on Saturday night. I had dinner over at my friend Lisa's and I got to see Amy, Brian and also the cutest little 6 month old ever...Avery! I am hoping to take some pics of Avery soon with my new camera. She is such a cutie!
Also, I started uploading some of my new favorite pics from my new camera on my
Facebook page
, so please check it out and let me know what you think. I thought it would be fun to share some of my favorites there as well just to keep track of my progress. So please, please check it out and also "Like" my page...thanks so much in advance friends!!
So did you do anything fun this weekend? Happy Monday!!

Follow Me: