I made this recipe for the first time on Sunday, and it has quickly become one of our favorites. It is a Pioneer Woman recipe and I haven't come across very many of her recipes that I didn't like. The funny part is that this dish is labeled one of her
cowgirl dishes
, aka chick food, but...shhhh...don't tell Rick. He really liked it, and I did as well :)
It was a rather easy dish, and one that you can quickly put together. I modified the recipe slightly because 1. Rick cannot eat spinach, so I substituted green peppers, and 2. I ended up using canned tomatoes because tomatoes this time of year are expensive and aren't very good. Both of these modifications worked out really well, and I encourage you to try this version. I really liked the flavor of the fire-roasted tomatoes and the green peppers helped to give the dish more texture.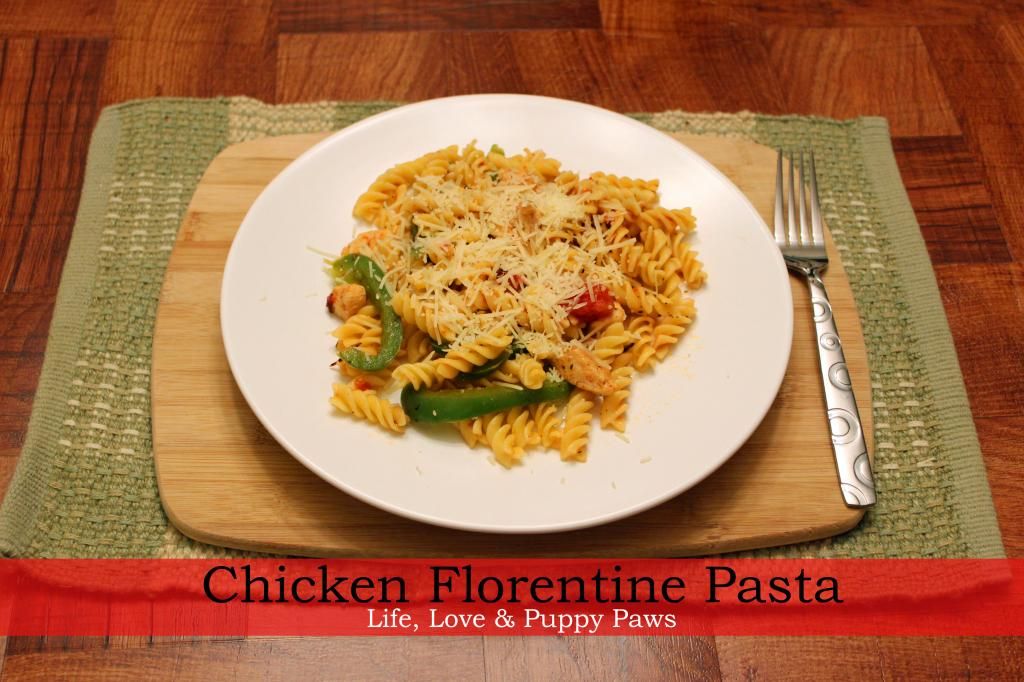 Chicken Florentine Pasta
Inspired by
The Pioneer Woman
Ingredients:
1 pound
pasta
4 whole
boneless, skinless chicken breasts
Salt and pepper, to taste
2 tablespoons
olive oil
2 cloves
garlic, minced
1.5 cups
low-sodium chicken broth
1 large green pepper, sliced into thin strips
1 can of fire-roasted tomatoes (drained, but I reserved the liquid to add to my left-overs)
Parmesan Cheese
Directions:
Begin by preparing the pasta according to the package. While the pasta cooks, cut the chicken into bite-sized pieces and brown on all sides in a pan. Remove the chicken from the pan and add the olive oil and garlic. Cook the garlic for about 30 seconds, careful not to burn. Then add in the chicken broth and green pepper strips. Cook until the peppers are tender and the broth has reduced by half. Then add the tomatoes and chicken, and cook for about 2 mins to heat everything through. Remove from the heat and then add the pasta. Toss to coat. Serve with some parmesan cheese and enjoy! I reserved some of the liquid from the tomatoes just to moisten up the pasta a little for left-overs.
Do you have a favorite Pioneer Woman recipe? I have another recipe from her latest cookbook that I am planning on making this week. It sounds delish, and if it turns out awesome, I will for sure post it next week.
Linking up today with
Tasty Tuesdays
.

Follow Me: