Jenni is such a sweet girl, and an amazing writer, and through her posts she seems very genuine and kind. She is an amazing decorator (LOVE her dining room) and an even more amazing photographer. Jenni also co-hosted the blogger FAQ chat with Erin, and had some wonderful ideas on how to build your blog.
I have really enjoyed getting to know Allie through her blog and I feel like we could be friends in real life. She is a dog lover, and posts about some amazing dog products, and of course has a the cutest pup Casey.
Kate's blog is one of the first blogs I started reading a few years ago, and I still enjoy reading. She is a lover of cheese and wine (who doesn't love that??), and I have found some amazing recipes from her Menu Sunday posts.
One of favorite recipe bloggers is Kristin. She has some amazing and delicious recipes, and many of them are very healthy. I think about half of my recipes come from this blog.
Steph, who also co-hosts the Saw It. Pinned It. Did It. link up, just purchased the most gorgeous home! I am loving seeing all of the little decorating updates and how they are making their new house a home.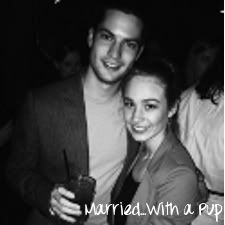 Katie is another Ohio blogger, and she and her husband seem like such a sweet couple. Katie has shared a couple of really cute craft/Pinterest type projects that I would love to try someday. She also has been known to share some fun tips, recipes, product reviews and fashion posts.
When I think of Sarah's blog, only one word comes to mind...Floyd. Floyd is her basset hound, and he is such a cutie. Make sure to stop by every Friday for Friday's with Floyd. I promise you will love it!
Tiff is another dog lover, and I just love her chocolate lab Sherman. Sherman is always getting into trouble, and he totally reminds me of my pup Abby. Tiff kind of remindes me of me, and she is another blogger that I think we could be friends in real life. Is that weird that you find blogs you love and then think...yea I could be friends with her? I promise I'm not a crazy person...ha!
Shay is another amazing photographer who recently took on photography as her full time job. She has been such an inspiration to me since I would love to do that some day. And she and her husband get into so much fun. From building indoor tents, to spending the day kite flying, you never know what they might be up to next!
I recently started following Brittany's blog, and again feel in love with her photography and her cute blog design. I am a southern belle wanna-be, and just fell in love with her blog's name. She is also expecting a little girl here in the next few months, and I just can't wait to see her. She has shared a few cute baby items on Instagram, and I am sure this will be one fashionable little girl!
There are so many more, but that is just a few of my favorites right now. As you can see I tend to like blogs about dogs, recipes, craft/DIY projects and photography. Do you ever find a trend in the type of blogs you are following? Are there any bloggers you just love that I should check out? Please share in the comments below :)