Looking for an easy, flavorful, summery dinner? Well, if summer would ever get here right? I haven't had fish tacos since being in
Maui
a little over a year ago. That was my first time trying them, and I realized I had been totally missing out! I have been wanting to try and re-make them ever since, but was looking for the perfect recipe.
I came across this recipe on
Pinterest
(follow me
here
if you haven't already!) and knew I just had to make it. It's a light and refreshing take on tacos. Rick's reaction to the meal was..."this is the perfect summer dinner!" Well since we haven't been able to really enjoy much warm weather lately (hello 30's and snow, 5 days after Spring began), we thought we would bring the warm weather inside and enjoy this tropical meal. It's a meal that you can see yourself eating with a light refreshing wine spritzer or margarita on the patio in the warm summer months! Or inside during a snowy March =)
Oh and by the way, the fish recipe alone was wonderful. If you aren't in the mood for tacos, I would recommend baking the fish and then serving on a bed of rice and pouring a few spoonfuls of the glaze over the rice...yum good!! And only takes 25 mins!
Citrus Fish Tacos
Inspired by:
Inside BruCrew Life
Serves 3 - 4
Ingredients:
For Fish:
-- 4 pieces of fish (we used Tilapia)
-- lime juice
-- salt
-- pepper
-- olive oil
For Lime Cole Slaw:
-- 1/2 cup mayonnaise
-- 1/2 cup plain yogurt
-- 1 teaspoon chili powder
-- 1/4 teaspoon cumin
-- 1/4 teaspoon salt
-- 2 Tablespoon lime juice
-- 2 Tablespoon white vinegar
-- 5 cups coleslaw mix
Fixins:
-- Taco shells (of your choice)
-- Cheese
-- Salsa (we used store-bought pineapple mango salsa)
-- Cilantro
Directions:
Start by preparing your fish. Place in a greased baking dish, sprinkle with salt and pepper, and then drizzle with lime juice (approx. 1/4 cup), and olive oil (a few tbs). Place in a preheated 350 degree oven for 25 mins.
While the fish is cooking, whip up the lime cole slaw. Place the mayonnaise, yogurt, chili powder, cumin, salt, lime, and vinegar in a food processor. Puree until smooth. Toss with the coleslaw mix. Place in the refrigerator for later.
When the fish is ready, put all of your ingredients together and enjoy!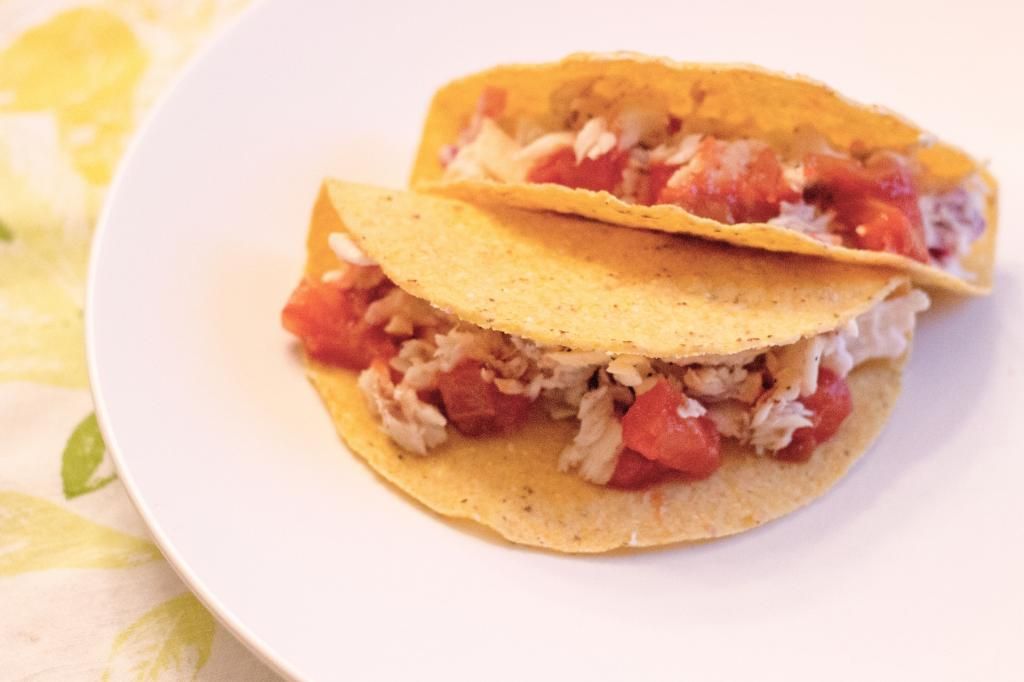 Do you love fish tacos? Do you have any amazing fish recipes? I am looking for more fun and easy ways to cook fish. Please share =)

Follow Me: