A few weeks ago, I saw Paula Deen make a hummingbird cake on one of her shows. A hummingbird cake is a moist cake with bannanas, pineapple and pecans with typically a cream cheese frosting. I just love hummingbirds, and I LOVE pineapple, so I immediately decided I needed to make this cake. But since I have been trying to go gluten free, trying to make homemade gluten free bakery items has been difficult. I've had some success doctoring up gluten free baking mixes, so I did a little research online and found a recipe that utilized a regular box cake mix. I already had a gluten free yellow cake mix in the pantry, so I thought, why not give it a try.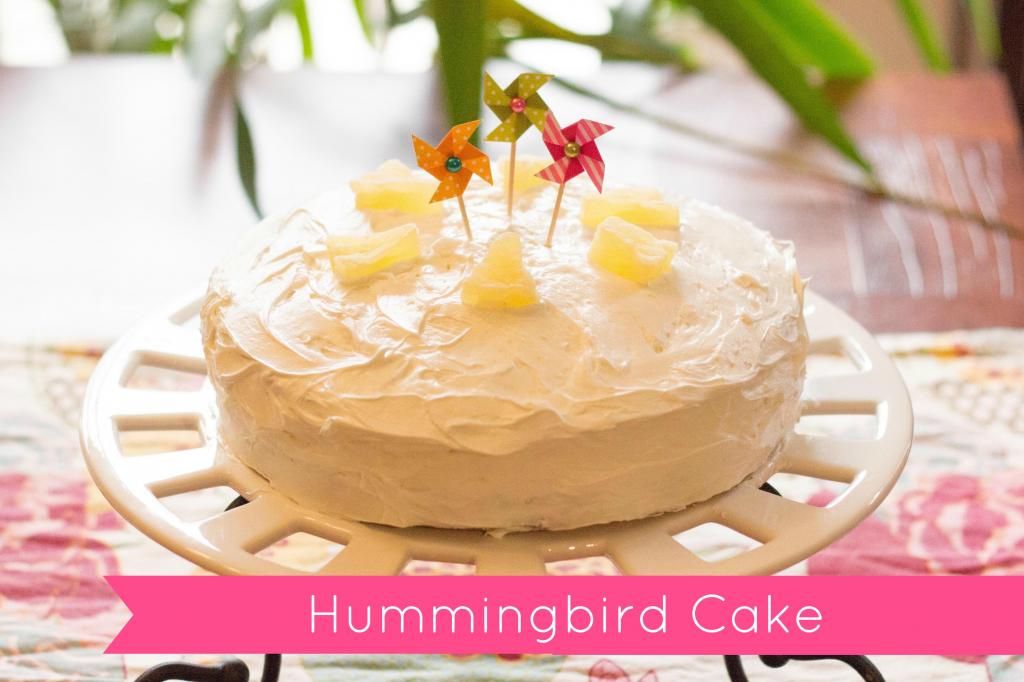 It ended up being so delish, and was a huge win! We enjoyed it so much the first time that I decided to make it again for Rick's family during their visit this weekend. What's great about it is that the addition of the pineapple and the banana make the cake super moist, which is very helpful since most gluten free bakery items tend to be a little on the dry side. It kind of reminds me of banana bread, but it has a little bit of texture from the pineapples. This has definitely become my new favorite dessert!
What I love about this recipe is that it is super easy, and only has 6 ingredients. You can also throw everything together in your mixing bowl and not have to worry about sifting ingredients. As I mentioned above, I used a gluten free yellow cake mix, but you can use a regular cake mix as well. The original recipe called for a lemon cake mix, and I think that would be super tasty as well.
Let's start with the cast of characters (only missing the frosting...opps!)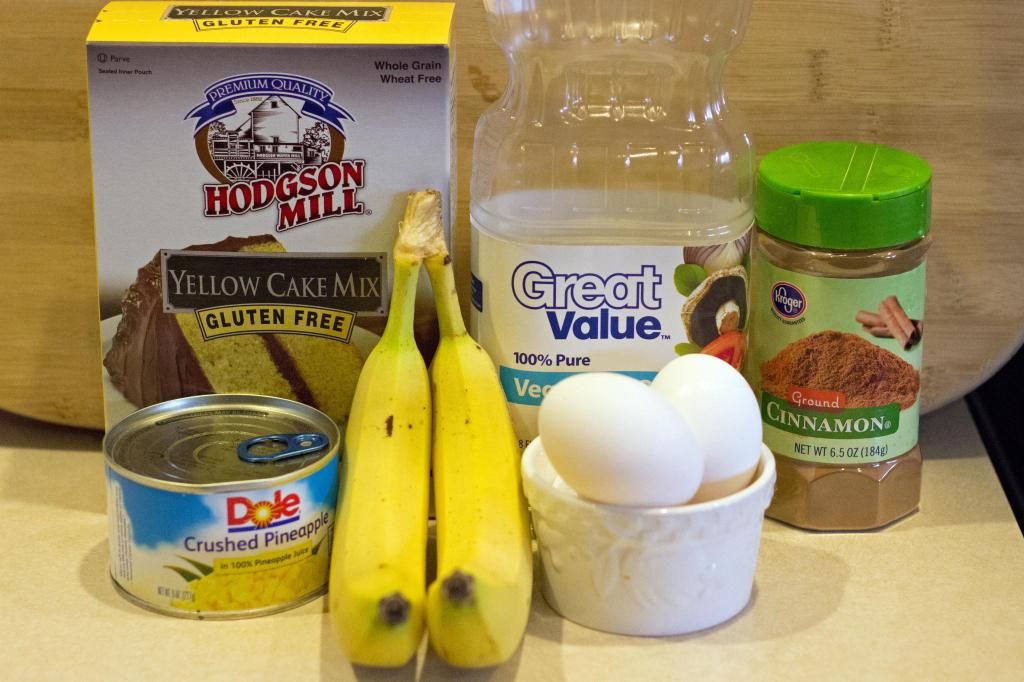 Ingredients:
1 can (8 oz) crushed pineapple in juice, undrained

1 box of yellow cake mix (I used a gluten free version)

1 cup mashed very ripe bananas (about 2 medium)

1/2 cup vegetable oil

1 teaspoon ground cinnamon

3 eggs

Frosting of your choice (I used Duncan Hines Whipped Vanilla Frosting)
Directions:
1. Heat oven to 350°F (325°F for dark or nonstick pan). Generously grease bottom only of two 9-inch cake round pans, or a 13 x 9-inch pan with shortening; lightly flour or spray with baking spray with flour.
2.
Drain pineapple in colander set over a bowl, pushing pineapple against side and bottom of colander with back of spoon to squeeze out as much juice as possible; reserve juice.
3.

Add enough water, if necessary, to reserved pineapple juice to measure 1/3 cup. In large bowl, beat cake mix, pineapple, bananas, oil, cinnamon, pineapple juice mixture and eggs with electric mixer on low speed 2 minutes. Pour into pan.
4.

Bake according to box directions, or until cake springs back when touched lightly in center. When baked in 2 9-inch cake round pans I baked for 25 mins. For a 13 x 9-inch pan, you may need to baked for up to 35 mins. Run knife around side of pan to loosen cake. If you are removing from the pan, to make a layer cake, cook for 10 mins and then flip onto a wire rack. Cool completely, about 1 hour, and then ice with your choice of frosting.
After assembling my layers, and frosting the cake, I then decorated with some dried pineapple wedges and cute pinwheels that I picked up at Michael's over the weekend. The pinwheels are actually scrapbooking embellishments, and have little foam adhesive squares on the back, but the toothpicks stood up so well on the cake. It's the perfect decoration for a Spring cake!
And who's ready for Spring?!? The first day of Spring is tomorrow!! Can't wait...hope it doesn't snow. Seriously it's supposed to snow tomorrow :(
Happy Tuesday! And make sure to try out this cake =)

Follow Me: