Happy Hump Day everyone! I am writing this Tues night, and sitting here waiting for the big snow storm to hit. Part of me is so over winter and ready for spring time. But part of me is wishing for a really big snow storm that keeps me home from work tomorrow. I mean if it is going to snow...let's really snow right?!?
Anyway, so I am a little behind on my weekend recap...being it's almost half-way through the week. Things were kind of busy over the weekend, and I just needed to take a few days off from being online. Ever get that way? Anyway, I'm back and here to share some fun birthday pics! Rick's sister Kristyn had a birthday last week, so we celebrated on Sunday.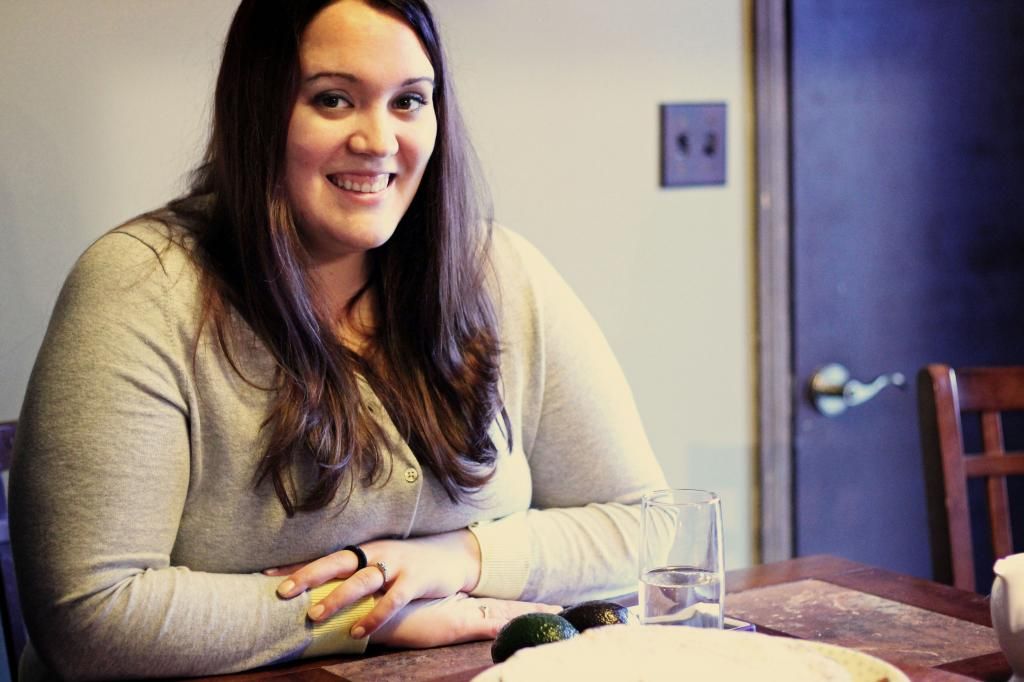 Here is the birthday girl!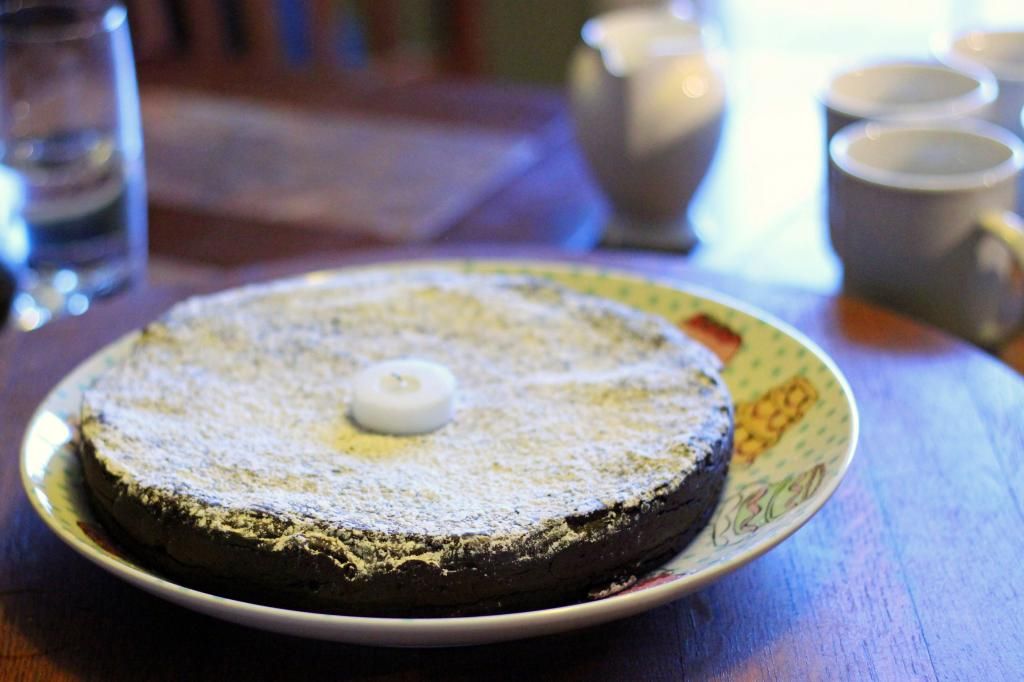 And here is the flourless chocolate cake that I made for dessert. Rick told me we were in charge of dessert, but that Kristyn had given up white flour and sugar for Lent. I told him, how am I supposed to make dessert with no flour and no sugar?? I mean I can figure out the flour issue, especially since I am 95% gluten free (ok, so I gave in and had a donut the other day...but it was that time of the month...ha!).
So I found this recipe for a flourless chocolate cake from Whole Foods (see recipe below), and attempted to make it with less sugar. The cake part was pretty good, but the chocolate glaze, which used honey instead of sugar, was horrible. So what did we do to salvage the cake? We covered it in powdered sugar. I told Rick we were going to have to say...we tried to make it sugar free, but it just plain sucked, so we put sugar on it...sorry!! :)
When we got there, we found out she gave up flour and potatoes, so my flourless chocolate cake, with powdered sugar on top was totally fine. And everyone loved it...so win for me! Rick was still a little nervous about my cake, and thought not everyone would like it, so he purchased a dessert of his own...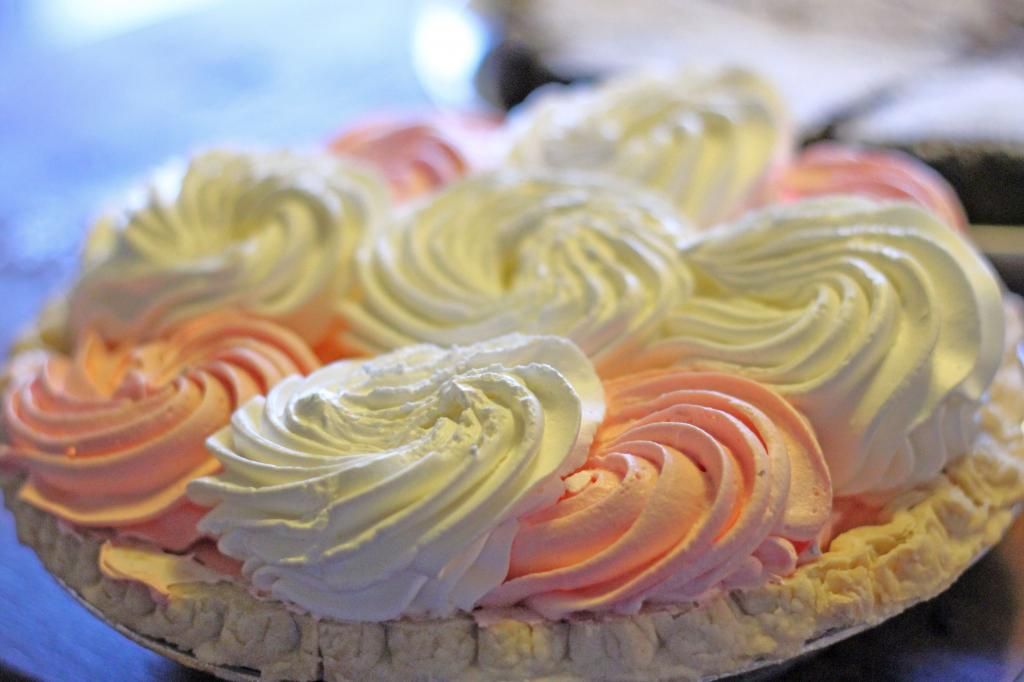 It's a sugar pie. Ok that is not what it was called, but it was pretty much whipped cream and frosting, in a pie shell. So yes, it was pretty much a sugar pie. Good thing she didn't really give up sugar! Although from here on out, if your birthday is during Lent, DO NOT give up sugar...m-kay :)
Here are a few more fun pics. I am still trying to work on getting good shots with my camera, but indoor lighting is just not easy. And I'm still trying to figure out PhotoShop, so hopefully one day I'll master indoor lighting :)
Rick's mom with the pooches...Charlie, Kiera and Mario
And here is Charlie. He may or may not be sitting on a dining room chair at the table. Please note all of the food was put up...ha! All of our dogs think they are people.
And here are the pretty flowers Kristyn got her mom for giving birth to her. I thought that was so sweet!
And here is my love. Our 1 year anniversary is tomorrow, so I just had to show him off! :) And yes he is wrapped up in a blanket. His sister said he looked like the guy from Coming to America...ha!
Now on to this recipe for the flourless chocolate cake. As I mentioned above, the chocolate glaze just didn't work out for me. It tasted burnt, but I don't know if that was because I actually burned it, or if it just didn't work out. So I'm leaving that part out, and saying...just cover it in powdered sugar. It was actually really good. Very rich, and more of a dark chocolate, and less sweet. I think it would be wonderful with coffee, or with some vanilla ice cream.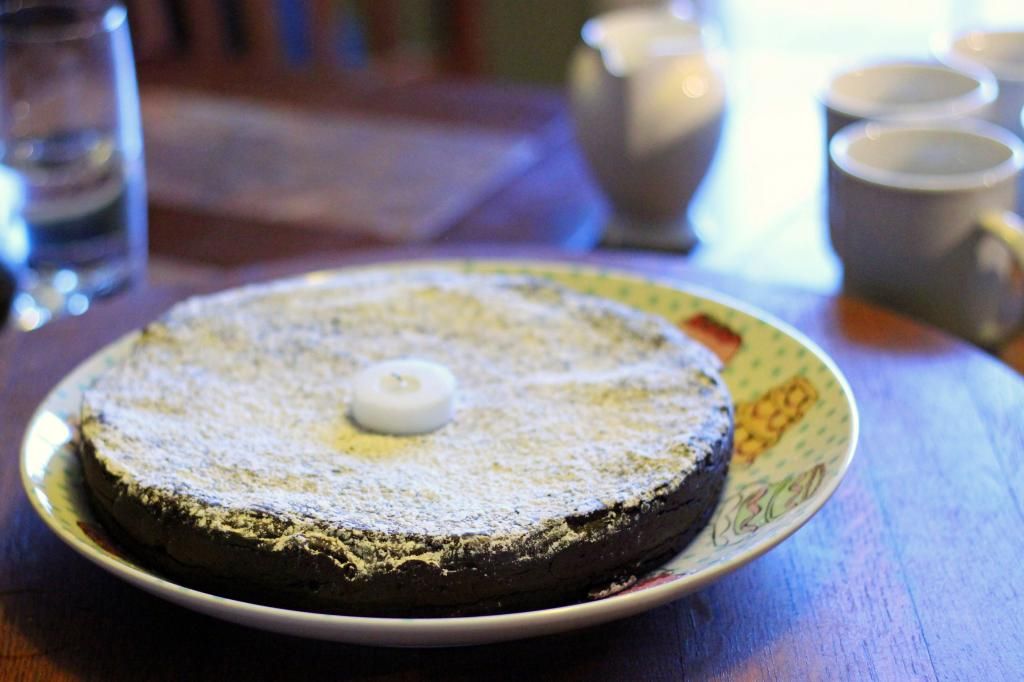 Flourless Chocolate Cake
Recipe from Whole Foods
Ingredients:
12 ounces bittersweet chocolate chips or bittersweet chocolate, roughly chopped

1 cup (2 sticks) plus 3 tablespoons butter, cut into chunks

1 1/4 cup sugar

6 eggs

1 cup unsweetened cocoa powder
Directions:
Preheat oven to 375°F. Spray a 9-inch springform pan with nonstick cooking spray, then line the bottom with a circle of parchment paper. Spray the paper with cooking spray, too, then set the pan aside.

Place two-thirds (8 ounces) of the chocolate and 1 cup (2 sticks) of the butter in a medium saucepan over medium low heat. Stirring often, melt chocolate with butter until completely blended. Remove from heat and transfer to a large bowl. (Alternatively, you may use your microwave to melt the butter with the chocolate, if desired). Add sugar and mix well. Add eggs one at a time, whisking well after each addition. Sift cocoa into bowl and stir until just blended.

Pour batter into prepared pan and bake for 35 to 40 minutes, or until cake has risen and top has formed a thin crust. The cake should be just firm in the center when done. Cool for 10 minutes, then invert onto a plate, removing sides of springform pan. Remove and discard parchment paper and set cake aside to cool completely. Sprinkle with powdered sugar and enjoy!
Happy Wednesday!
Linking up with
Because Shanna Said
so for Random Wednesday.

Follow Me: