If you saw my Easter recap post from yesterday, you may have saw that I made a carrot cake as our Easter dessert. I wanted to try something different, and carrot cake just seemed perfect for Easter.
I have also been obsessed with doctoring up gluten free cake mixes and making them taste delish!! I have only successfully made 1 or 2 gluten-free things from scratch, so starting out with a cake mix has been my fool-proof way to make a tasty dessert that is gluten free and not dry or disgusting.
Rick loved this cake, and I really liked it also. It's a very dense cake and full of carrots, pineapple and raisins. Oh and a quick tip on shredding carrots. I just cut mine up into smaller chunks and threw in the food processer to chop up. They weren't necessarily "shredded", but they were in very small bits and worked perfectly. And it took like 30 seconds to chop up. Something I would definitely recommend if you have a food processer.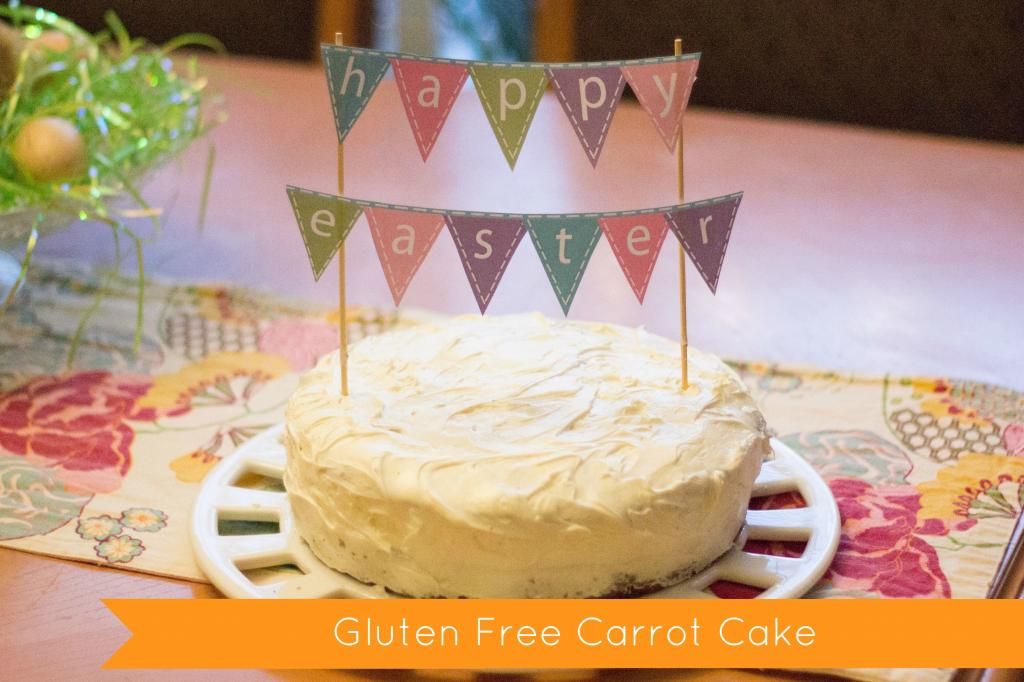 Gluten Free Carrot Cake
Inspiration
here
Ingredients:
·
4 1/2 cups (1 pound) shredded carrots
·
1 teaspoon ground cinnamon
·
1/2 teaspoon ground ginger
·
1/4 teaspoon ground cloves
·
1 box King Arthur Flour Gluten-Free Yellow Cake Mix
·
1/2 teaspoon baking soda
·
1 1/2 cups finely chopped pecans or walnuts
·
20-ounce can crushed pineapple, drained
·

Cream cheese frosting of your choice
Preheat the oven to 350°F. Grease and flour two 8" round cake pans; one 9" x 13" rectangular pan; or the wells of one muffin tin (12 muffin cups). Or line the muffin tins with papers, and spray the insides of the papers.
Beat together the oil, eggs, carrots, and spices. Whisk the cake mix with the baking soda; stir into the bowl with the wet ingredients.

Add the raisins, nuts, and pineapple (if you're using it). Mix until blended. Spoon (or pour) the batter into the prepared pan(s).
Bake the cake layers for 60 minutes; the 9" x 13" pan for 50 minutes; or cupcakes for 30 minutes. The cake should be brown and firm on top, with an internal temperature of 212°F.

Remove the cake(s) or cupcakes from the oven, and allow to rest for 5 minutes before turning out of the pan onto a rack to cool. Frost when completely cool.
Yields: two 8" rounds; one 9" x 13" cake; or 12 cupcakes
Enjoy!

Follow Me: