I have admitted a few times that I am a crazy neat freak, and slightly OCD. I love having a clean house, and love for it to be immaculate whenever anyone comes to visit. I could spend hours scrubbing every tiny corner of my house.
But sometimes you don't have hours to prep your house for company. Sometimes you get only a 30 minute notice that a friend or family member is on their way over for a surprise visit. I have actually perfected my "quick cleaning" skills and wanted to share some of these today. My Mom actually taught me these skills as there were many times when we found out our Grandmother was coming over after church for lunch and we had to rush home to quickly prepare the house before she showed up.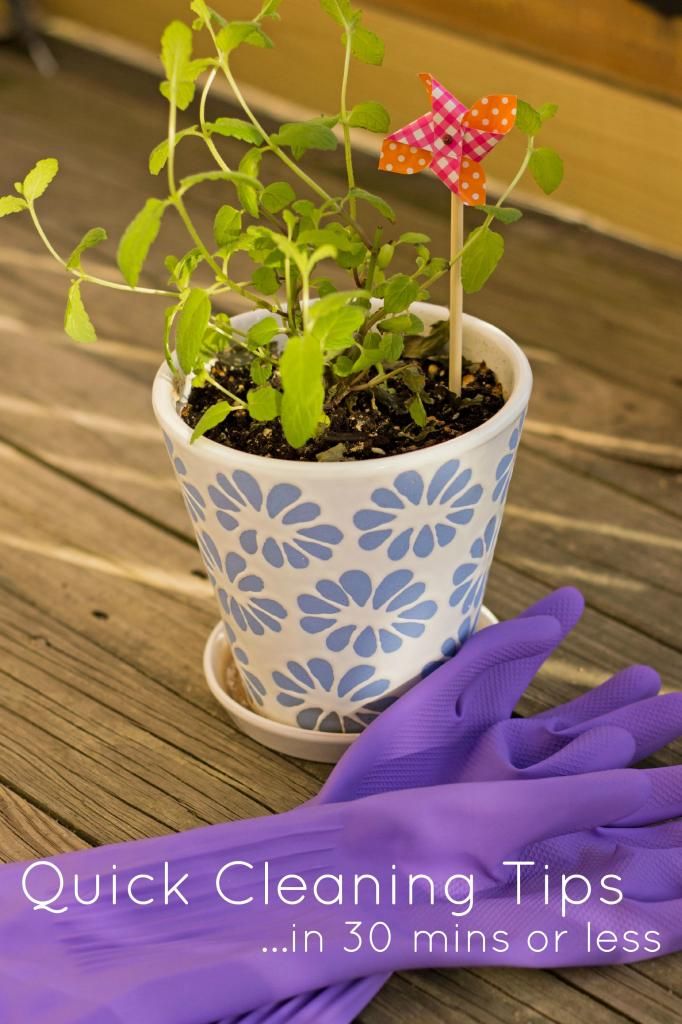 So here are my quick tips for getting your home ready in 30 mins or less:
1.
Focus on certain rooms – Figure out which room(s) you will be using to entertain, and focus on those only. This could be the kitchen/dining, living/family room and guest bath. Shut the doors to other bedrooms, or do a quick de-cluttering of those rooms to make them look perfect when quickly walking by. Walk down your hallway to your guest bath and see what your guest might see, and determine then how much focus you will need on those rooms.
2.
Quick de-clutter – Grab a laundry basket or large box and take 5 mins to go around and pick up any clutter. Pick up any lose mail, shoes, chargers, books, dishes, etc. and place in the basket. Then hide your basket in a room that will not be seen, or in a closet. You can put these items away in their proper spots later. The goal is to get it out of sight quickly.
3.
Windex and paper towels are your friend – Walk around with a bottle of Windex and a roll of paper towels and wipe down any surfaces. This will work in the kitchen and bath for counter tops, fixtures and mirrors. I'll admit I have used this for a light dusting in the living rooms as well, but please do not try this on antique furniture
J
You can also use to spot clean your floors as well.
4.
When in doubt fluff and de-lent – Fluff up pillows and cushions and use a lent roller to pick up any pet hair or crumbs. You don't want your guests to know you were just napping on the couch with a box of cookies when they called right?!? We actually keep sheets on our couches during the week to keep the pet hair off of the actual couch, so we can just remove the sheets when company comes, and the couches look perfect…ok well almost perfect!
5.
Make your space smell clean – Burn a candle or replace your plug-in air fresheners. A good smelling house will appear to be clean, even if it isn't up to your standards. Choose a fresh scent, or something based on the season. I love floral scents for Spring, fruity or vacation inspired scents for Summer and spicy scents for Fall/Winter. Open your windows if you can to let in some fresh air. Sometimes when things are closed up for too long, things start to smell a little stuffy. For extra credit, throw some break-n-bake cookies in the oven to make your kitchen smell like fresh baked cookies. Or put on a fresh cup of coffee. Your guests won't even care how your house looks then!
Extra Credit: If you have extra time, consider doing this to make your guests feel even more special:
1.
Provide refreshments – Put out some beverages and a few snacks, and it will look like you were totally prepared for your guests visit. Keep their belly full, and they won't care how your house looks.
2.
Cut some fresh flowers or greenery from your garden and place in little vases throughout your home. Place one in the guest bath, a few on the dining room or side tables in the living room. Keep a few on the kitchen counter top. Flowers always make a space look happy and homey!
I have a couple of ideas I want to share in another post on quick snacks/beverages to have on hand for when guests come over, and other fun finishing touches, so stop by soon!
Do you have any quick tips for getting your house ready for guests? What types of things do you like to have on hand for quick guests? Let me know and I can feature you in my post
J
Linking up today with
Because Shanna Said So
.

Follow Me: