I'm excited to finally be participating in another week's "Saw It, Did It, Pinned It" link up. I have actually accomplished a few Pinterest projects these last few weeks, but this one has been one of my favs so far, so I totally had to share this week.
I've apparently had this
pin
for a year now (according to Pinterest). The pin is actually for making drinking glasses out of Corona bottles, which I think is a fabulous idea BTW. But since we have a ton of wine bottles, from my attempts at collecting wine corks for a wine cork wreath (yet another Pinterest project), I thought we would try this trick on a wine bottle and make a little vase out of it.
I totally love these Bohemian Highway wine bottles. The wine isn't too bad, is only $5.99 a bottle, and has real corks (I seriously won't buy a wine if it has a plastic cork anymore...they just don't look as cute in my craft projects). But my favorite part is the colorful and whimsical label.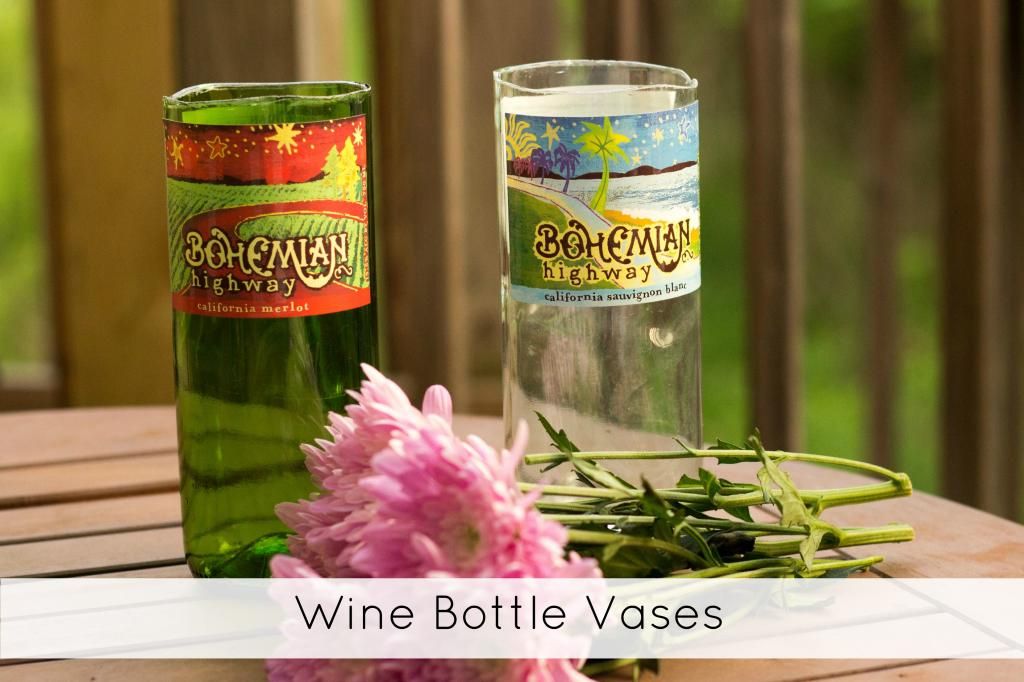 So to get started you will need the following:
Supplies:
Cute wine bottle
Yarn
Nail polish remover
Fire (from a lighter)
Cold water and ice
Sandpaper and/or a Dremel tool with sanding tip
Directions:
1. To get started, fill your sink with cold water and then fill with ice cubes. Let the ice cubes cool down the water for about 3 - 5 mins.
2. While the water is cooling, wrap a long length of yarn around the top of your bottle where you want it to be cut. Wrap around a few times and tie off with a small knot.
3. Slip the yarn off the bottle and soak in a small bowl with nail polish remover. I would soak for 1 - 2 mins.
4. Slip the yarn back over the wine bottle and make sure it is straight. The bottle will be cute where you place the yarn.
5. Then holding your bottle over the sink, light the string on fire. The flame will stay on the wet yarn and will be controlled. See pic below for an example of what this looks like. I might have somewhat freaked out each time we lighted the yarn (I am a nerd and fire kind of scares me).
6. Wait about a min or so (or until the flame looks like it is going to go out) and then dunk the entire bottle into the cold water. If it works, your bottle will cut upon immediately hitting the water.
7. Sand down the edges with sandpaper or a Dremel tool with a sanding tip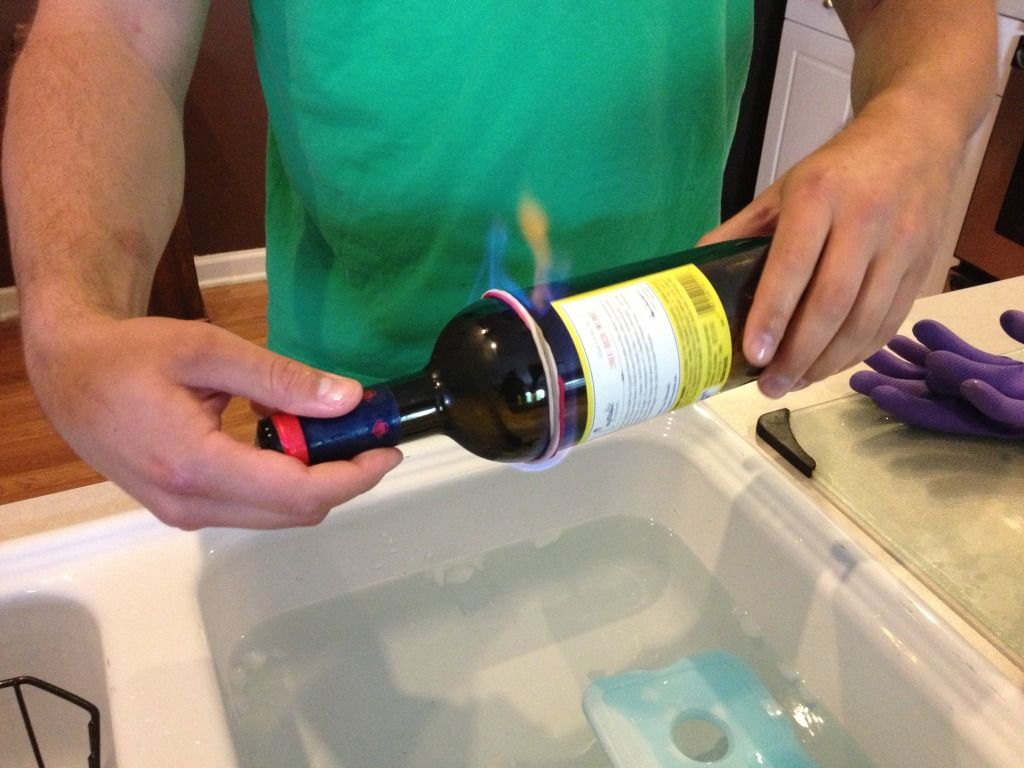 Please note that this worked better on thinner wine bottles. I tried this on a Cupcake Winery bottle and the bottle was much thicker and didn't work. According to the directions on the pin, sometimes you need to try it a couple of times to make it work. Rick wants to try this again by setting up a couple of strings and quickly switching them out. I think the bottle just wasn't getting hot enough to make the cut. The flame seemed to go out to quick and didn't heat the bottle up fully.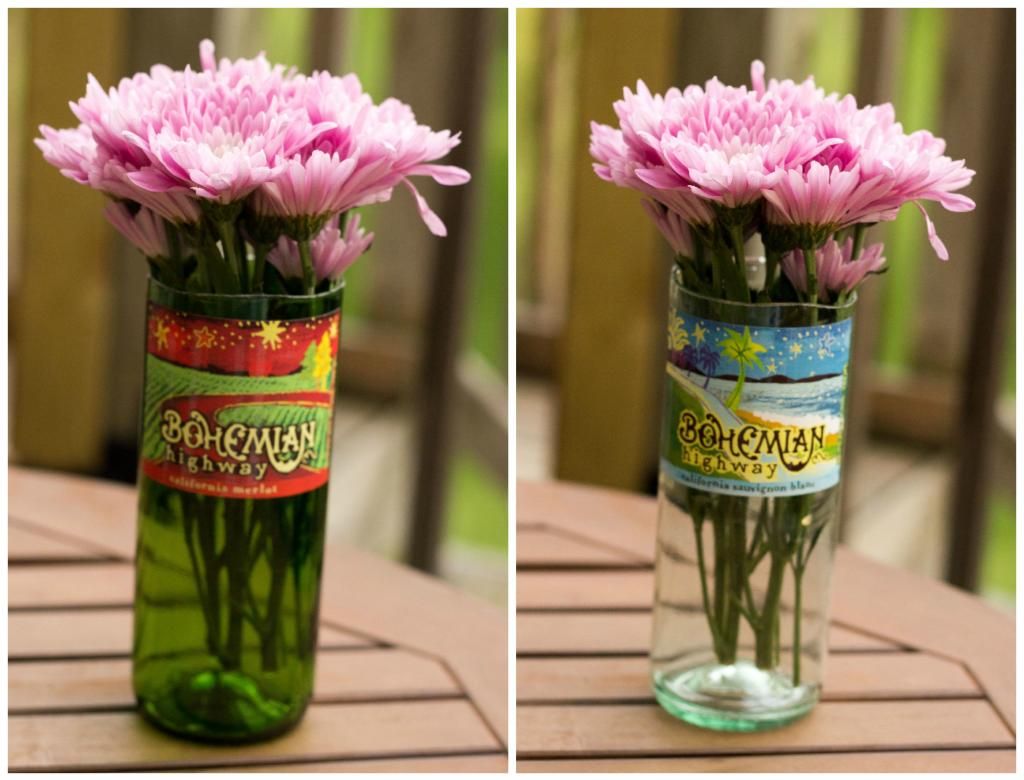 I think this would make a fun centerpiece for a wine tasting party, or even a great gift for one of your girlfriends. I have saved so many cute wine bottles over the last year, so I am sure I will be making these and having them all over the house. I saw a couple of other pins where they cut them much lower and made candles out of the bottles. They must have removed the label and glued it much lower, which I think would probably be an option.
If you come across some cute wine bottles, I would definitely give this a try. It seriously only took like 5 mins to set up. We ended up cutting a few bottles within a matter of 15 mins or so. So easy and so cute!
For more fun Pinterest projects, head on over to see Katey at
Keep Calm and Carry On
and Steph at a
Beautiful Mess
for their
Saw It, Pinned It, Did It
link up.

Follow Me: