I have been in a recipe rut! And I have been really bad lately at planning out our meals and sticking to them. This is partially because I want to try really hard at eating gluten free and dairy free and it's hard to find recipes that are free of these items, and still taste good.
So this weekend I put together what I am hoping is a fun meal plan for the week, and am making myself a promise that I will stick to it! I also want to start recording my meal plans every Sunday so that I can look back and see what recipes I loved and which ones not so much. May not be as much fun for some of you, but I love looking at other people's meal plans, and have actually gone back and searched through some of my favorite bloggers for recipe ideas.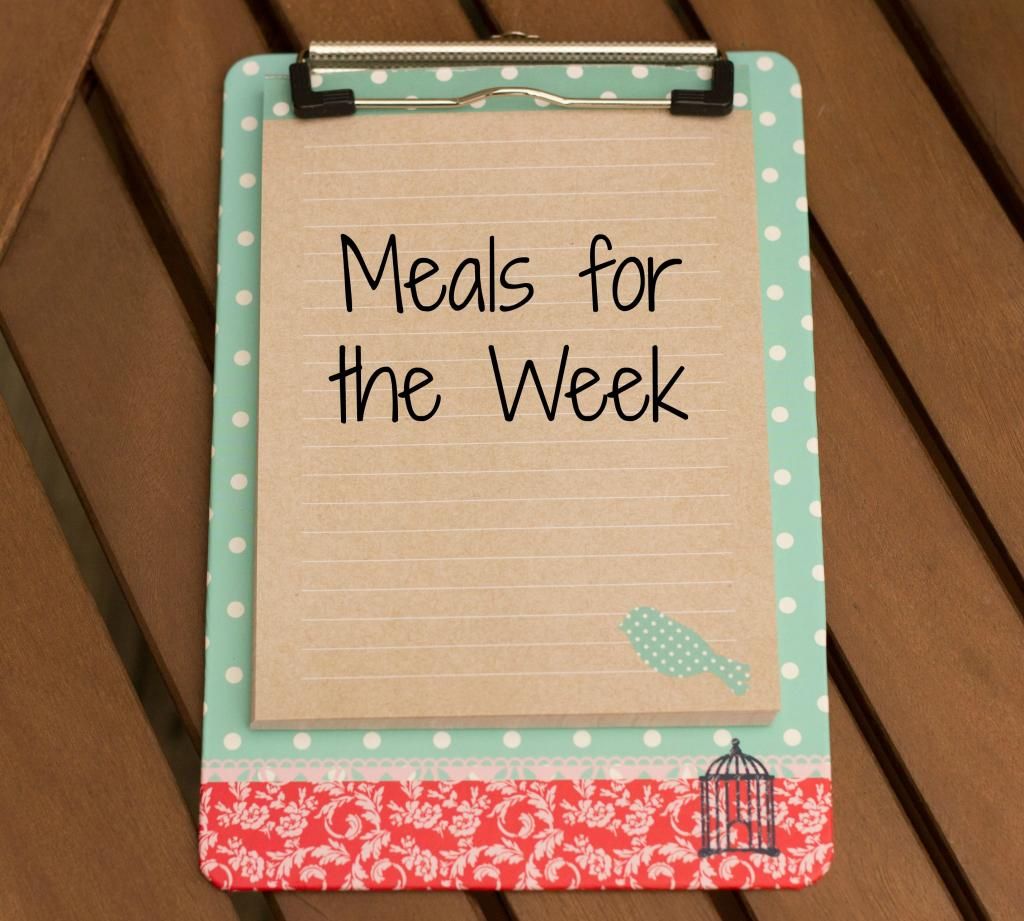 I even used my fun newish (purchased at Michaels for a few bucks a few months ago) notepad to list out my meals. I kind of have a thing for notepads and other paper goods, but that's another post for another time :)
This week's meals will consist of:
Peanut Crusted Chicken
- I thought this sounded like a fun new twist on breaded chicken. I will probably include a side of green beans, or maybe some sweet potatoes (which we love!!)
Chicken and Summer Vegetable Tostadas
- I have a ton of corn tortillas left over from a meal last week, so I thought this looked like fun alternative to tacos. And this is a Cooking Light recipe, so it should be rather healthy.
Faux Creamy Fettuccini with Asparagus
- I found this recipe looking back through some old meal plans from one of my favorite bloggers (see I told you I do this from time to time). Her husband can't do dairy, and this recipe has just a tiny bit of goat cheese to make it creamy, so I thought I would give it a try.
Roasted Red Pepper Pasta with Sausage
- Another recipe from same blogger. I have actually made this before and it's a little spicy, but oh so good. I am going to add a little sausage to give it some protein.
Spring Risotto with Peas
- This is actually from one of my cookbooks. Recently I shared my
cookbook hoarding secret
, and promised myself I would try one new recipe a week from at least one of my cookbooks. I heart risotto, and thought this sounded like a fun spring-time recipe try. I might try adding some left-over chicken or sausage just to give it some protein. We will see how that works out.
So that's it! I like a little flexibility, so I am not assigning days. I will probably save the easier recipes for gym nights and one of these might get pushed to the weekend or next week. We have things going on both Thurs and Fri night, so those will be cooking-free evenings...yea! My goal is to share next week if these were hits or misses, and any modifications I made. I am always switching up my recipes, so it will be good to document for future meals.
What are you cooking this week?

Follow Me: