Happy Friday! Since the weekend is finally here, and it looks like it is going to be a beautiful one here in Ohio, I thought it was only appropriate to share some fun summer cocktails. I have actually tried 4 out of the 5 of these multiple times, and they are awesome! So I highly encourage you to try at least one of them this weekend!
1. Firefly Sparklers
When I think of summer, I think of sitting on the porch drinking sweet tea. So when I found out about vodka that tasted like sweet tea, I just had to find a way to use it! This recipe is great because it is like an Arnold Palmer, with a little kick, and is perfect for front-porch sippin (or back-deck in my case).
Ingredients:
2 oz of Sweet Tea Vodka

6 oz of lemonaid (any kind will do, but I tried Crystal Light Raspberry Lemonaid, and it was very tasty)

4 oz of 7-up or any kind of fizzy water
Directions:
Mix ingredients in a cute summery tumbler with ice. Add a fun straw and then enjoy!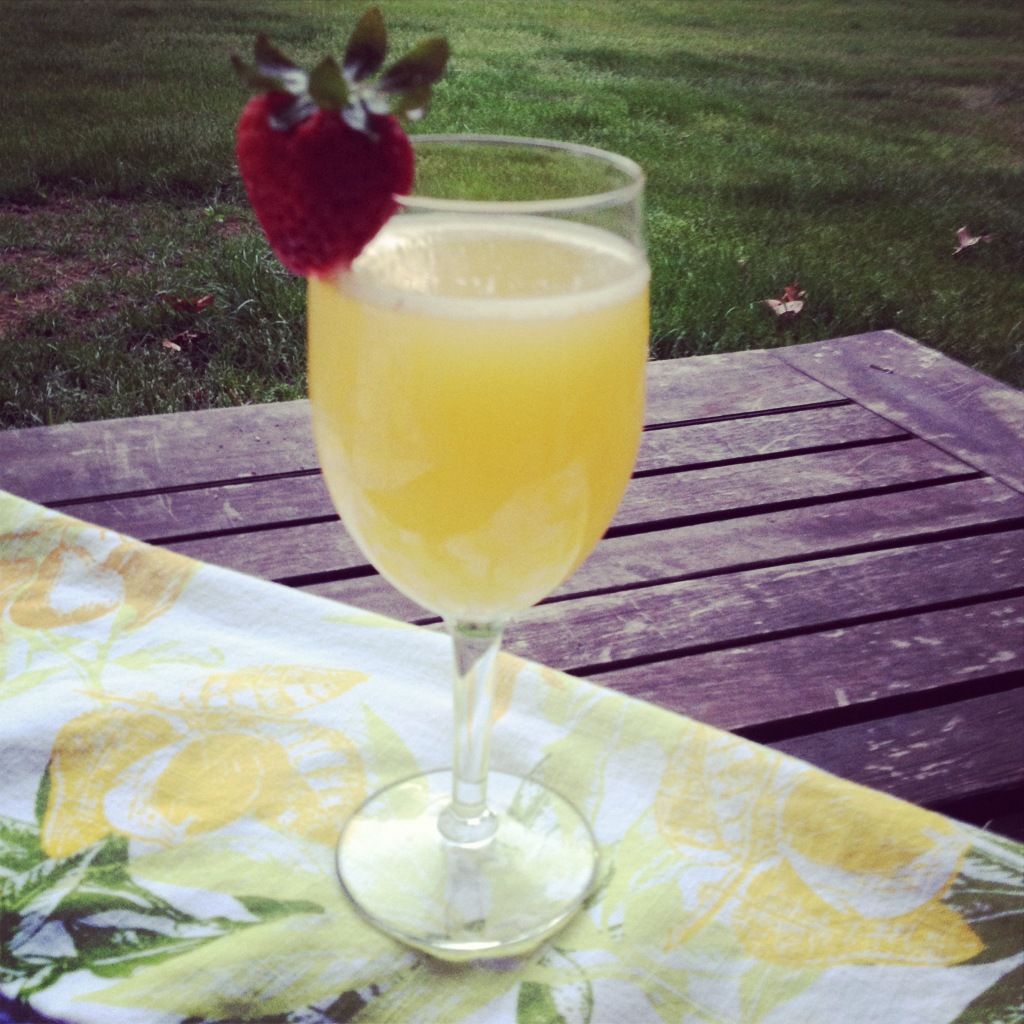 This fun cocktail is great because it is super tasty and low in calories. It is great for a hot summer day on the patio, or also for brunch! The strawberry simple syrup will stay good in the fridge for about a week, so you can use it for other cocktails as well and it was really good with a little citrus vodka and some club soda...just sayin! :)
Ingredients:
2 Tablespoons (1oz) rum (could use any other type of liquor)
1 Tablespoon (.5oz) strawberry simple syrup
3 Tablespoons (1.5oz) orange juice (about 1/2 navel orange)
3 Tablespoons (1.5oz) pineapple juice
1/4 cup (2oz) club soda
ice
For the strawberry simple syrup (makes ~1 cup syrup):
1/2 cup granulated sugar
1/2 cup water
3 large strawberries
Directions:
1.
For the strawberry simple syrup:
Combine sugar, water, and strawberries into a small saucepan over high heat. Mash strawberries as the mixture comes to a boil. Boil for 30 seconds, then turn off the heat and allow syrup to cool completely. Transfer syrup to a food processor or blender, process until smooth, then strain through a fine mesh sieve to remove the strawberry seeds (optional.) Chill in the fridge.
2. Fill a cocktail shaker with ice, then add rum, strawberry simple syrup, orange juice, and pineapple juice. Shake until very cold. Pour into a glass, including the ice, then top with club soda.
3. Skinnygirl Mojito
(Image and Recipe from
Bethenny Frankle
)
I've made this a couple of times when I've had friends over, and it is a very light and refershing drink. But be warned, it has a very strong rum flavor. I have heard Bethenny's recipes tend to have a stronger liquor flavor.
Ingredients:
-- 2 tbsp. fresh mint
-- 1/2 lime cut into 6 wedges
-- 1 cup ice
-- 1 1/2 tbsp. lime juice
-- 1/2 tsp. gently warmed honey
-- 2 oz. clear rum
-- 4 oz. club soda (I used diet 7-up)
-- mint and lime for garnish
Directions:
In a martini shaker, use a long spoon to muddle the fresh mint (tear into smaller pieces first to release the flavor) and the 1/2 lime cut into 6 wedges. Add 1 cup ice and 1 1/2 tbsp. lime juice. Combine 1/2 tsp. gently warmed honey, 2 oz. clear rum and 4 oz. club soda. Add this combination to muddled mixture. Stir until well chilled. Strain into a rocks glass filled with ice. Garnish with mint and lime.
4. Blueberry Sangria Lemonade
(Image and Recipe from
Sandra Lee
)
This is another favorite that I like to serve at parties. You can make a couple of pitchers of this, and it is a great way to serve a crowd without feeling like your stuck being a bartender at your party.
Ingredients:
1 1/2 cups frozen blueberries
1 (12-ounce) can frozen concentrated pink lemonade
1 bottle (750ml) Chardonnay
3 cups lemon lime soda (recommended: Sprite)
1/2 cup Cognac
Directions:
I have not tried this yet, but it is on my list of cocktails to try this summer. I LOVE pineapple, and the idea of spicing it up with chili powder sounds interesting.

Ingredients:
1/3 cup fresh lime juice (from about 3 limes), plus wedges for serving
3 tablespoons agave nectar or honey
1 cup pineapple juice
2 cups fresh or frozen pineapple cubes
1/4 cup triple sec
1/3 cup tequila
2 cups ice
1 1/2 teaspoons chili powder
1 1/2 teaspoons sugar
1/2 teaspoon coarse salt
Directions:
Stir together lime juice and agave nectar; add to a blender, along with pineapple juice, pineapple, triple sec, tequila, and ice. Blend until smooth and frothy.
In a small shallow bowl or saucer, combine chili powder, sugar, and salt. Rub a lime wedge around the rims of four glasses, then dip glasses in spice mix to coat. Divide drink among glasses and serve with lime wedges.
Hope you have an amazing weekend, and please share if you do end up trying one of this! I promise you they are totally worth it!
Linking up with:

Follow Me: