Happy Hump Day everyone! This is the first week where I actually had to work a straight 5 days in a row for a while. I'm not sure I like it :(
But I guess we all got to work to pay the bills right? That's what I tell the puppies every morning when they give me their sad little puppy dog eyes as I am walking out the door. I say "someone has to work in order to afford all of your treats and toys." And then they bark "give me a treat woman!" And then once they have their treat they hop on up into our bed which is where they spend the next 9 hours. Oh the life of a dog.
Anyway, let's get on to the life of the humans. Lots of stuff going on, so I thought I would share it all with iPhone pictures (I know you are so excited you can't contain yourself!).
First up are two outfits that I have been loving lately.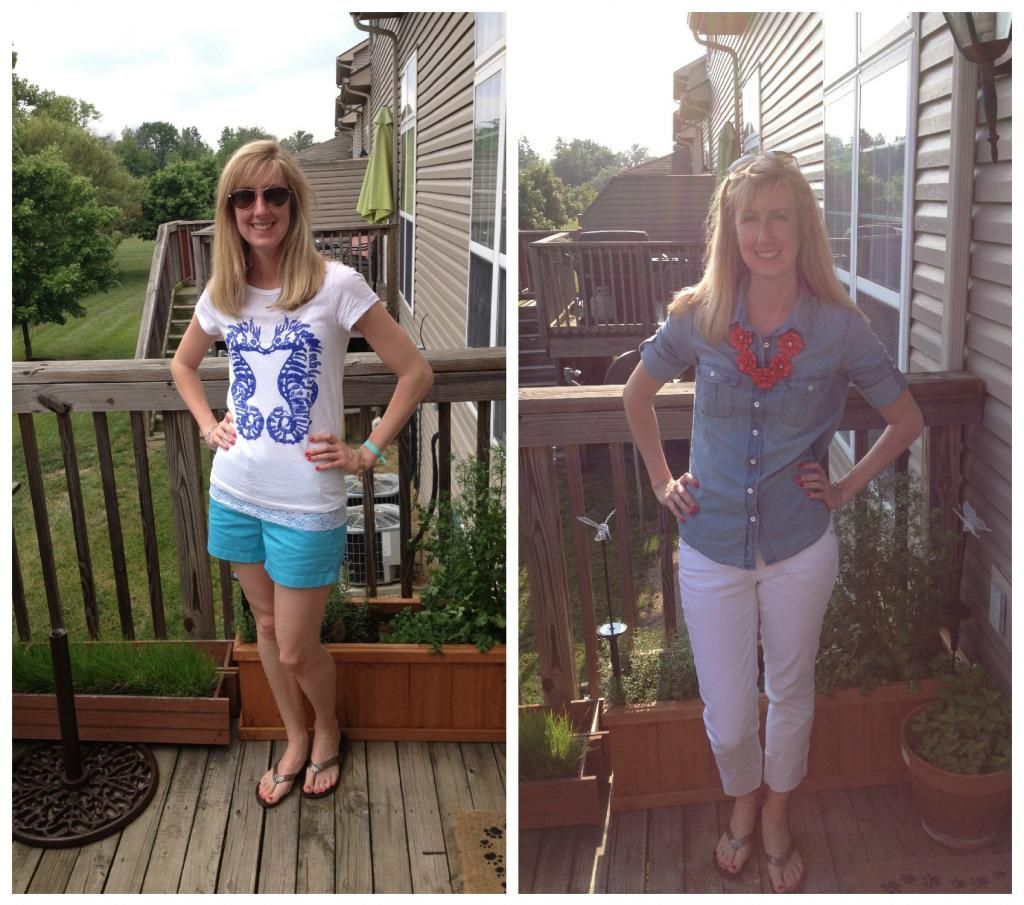 Outfit #1: I posted about this seahorse t-shirt on
Friday
and finally found some shorts that I didn't feel were too short and inappropriate. T-shirt:
J Crew
; Shorts:
J Crew
; Tank: Victoria Secret Pink (old); Shoes:
Tory Burch
.
Outfit #2: I finally broke down and purchased a chambray shirt. Rick keeps telling me it's just a denim shirt. He apparently doesn't know fashion right...ha! Shirt:
J Crew
; Capris:
Loft
; Shoes:
Tory Burch
; Necklace:
Bridier Baubles
.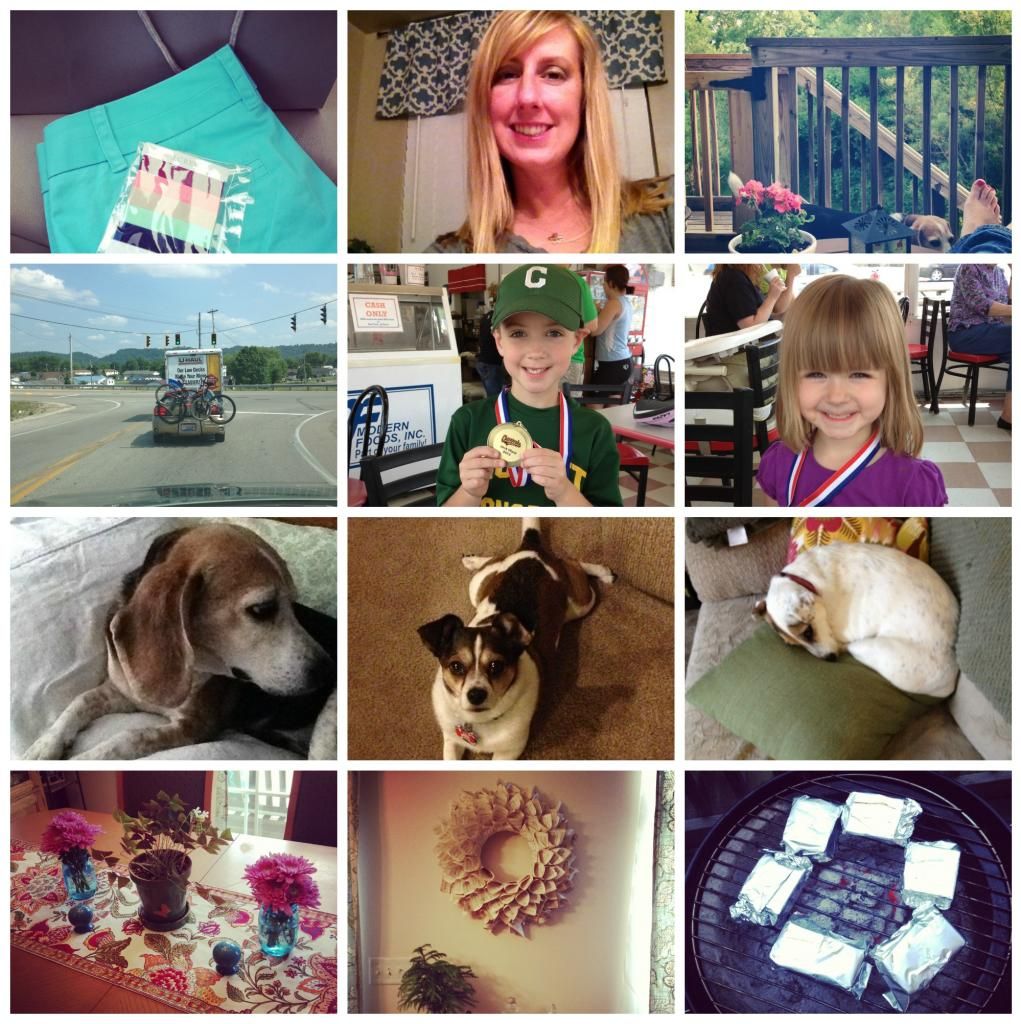 1. I broke down and purchased some cute shorts to go with my seahorse shirt that I posted about on
Friday
. These are only 4", but they sit lower on my hips, so they don't see as short as some of the others I tried on.
2. I also got my hair did on Friday. It doesn't look too different other than I now don't have 3" roots. Oh and she straightened it, but due to the humidity, there was already some wave coming back. I swear I can never get my hair straight in the summer...even a professional can't! I guess it's a good thing I don't live in the South or I would deal with frizz year round.
3. This is my new favorite spot. Out on the back deck, enjoying the birds and other wildlife (beagles included).
4. We moved my brother back home on Saturday. He lived about 3 hours away, so my Mom and I had to drive down there so one of us could drive his car back. This is our little caravan. My brother drove the moving truck, my Mom drove his car and I drove my car. All 3 vehicles were stuffed full of stuff. It was a fun ride back home, not being able to look out the back or side windows...not! But so glad he and the kiddos are moving back home, and hopefully I get to see them more often.
5. & 6. Before we headed back on Saturday, we got to watch Jack's last baseball game. He and Izzie had to show off his medal at lunch. Such good kids! Izzie was so cute and stole Jack's hat during lunch, put it on her head and said, "now I am a boy!" And then of course she put his hat on my head and said "Aunt Jenny, now you are a boy!" Who knew that is all it took to become a boy!
7., 8. & 9. Rick was gone all last week in Florida for training. I was jealous at first until I learned about the tropical storm and that it rained almost all last week. Of course it was in the 60's here last week...isn't it June!! Anyway, the pups were kind of sad he was gone, so I texted him pics all week of them being all sad. Napoleon in the middle doesn't look too sad, but I loved they way he was laying with his legs out like a T.
10. I am just loving how my table looks right now. I got a new table runner from World Market, and some of the new blue Ball jars, which I put some fresh flowers in. Such a fun summery table!
11. I am also loving my new music wreath, which I shared last week in my
Saw It. Pinned It. Did It.
post. Check it out to see how you can make your own.
12. I am obsessed with making s'mores lately. I found some great gluten free graham crackers, so now I can enjoy this fun tasty treat. I got them at Meijer's if anyone is GF and wants to try them out!

Follow Me: