I am so excited to share this week's Saw It. Pinned It. Did It. project. I have been wanting to make this wreath for a few months now, and have actually made it 2 times now. One for myself, and one for my Mom for Mother's Day.
For this project, I used pages from some old church hymnals. Both of my parents are church organists, and these church hymnals are actually from the churches they play at. So it's a super sentimental project for me. I also love the character they have since the pages are aged.
I will warn you, this project is sort of time consuming. It took me about an hour or 2 to roll all of the pages and staple them, and then another 2.5 hours to glue them all on. I think the first time I completed it, it might have taken me a little longer, but it still was pretty close to 4 or 5 hours total working on this project. I rolled all of the pages one evening while watching a movie, and then the next day glued them on, again while watching cooking shows :)
Supplies Needed:
-- Old church hymnals or other old book (approx. 200 - 400 pages depending on how big your wreath will be)
-- Staples
-- Foam wreath (I used a 14" foam wreath I found at Walmart for $5)
-- Glue gun and glue sticks (I used about 8 mini glue sticks)
-- Twine to hang
Directions:
1. Tear pages out of your book, roll into cones, and staple. You may need to work with your pages to determine the best way to do this. Once I did a few, I started to get on a roll.
2. You will start working on the back of your wreath. So lay your wreath down and begin gluing your cones face down on the foam wreath. I staggered mine and had every other one taller than the other. I glued the tails down as I went along.
3. Flip you wreath over and see if you need to fill in any gaps.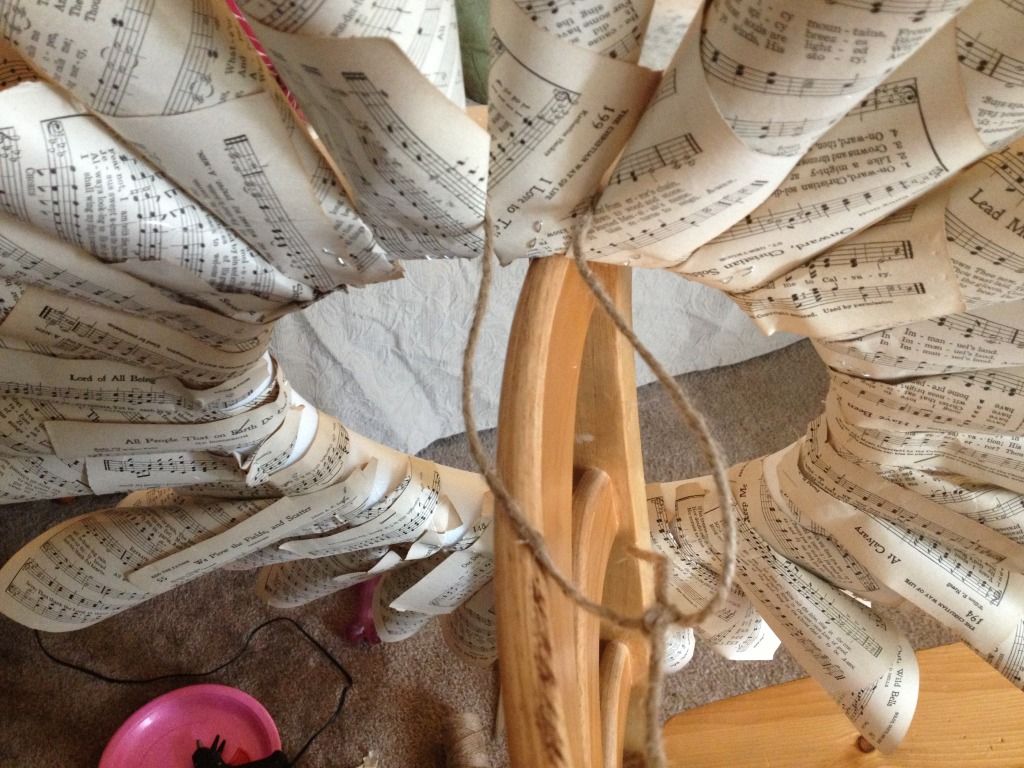 4. At this point, I tied some twine around one of the cones, and then secured it with hot glue.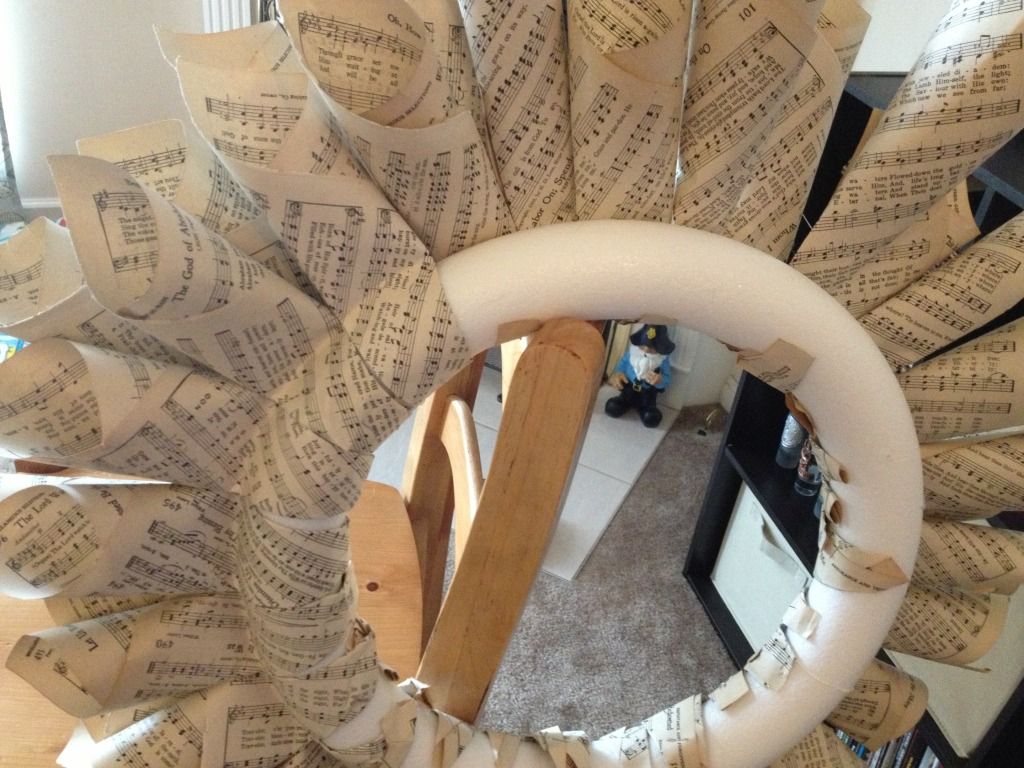 5. Then flip your wreath other so the front is facing you, and start gluing the cones on the front. Keep going around the circle, and then add a layer on top and keep filling in until you have the entire foam wreath covered. Or until you are happy with the end result. It looks like I have 1 row on the back, and 5 rows on the front.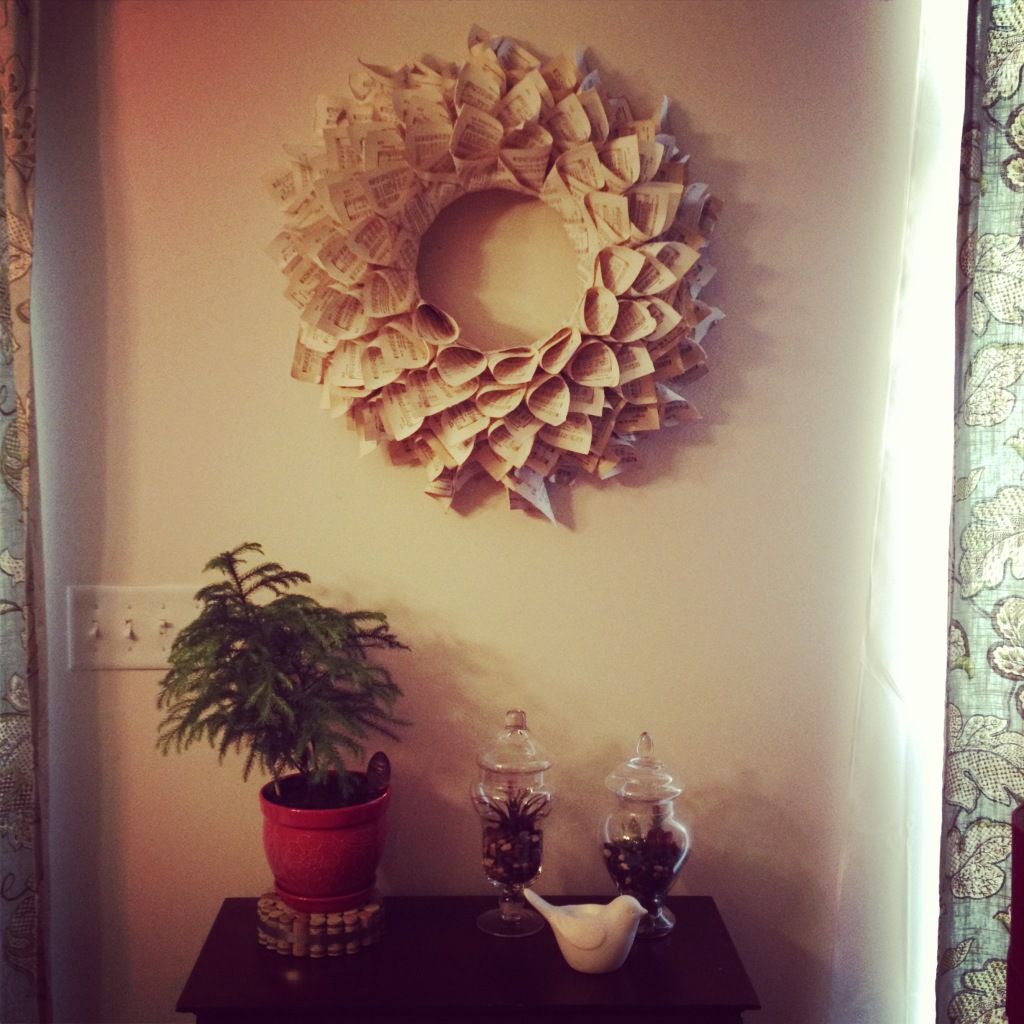 I hung my wreath on the wall between the sliding glass door in the dining room, and the big window in the living room. I love how it looks with my new curtains (to be revealed soon!).

Follow Me: