Happy Monday everyone! Hope you had an amazing weekend! I had a super fun weekend, and even better because it was a 4-day weekend, and I'm off today as well. I've taken a few weeks off from blogging because I was feeling a little burnt out, and have lots to catch up on.
So let's get onto business with the weekend, my 4-day weekend. Since Thursday was my Friday, let's start with Thursday evening.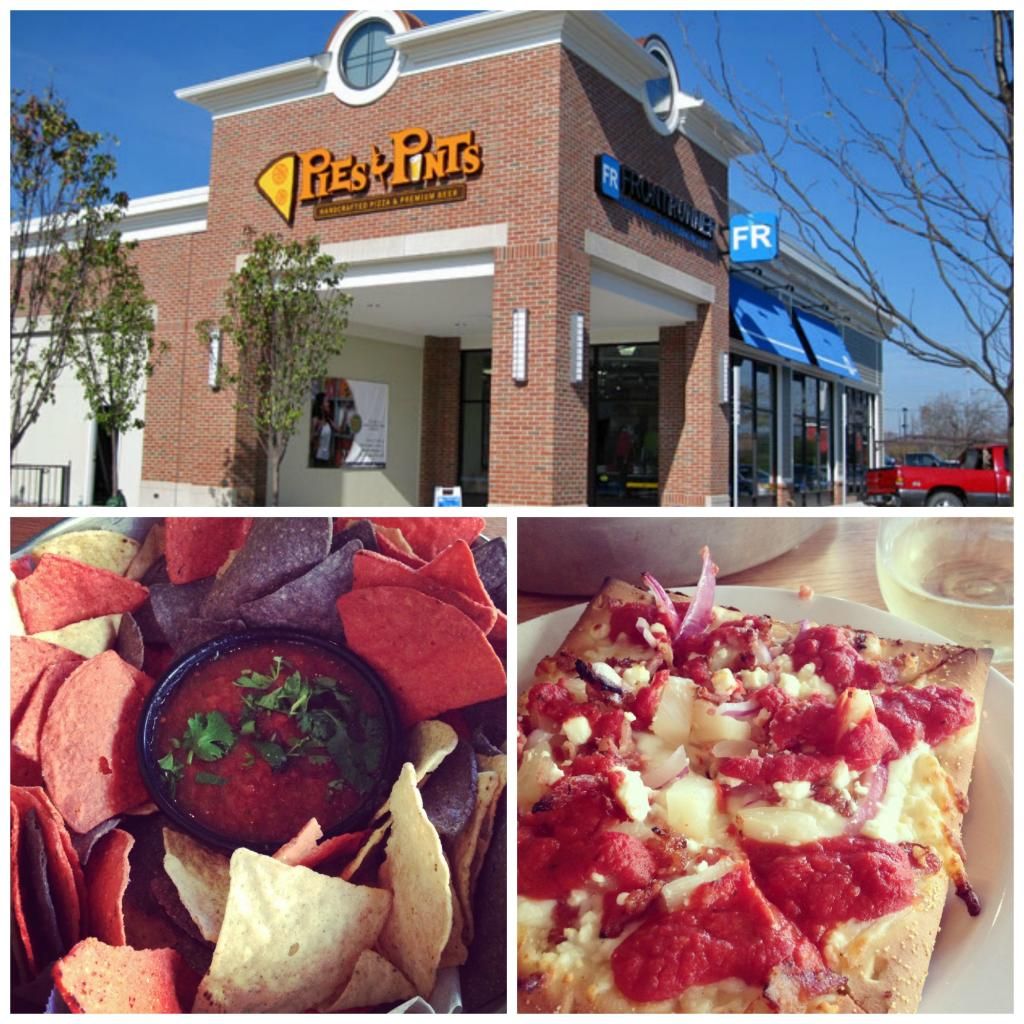 Rick is out of town this week for work taking a training course, so since I wouldn't be able to see him for a whole week, we had date night on Thursday. We went to
Pies and Pints
in Worthington for some pizza and beer (or wine for me).
I love that Pies and Pints has some amazing gluten free pizza (at least in my opinion). What I love about their GF pizza is that the crust isn't too thin and it's kind of doughy. A lot of times GF pizza has a very thin crispy crust. This pizza crust is not super doughy, but more so than many of the GF pizzas I have tried. I also usually try and stay away from cheese and most milk products, but splurged a little with some real cheese, and it was delightful!! I just started taking a new probiotic, and didn't seem to have any problems (knock on wood), so I might have to try some real cheese again soon. Oh how I miss cheese!! We started out with some chips and salsa, and I ended up getting the Pineapple pizza with bacon, red onion, pineapple and mozzarella cheese...yum!!
Then on Friday, my brother and the kiddos came to visit. They ended up staying both Friday and Saturday night. I have a ton of pics, but here are the few from my iPhone. While they were in town, we did a little: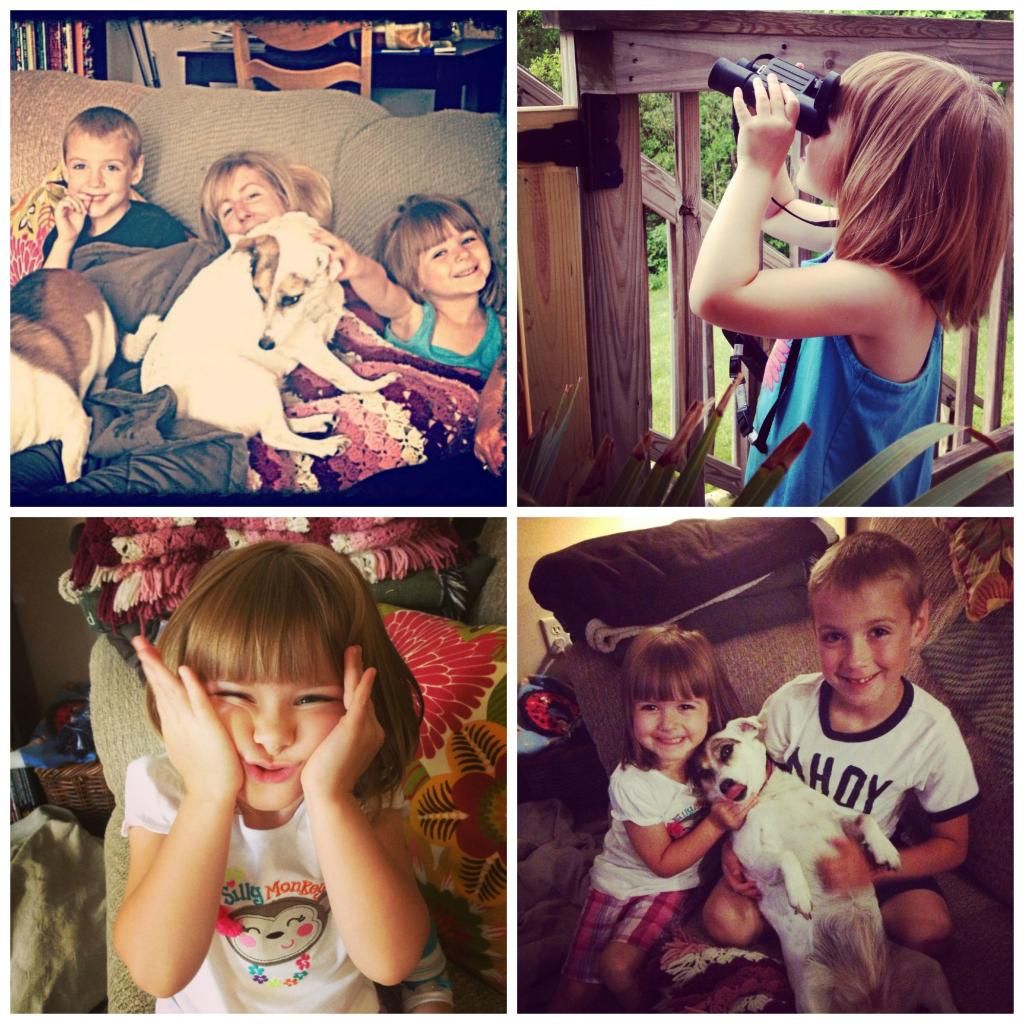 1. Cuddling on the couch with the puppies
2. Animal watching. We have a pond behind our condo which has tons of ducks, geese, turtles, and other wildlife. Doesn't she look like a little explorer??
3. We might have made some silly faces. Doesn't she look like the silly monkey on her shirt?
4. And the pups got lots of belly rubs.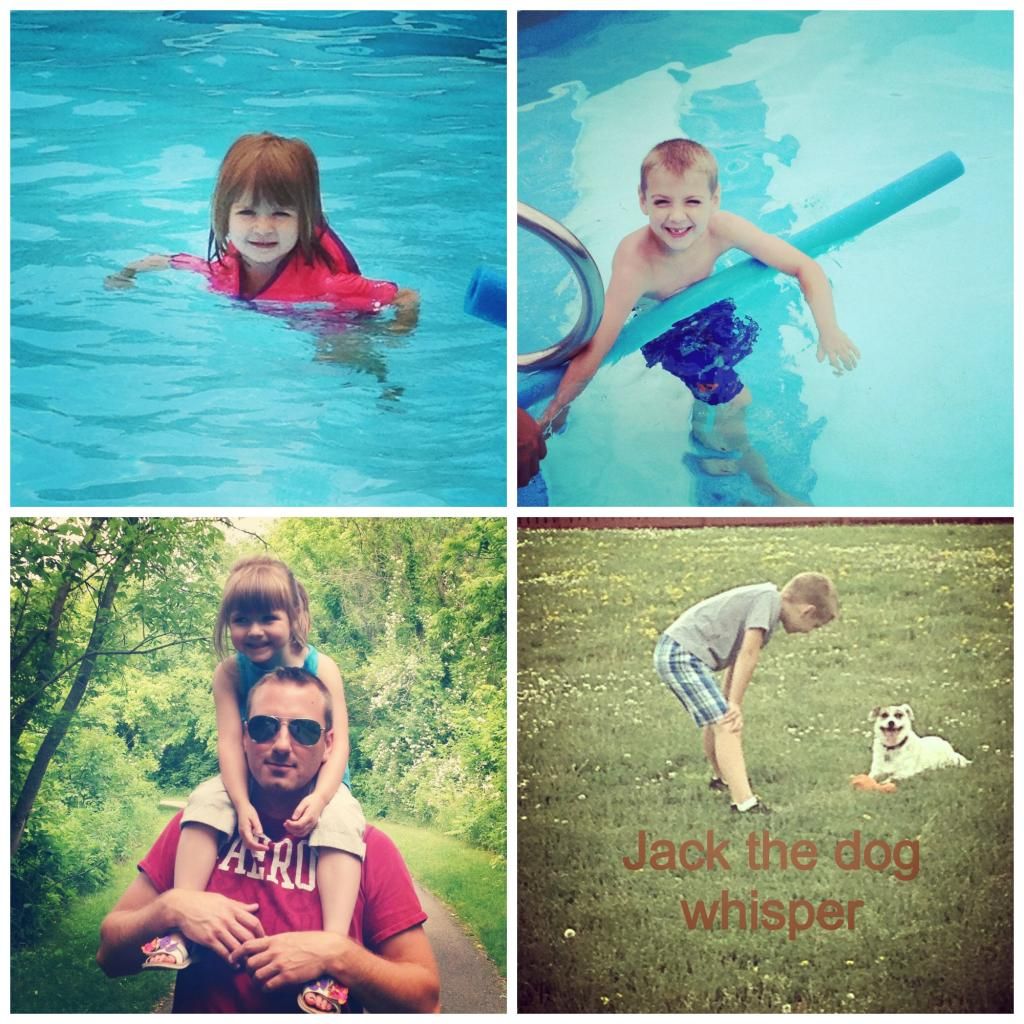 5. & 6. We also attempted to go to the pool on Saturday. Although it said it was 80 out, it was very cloudy and windy, and the water in the pool was freezing. I sat in a lounge chair and watched. I have no idea how those kids were able to get in the pool and swim around. They didn't last long though...ha!
7. We also went to the park down the road from us and played on the playground and did a little hiking. I'll have some more pics tomorrow of our adventures at the park.
8. And we spent a lot of time down at the dog park wearing out the pups. Jack just loved to play fetch with Bryn. Here he is trying to steal the toy away from her so he could throw it. We thought he looked like a little dog whisper...ha!
And that is just a piece of my weekend. I spent a good part of the day on Sunday cleaning and catching up on some shows. With two kiddos around, you pretty much only get to watch cartoons.
I have a ton of more photos on my digital camera from this weekend, and last weekend that I am planning on posting tomorrow. Just need to download and edit a bit, and hoping to have some downtime today to do so. Oh, can I get a few more hours in my day!!
Hope you have a great start to your week!
Linking up today with:

Follow Me: