I had great intentions of documenting our meal plans each week, but life tends to get in the way and meal planning doesn't always happen (keepin it real y'all). Add in the fact that sometimes I try awesome new recipes, and sometimes we end up having yet another rotisserie chicken from the grocery store...not very exciting, but still delish!
So I thought it might be best to just group some of my favorites into one post and share every couple of weeks. It's less stress for me to have to constantly come up with unique recipes to share, and less boring posts for you who don't care that we had yet another rotisserie chicken for the 120th week in a row (yep, had one last night...yum!). These recipes though, you definitely need to try!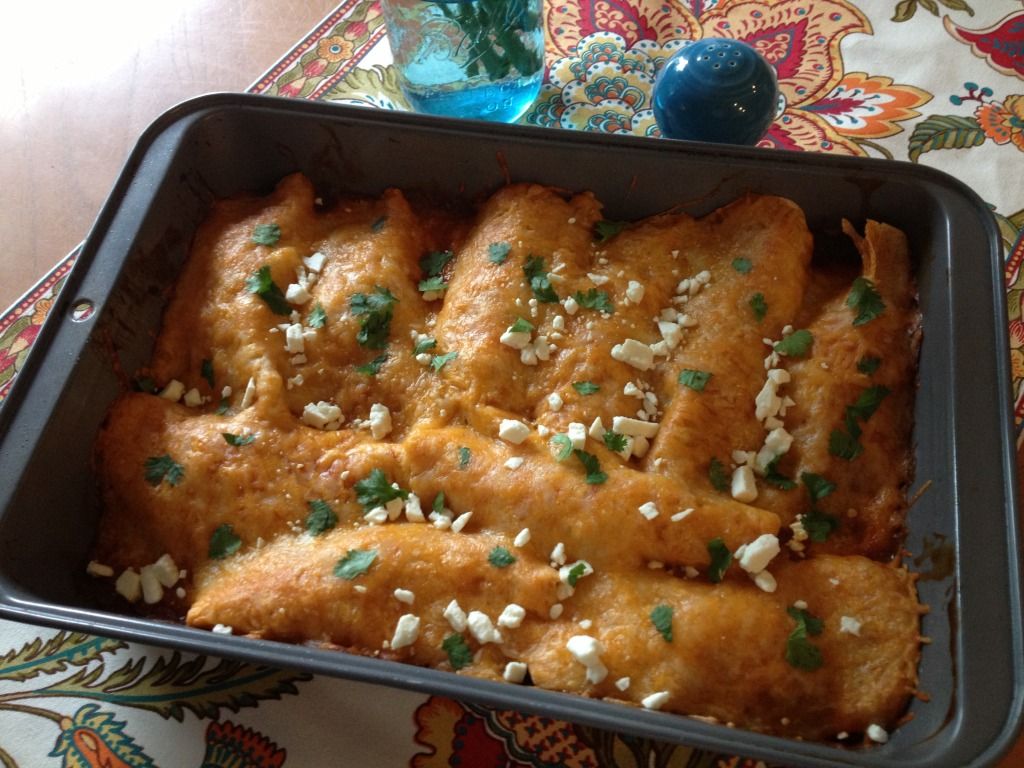 I came across this recipe and thought it was a unique take on a Mexican favorite. It's also a time saver because you can cook the chicken in the crockpot, then just shred, add to your favorite tortillas (I used white corn because they are gluten free), pour some pre-made enchilada sauce and cheese on top, throw in the oven, and dinner is done! I made this a few weeks ago when my brother was visiting, and Rick and my brother just loved them.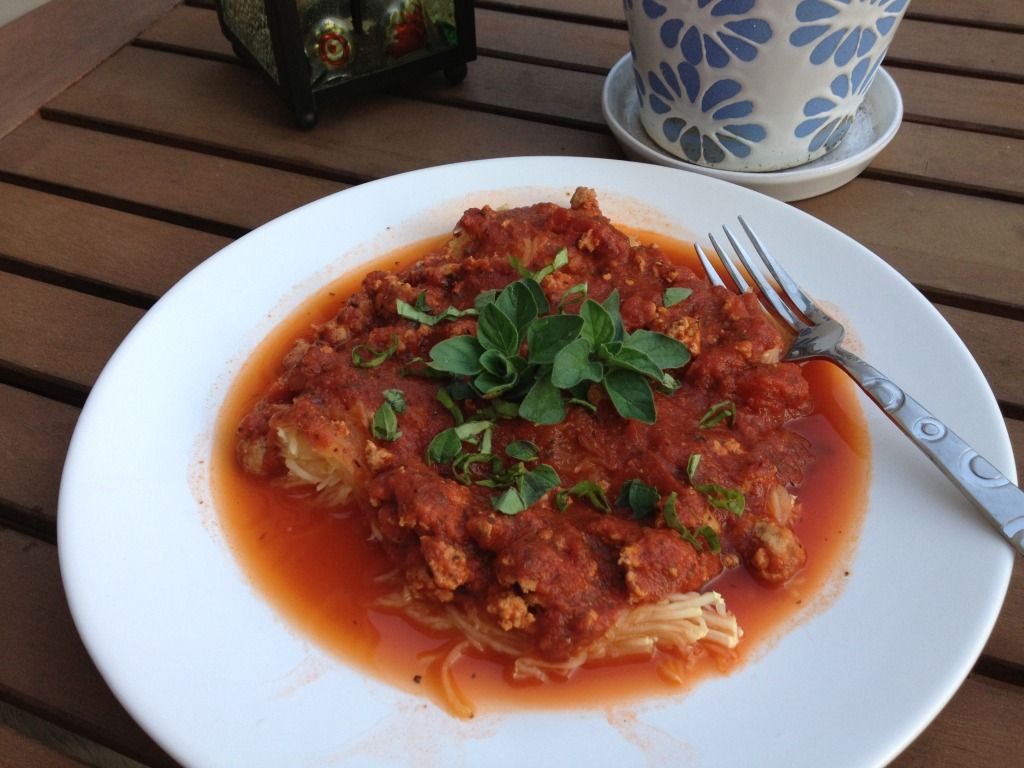 Spaghetti Squash with Marinara and Ground Turkey
This is a recipe that I guess you can say I kind of made up. It's not complicated, so I can't take too much credit for it...ha! But every couple of weeks I make a spaghetti squash in the oven, and then on the stove top brown some ground turkey, add some jarred marinara sauce, some Italian spices and sometimes some red pepper flakes, and it's like a healthy version of spaghetti with meat sauce.
If you have never made spaghetti squash, it's super easy. Just pierce the squash in a few places with a sharp knife. Then put in the microwave for about 7 mins. This will help soften the squash so you can cut it in half. Once you have cut it in half, remove the seeds. Keep most of the flesh in-tact as this will become your spaghetti. Then place on a baking sheet, cut side up, and bake on 375 for about 45 mins. Remove from the oven and scrape with a fork. This will make your spaghetti noodles. Then just pour your favorite meat/sauce on top and booya you have dinner!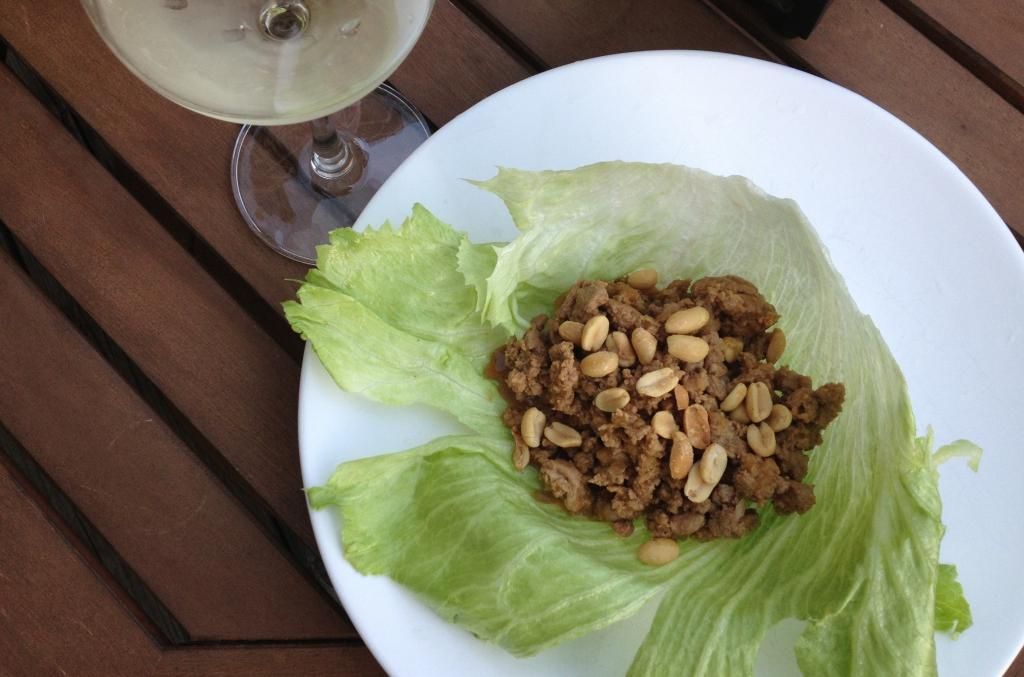 This is one of my favorite Iowa Girl Eats recipes. I'll admit I have never had the lettuce wraps at PF Chang's, but I did make this for a few friends one time and they claimed they were just as good. It's a very simple easy recipe that you can serve as an appetizer or just have it for dinner like I did. The only thing I would recommend is getting a good buttery lettuce. I just used a plain head of lettuce, and the leaves didn't tear off as nice. Plus the lettuce was kind of plain. Learn from my mistakes and yours will be awesome!!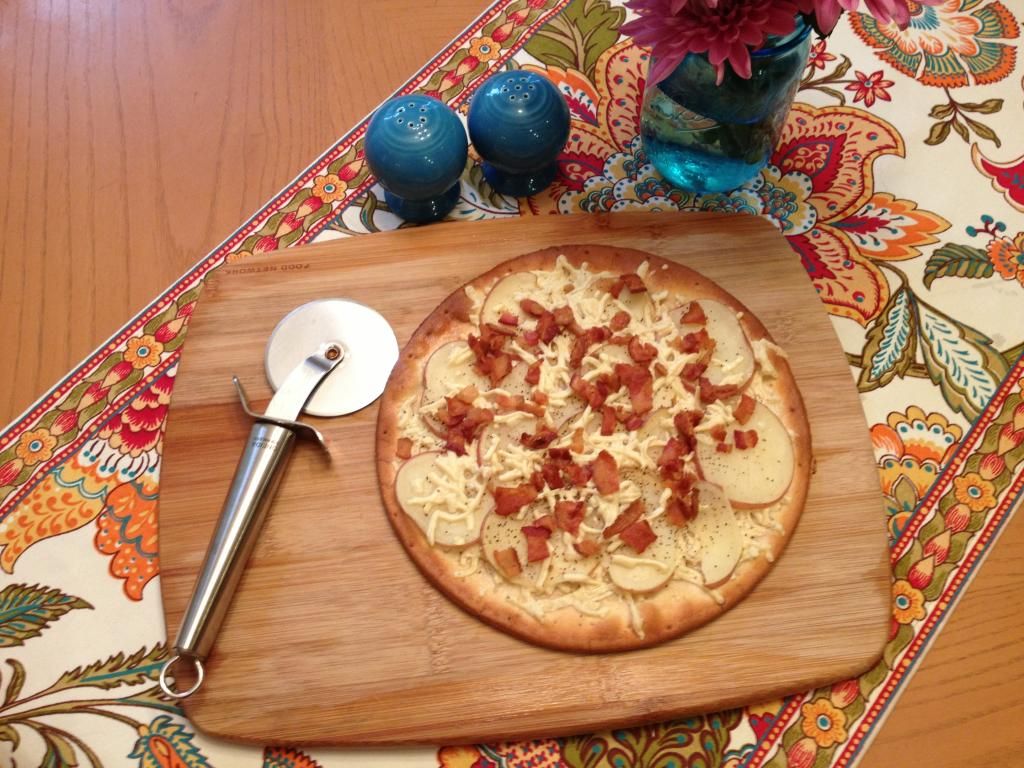 This is one of my favorite Pioneer Woman recipes. This is from one of her cookbooks and isn't on her website. But I did find it from another website so I could share here. Another mistake I made on this recipe was forgetting the leeks the last time I made it (so not pictured above). They make a huge difference, so try and find them at the store and use them. Totally worth it. My store was out of them this last week, and I forgot to go back and get them. The pizza was still very good, but the leeks really add another level of flavor.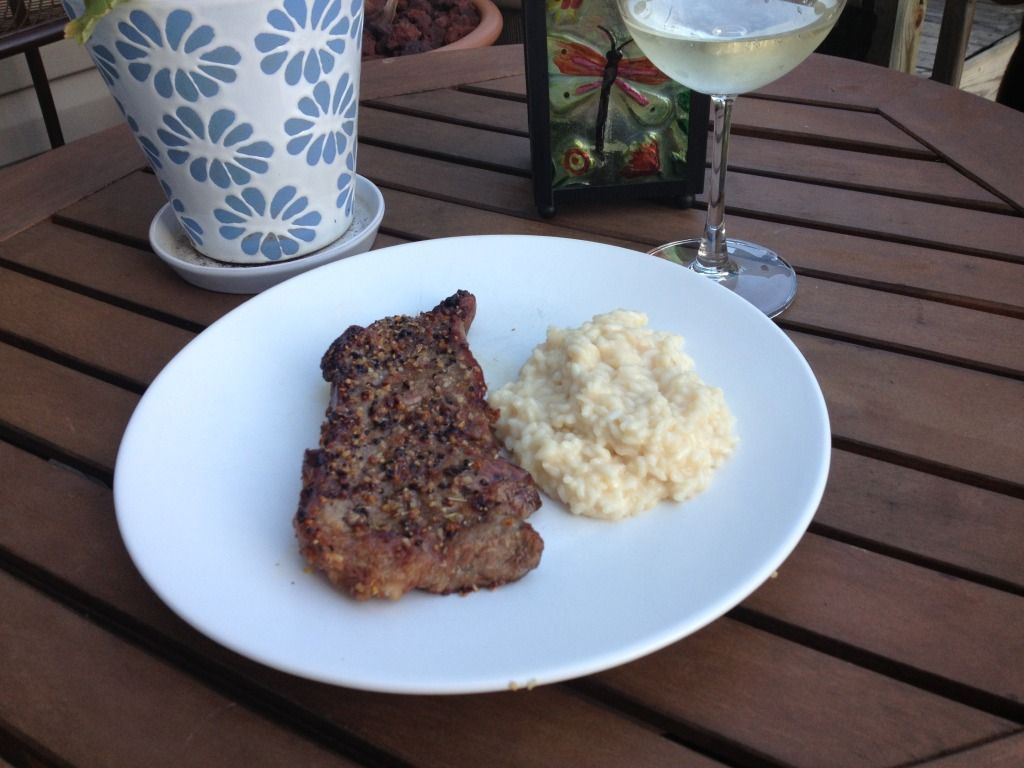 This lemon risotto is just amazing! My friends have actually requested I make this on numerous occasions. It's kind of a pain in the bum as you have to basically stir it for 20 mins straight, but after it's finished and I am eating it, I remember that it was totally worth the time, and the sore arm muscles. It's so creamy and cheesy. I try and stay away from cheese (hurts my tummy), but this is one meal that I do splurge on every once in a while. I would highly recommend making with steak, one of my favorite splurge meals.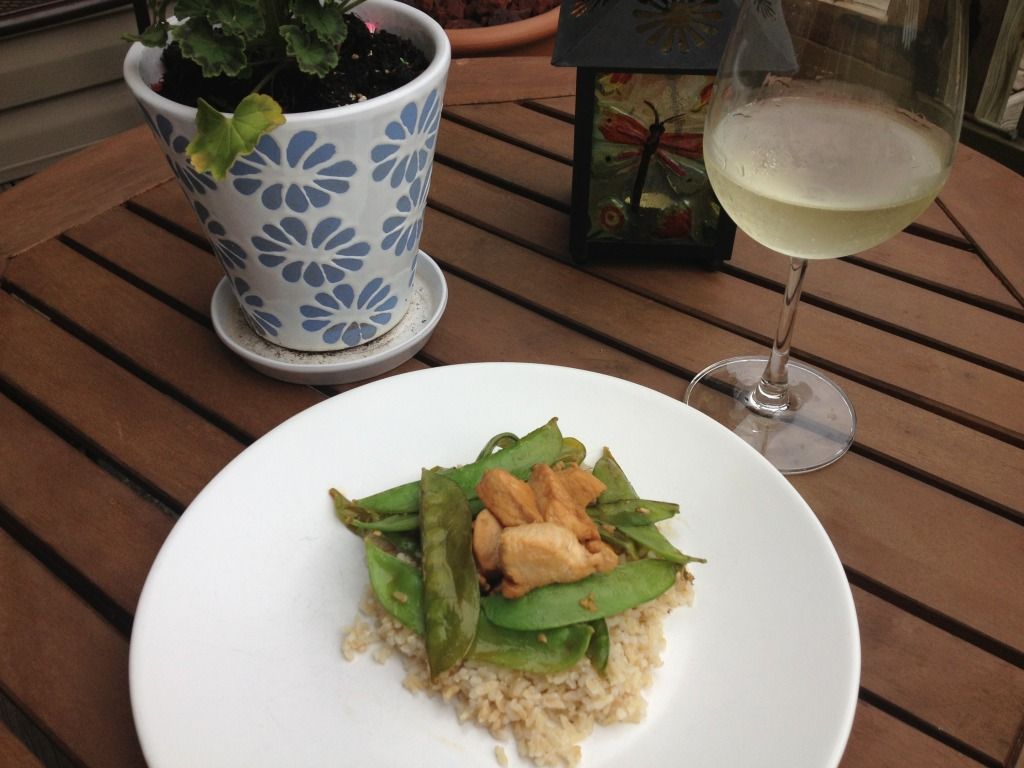 This is a really simple stir fry recipe, and you can really add any veggie of your choice. My favorite is snap peas, but broccoli or peppers are just as good. It's a great recipe because the sauce consists of only 3 ingredients: garlic, honey and soy sauce. It's one of those recipes that you can really make with what you have on hand, and it takes only maybe 20 mins to pull together.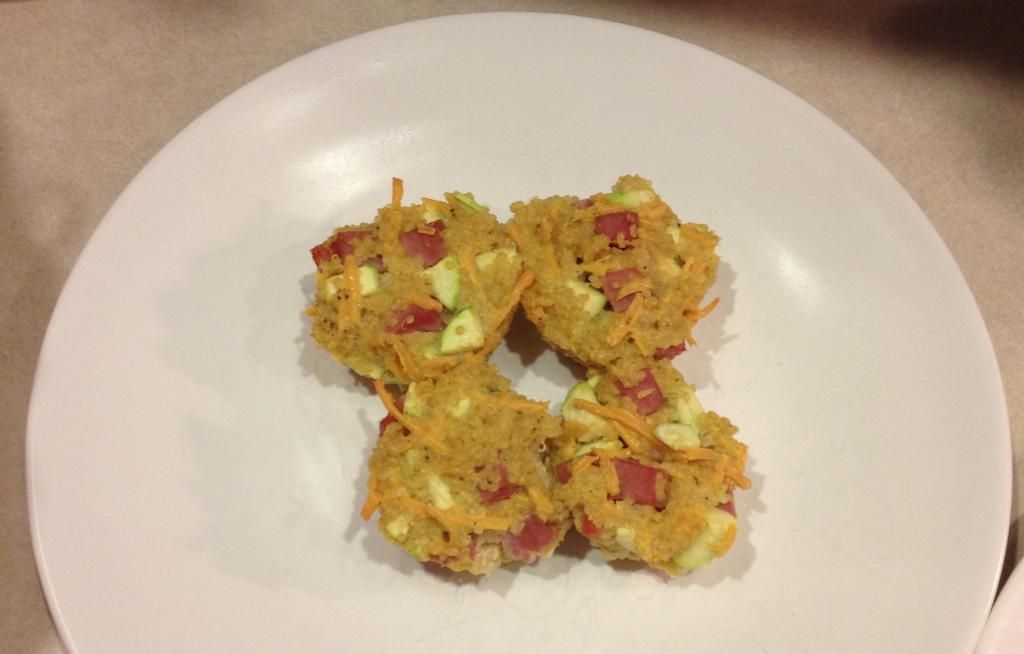 Ok so this picture is not pretty at all. A total fail on my part, but this was so very delish! We had these for dinner, but I thought they would make an awesome brunch dish. I made them in muffin cups and it was so simple to pull together. You just make the quinoa ahead of time, and then mix in some pre-cooked cubed ham, cheese, zucchini (which I chopped up in the food processor), and some eggs. Mix all together, spoon into muffin cups and bake. You could make this in a casserole dish as well and serve it that way. I thought they were just as good the next day for lunch. Maybe a little squishy, but still very tasty.
And there you have it. Some of my favorite meals over the past few weeks. I have some more fun meals planned and on my list to try, so I'll check in soon with some more favorites!
What have you been eating that I totally need to try. Please share!

Follow Me: