Happy Friday everyone! It was a short week for me at work and I have been relaxing and playing the last couple of days. Unfortunatly the weather has been kind of sucky, so I won't be sharning any Pinterest worthy pictures of fun fireworks or other schenagians. We spent most of they day on the 4th inside, munching on lots of delicious snacks. But I do have a few fun things to share from our holiday.
1. I found some fun festive daisies to fill my blue mason jars and use as decorative accents for our cookout on the 4th.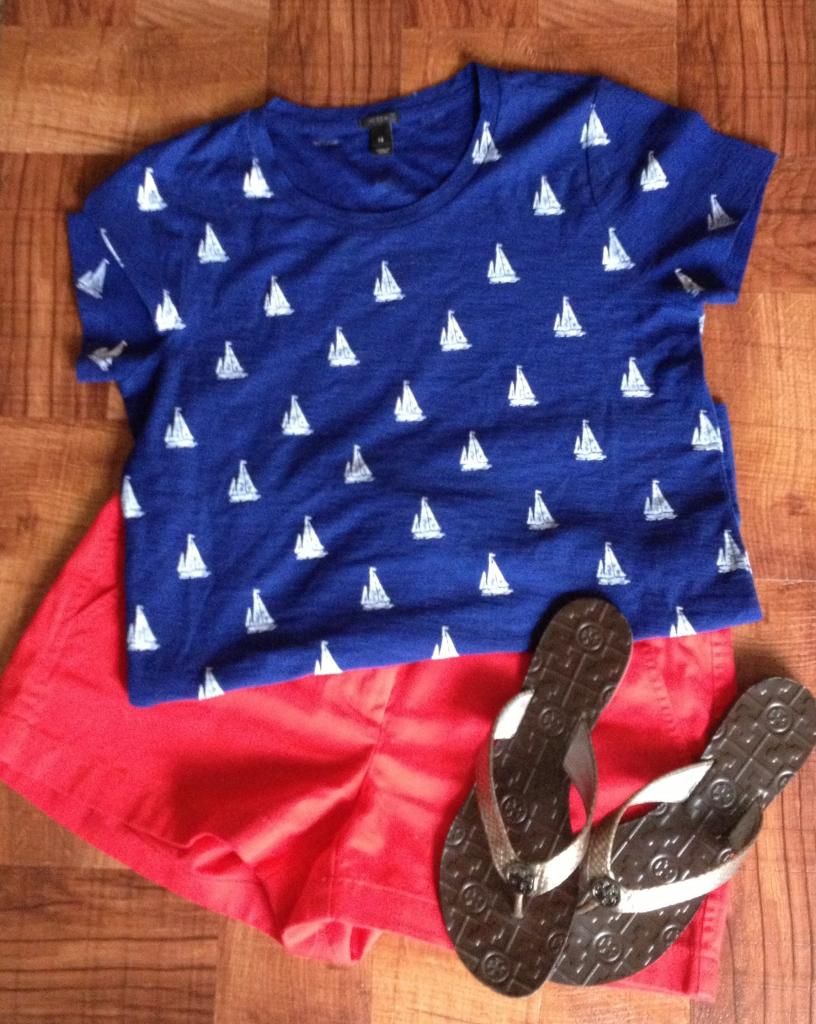 2. Loving my fun 4th of July outfit (t-shirt and shorts from J. Crew; flip flops were Tory Burch).
3. Of course my nails had to be festive as well (although my Dad didn't fully understand the blue accent nail. I was like Dad...you know the American flag...ha!). The red is OPI's You Rock-Apulco Red and the blue is OPI's Ski Teal We Drop. I then painted Sally Hansen's Diamond Strength glitter polish in Glass Slipper over the blue accent nail.
4. We invited my Mom, Dad, Brother and his Girl-friend over for a cookout and because the kiddos were at their Mom's this week, we decided we needed to grill out "adult food". So instead of the burgers and hot dogs we typically make, we had steak...yummy! And I made The Pioneer Woman's
Perfectly Baked Beans
and they were amazing! They take about 2.5 hours to make (they need to bake for 2 hours at 325), but they were totally worth it. Probably the best baked beans I have ever had...and everyone else raved about them as well! You have got to make them for your next cookout.
5. On Wednesday Rick and I went to Hocking Hills for the day, and I had a blast taking lots of pictures of nature scenes. Full recap of this trip to come on Monday.
Hope you are enjoying your holiday weekend. I want to thank all of the troops and veterans out there (including my boyfriend :) ) who have fought for our country and our freedom. You all rock!!

Follow Me: