I love General Tso's Chicken and could eat it almost every day. I have been wanting to find a way to make it at home and to make it somewhat healthier and gluten free. I do not have celiacs, but I do have a gluten intolerance, so I try and eat gluten free about 98% of the time.
What makes this healthier is that the chicken is not fried, and I used Tamari instead of soy sauce. Tamari tastes just like regular soy sauce, but doesn't include wheat. Some soy sauces could be up to 50% soy beans and 50% wheat, so if you are looking to go gluten free, make sure to read all ingredient labels carefully because there is hidden wheat in lots of things.
I swear this sauce tastes just like the General Tso's sauce you get in a Chinese restaurant. If you want your chicken to be a little crispier, you can always toss it in some corn starch, and then fry it in a little bit of oil (a half an inch or so). I've tried that as well and it's just as good.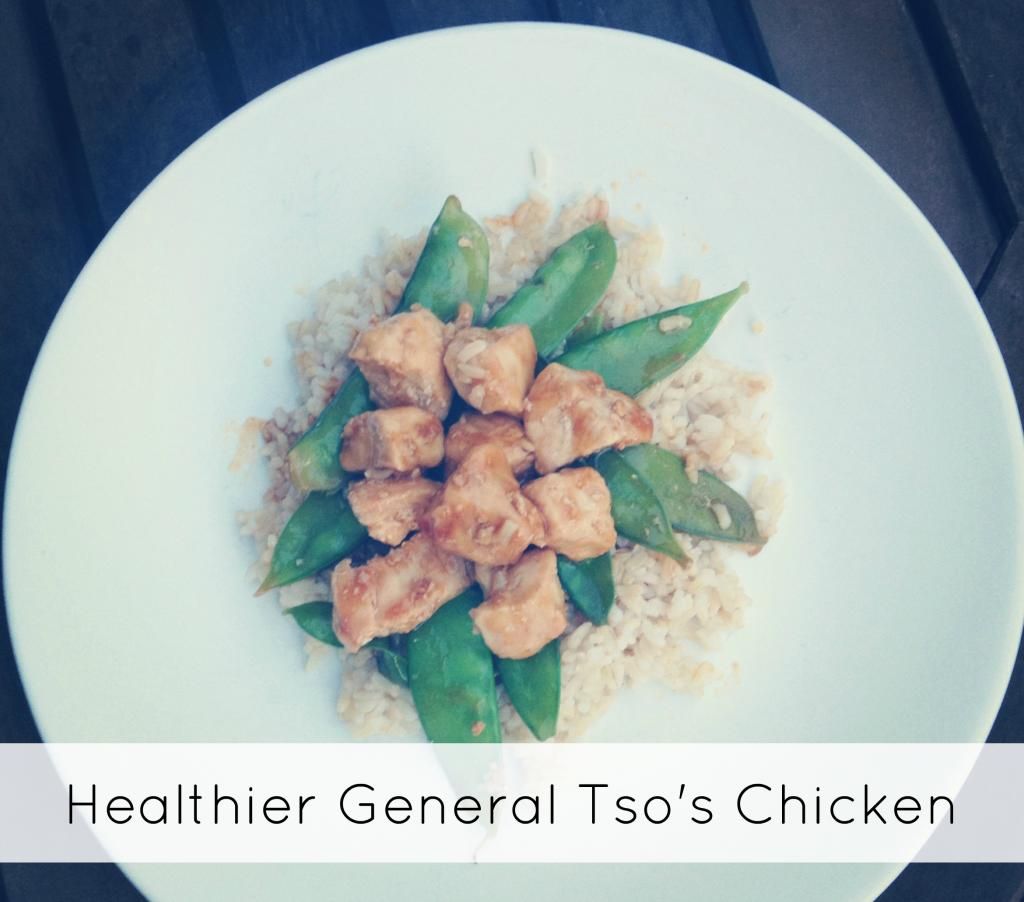 Healthier General Tso's Chicken
Ingredients:
FOR THE CHICKEN:
-- 1-½ teaspoon Toasted Sesame Oil or Olive Oil
-- 1 pound Boneless, Skinless Chicken
FOR THE SAUCE (You may want to double if you want extra sauce):
-- 1 Tablespoon Peanut, Canola Or Vegetable Oil
-- 2 cloves Garlic, Peeled And Minced
-- 2 Tablespoons Finely Chopped Fresh Ginger Root
-- 1 cup Chicken Broth Or Stock
-- ¼ cups Soy Sauce (I used Tamari to make it gluten free)
-- 1 Tablespoon Cornstarch
-- 1 teaspoon Chinese Chile-garlic Sauce
-- 3 Tablespoons Raw (turbinado Or Demerara) Sugar
FOR SERVING:
-- Snap Peas or Steamed Broccoli
-- Steamed Rice
Directions:
Begin by making the sauce. Start by heating up some oil, add in your garlic and ginger and cook about 1 min or so. Then add in the remainder of the ingredients, whisking in the cornstarch really well. Bring to a boil and continue to whisk until the mixture thickens and becomes glossing. This might take 5 mins or so. I then turned the heat to a lower temp until the chicken, rice and veggies were ready.
To cook the chicken, I just cut it up into bite-sized pieces and cooked in a pan with some sesame oil or olive oil if that's what you have on hand. Once the pieces were browned, I removed from the pan and added my snap peas along with a few tablespoons of water. I placed a lid on my pan to help steam them a bit. This only took about 2 - 3 mins. I then added the chicken back into the pan, and then poured the sauce over both the chicken and the snap peas and stirred until well combined. I then just served over brown rice. One thing to note, next time I am going to double my sauce recipe because I felt liked I wanted some extra sauce to spoon over the rice and for left-overs (they were a little dry the next day as the rice had really soaked up the sauce.

Follow Me: