A few months ago I changed teams at work, which required me to move to another cube. I have moved cubes many times in the 9 years I have worked there, but I had been working in my last cube for the last 2 years, so I figured it was time for a cube makeover. Most of the items I move from my last cube, but I did work on a few Pinterest projects to change things up a bit.
Also, please forgive the ugly gray walls and bland office lighting. Some people have actually covered their walls in cuter fabric, and I may end up doing that someday, but I just tried to do the best I could with what I was given :)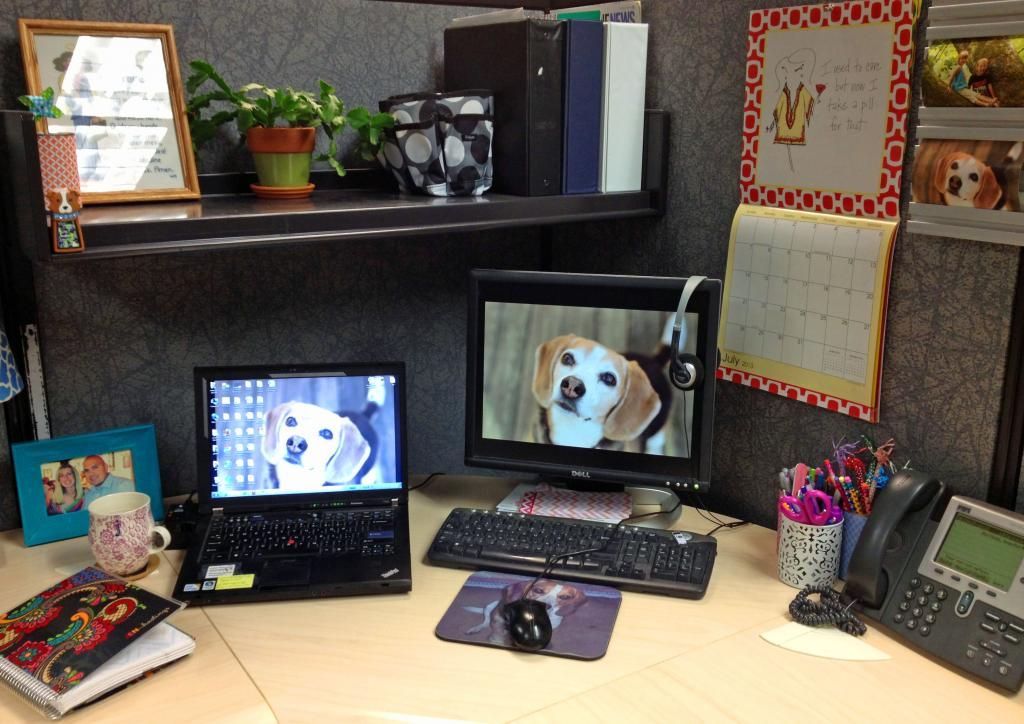 This is my main workspace. I love my
Mary Phillips wall calendar
which has such cute sayings each month. I think my favorite so far has been "I will cook for shoes" which is so me.
Here is the right side of my workspace. I love having lots of photos of my family and friends around and was super excited that my new cube had this photo holder already built in. The square picture on the right came from Target, and my bamboo plant I have had for years. When I first got it, it was as tall as the little white flowers. It has grown really tall over the years, despite the fact that I forget to water it half the time.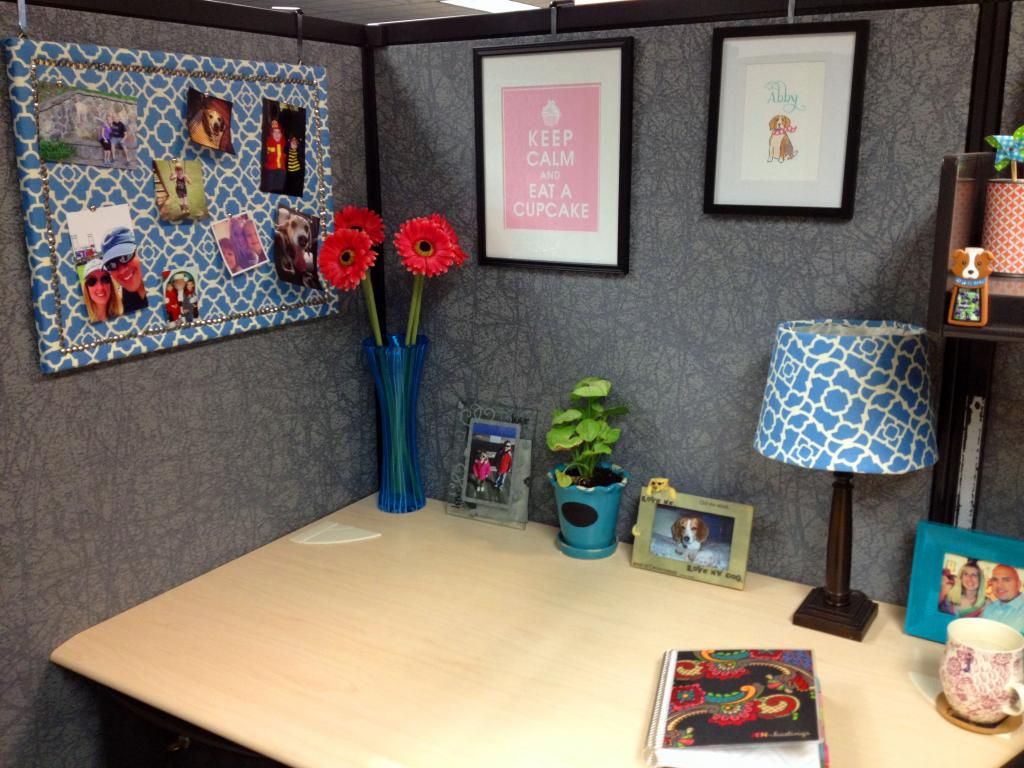 This is the left side of my workspace. The "Keep Calm and Eat A Cupcake" print came from
Etsy
, and the Abby print came from
Lydia and Pugs
. The little flower pot came from Home Depot and I love the little chalkboard circle on the front of it and the scalloped edges. The lamp is one of my DIY projects. I covered the lamp shade with some fabric to match my covered corkboard. The tall blue vase came from Crate and Barrel and the hot pink flowers I think came from JoAnns.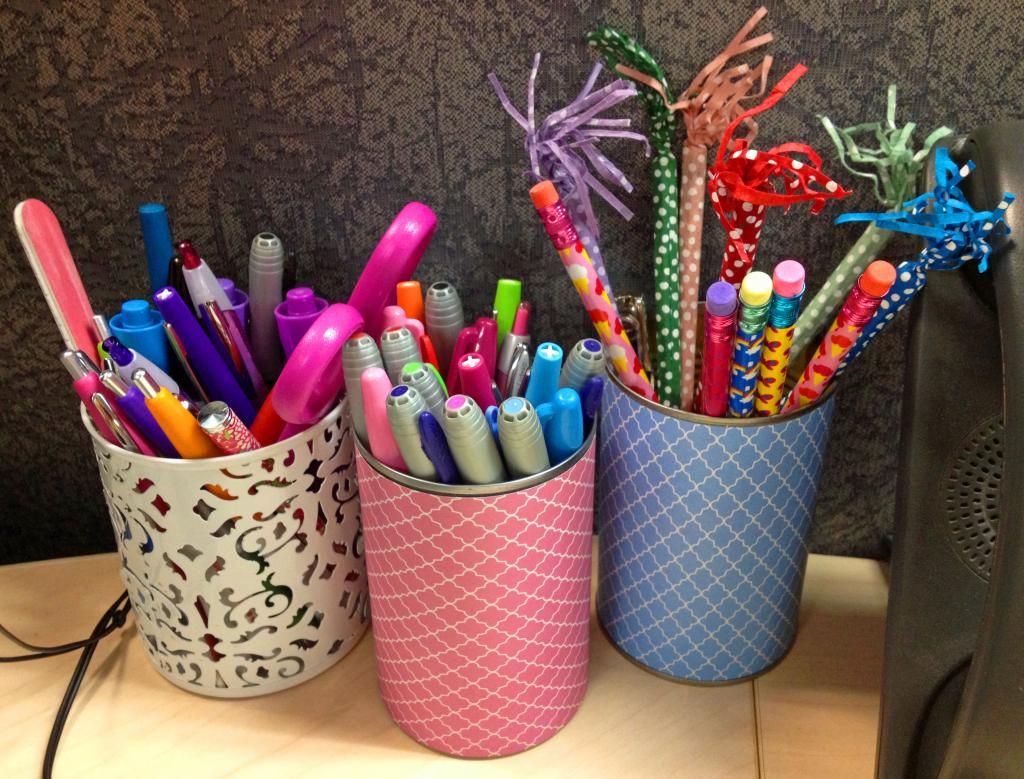 This is another DIY project. I covered some green bean cans with some scrapbooking paper from Michaels to make some pretty pen pots. I found the idea from Christiana at
Carolina Charm
. The white pen pot came from The Container Store.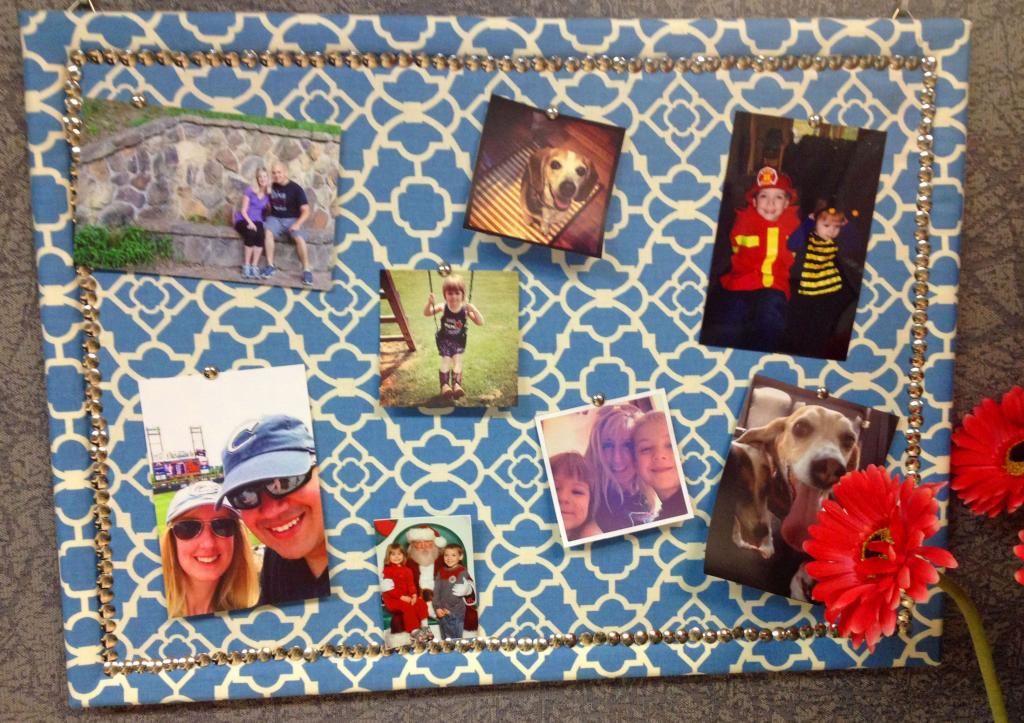 I also covered a corkboard that I already had in my office with some pretty blue fabric, and added thumbtacks to create a border. I found this idea from
Two Twenty One
.
And that's my workspace! It's where I spend about 40+ hours of my week. It's nice and cozy and I love having all of my favorite things surrounding me while I work. Lately I have been in lots of meetings, and the other day I realized how much I missed working in my little cube. You know you have been in way too many meetings when you miss your cube...ha!
What do you love about your workspace?

Follow Me: