Happy Monday! Wow did this weekend go by so quickly. At one point in time I thought that Sunday was actually Saturday and got a little depressed. But Monday hasn't been treating me to bad (so far), so I'll take it.
I actually started taking this class at my gym on Monday nights called Boot Camp. I was really afraid it might kick my bum the first night I took it, so I was kind of scared. It's a hard class, but manageable, and I don't feel like I am hurting my body like I hear some of these types of classes do. Tonight will be my 3rd night, and I'm kind of pumped about it, which is odd that I am excited about working out...ha! But it helps that I now have something to look forward to on Monday evenings. It makes the first of the week slightly more manageable. That and the fact that my favorite shows are on Sun - Tues nights. And yes I am a Bravo TV girl...hope that doesn't make you hate me :)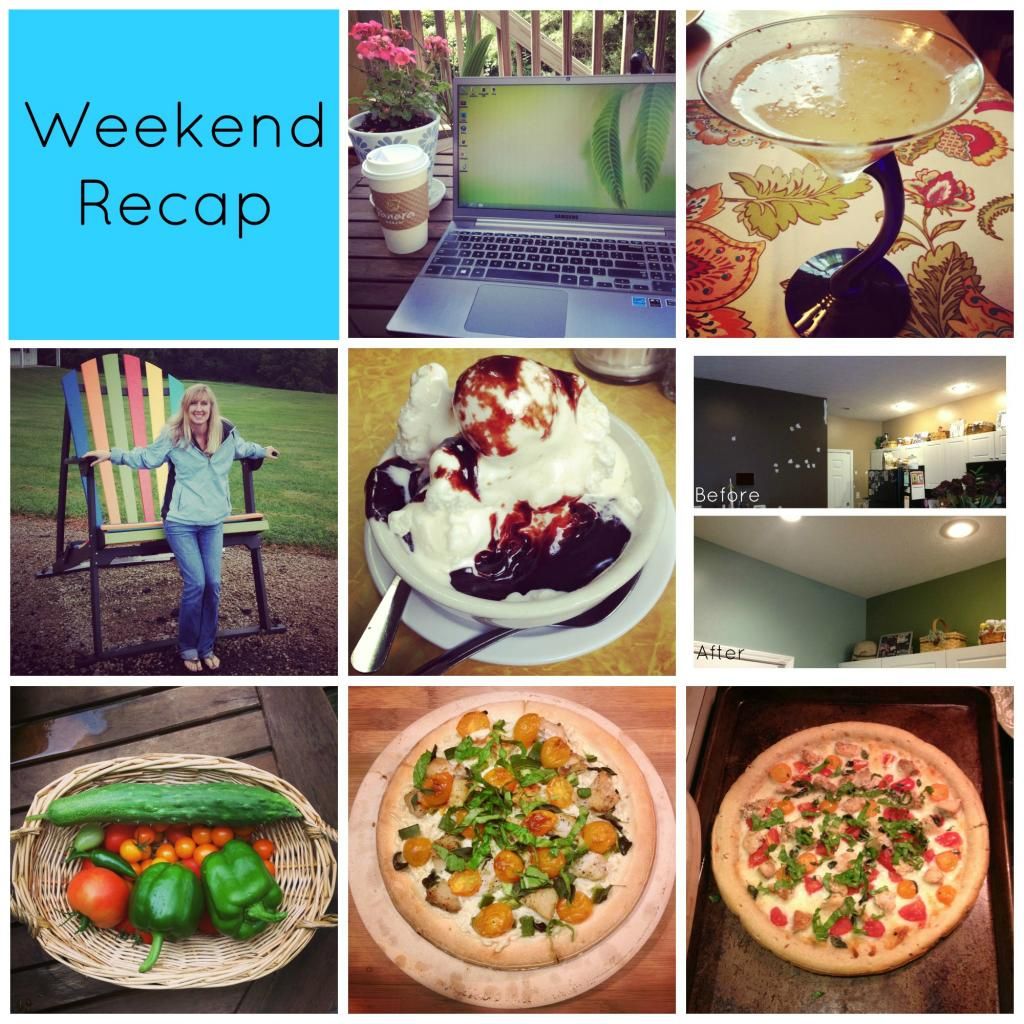 So if you are still wanting to be friends with me after hearing my TV choices, here is all that went down this weekend.
1. I took Friday off work as a vacation day, so I spent a little time on the deck catching up on personal stuff. I kind of wished I could work from home like this all the time because it was an awesome view.
2. Friday night we invited some friends over for a cookout. We had burgers and the most amazing salmon burgers from Giant Eagle. They were spinach and feta salmon burgers and I am in love with them. Rick also made us ladies a chocolate martini, and it was so good, but strong!. We were both totally buzzing after the 1st one. We rounded the night off with some s'mores, which I am totally obsessed with lately.
3. On Saturday Rick and I went to Zanesville to hang out with my parents for the day/evening. My Mom and I dragged Rick to the Zanesville Pottery place where I was looking at some Fiestaware dishes. I am kind of obsessed lately with collecting Fiestaware, more on that later. While we were there, we were checking out some of their lawn furniture, and I feel in love with this huge Adirondack chair. I told Rick if only our deck was a little bigger, we would be getting this.
4. We then had dinner with my parents at Olive Garden, and then went over to Tom's Ice Cream Bowl for hot fudge sundaes...yum!
5. On Sunday I finished painting the kitchen. This is just a little preview of the before and after. I still need to finish cleaning and putting things away before I do a final reveal. I also wanted to possibly redecorate a few things...possibly with some Fiestaware.
6 - 8. On Sunday we also realized that we had some veggies ready to be picked in our garden, so we ended up making a chicken/veggie pizza for dinner. It was so fun to use some of our bounty from the garden.
What were you up to this weekend?
Linking up today with Life of Meg for
Mingle Monday
.

Follow Me: