A few weeks ago, Rick and I went to Gatlinburg, TN (and a few other places) for our summer vacation, and to celebrate my birthday.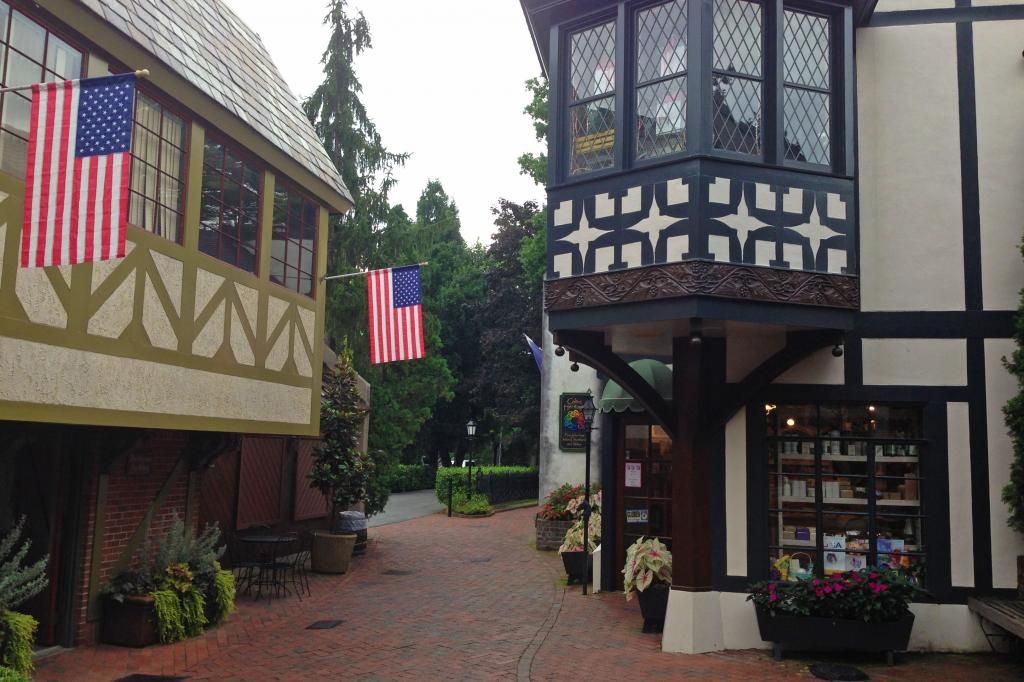 There were a ton of cute little shops and you could get anything from spices and flavored olive oil, to fun gift ideas, to hiking and camping supplies. You could also get adult footie pjs (like in the window above), which I now totally wish I would have gotten a pair of...ha! We both did end up getting a pair of hiking shoes, I got a rain jacket, and Rick got a hiking bag for our hiking trip in the Smoky Mountains.
One fun thing about Gatlinburg is that there is a river/stream system that runs through the heart of the town.
This was actually the view from our room and it was very soothing. I wanted to keep the door to our balcony open at all times.
There are a ton of ducks and other wildlife roaming around the streams.
We even saw a groundhog outside our balcony that seemed to be there every afternoon.
Another thing Gatlinburg is known for is their Ole Smoky Moonshine. The first night we were there it was my birthday, and we had to try this Moonshine sampler. My favorite was the peach and the cherries that included a shot of Moonshine...yum!
We also went to the Ole Smoky Moonshine store which included a little tour of how their Moonshine is made.
And there were stations to sample all of the different Moonshine flavors. Here is Rick doing a sample shot. They served the samplers in little plastic communion cups. There was a grape flavored one that seriously looked like we were taking communion at church...so weird...but so good!
I really liked the Strawberry flavor, and picked up a jar to take back to my family. I also picked up a jar of the peach for us :)
Gatlinburg is right next to the main entrance to the Great Smoky Mountains. And the Smoky Mountains are known for bears.
We didn't see any bears when we were hiking in the Smoky Mountains (pics to come), but we did see these cuties in Gatlinburg. I was totally fine with this being my only bear experience.
There were also some pretty flower boxes with a bunch of beautiful butterflies. I could spend all afternoon watching them and taking pictures of them.
The flower boxes were all along the railings on the rivers, which was just so beautiful and added to the peacefulness
I have no idea what this little flower is called, but it reminded me of something out of the Dr Seuss movie.
And the butterflies just loved them! And I just loved the blue coloring of this butterfly!!
So the main strip of Gatlinburg, which I did not get any pics of, was very commercial. And there were a ton of crazy souvenir shops and museums like the Ripley's Believe It Or Not. This part was not my favorite part of Gatlinburg (why I didn't get any pics), but there was a ton of great people watching along the strip. And there were cloggers that were dancing all over the place. I used to clog dance, so I got a kick out of that. But I will leave you with one pic that I did take on the main strip. I could not stop laughing every time we passed this bar, and totally had to take a pic to send to my brother.
Yes, there was none of this on the trip, and that was a very good thing! :)