Happy Monday! Did everyone have a great weekend? Rick was away all weekend on "Man Trip" so I had a lot of time to myself. There were some projects that I had wanted to start on, so I had plenty of things to do to keep me busy. I am slightly introverted, and am the type of person who can entertain myself and be completely happy, so I didn't mind having a little alone time. I'll admit I did miss him a little (or a lot), and am glad he is back. So what did I get into this weekend?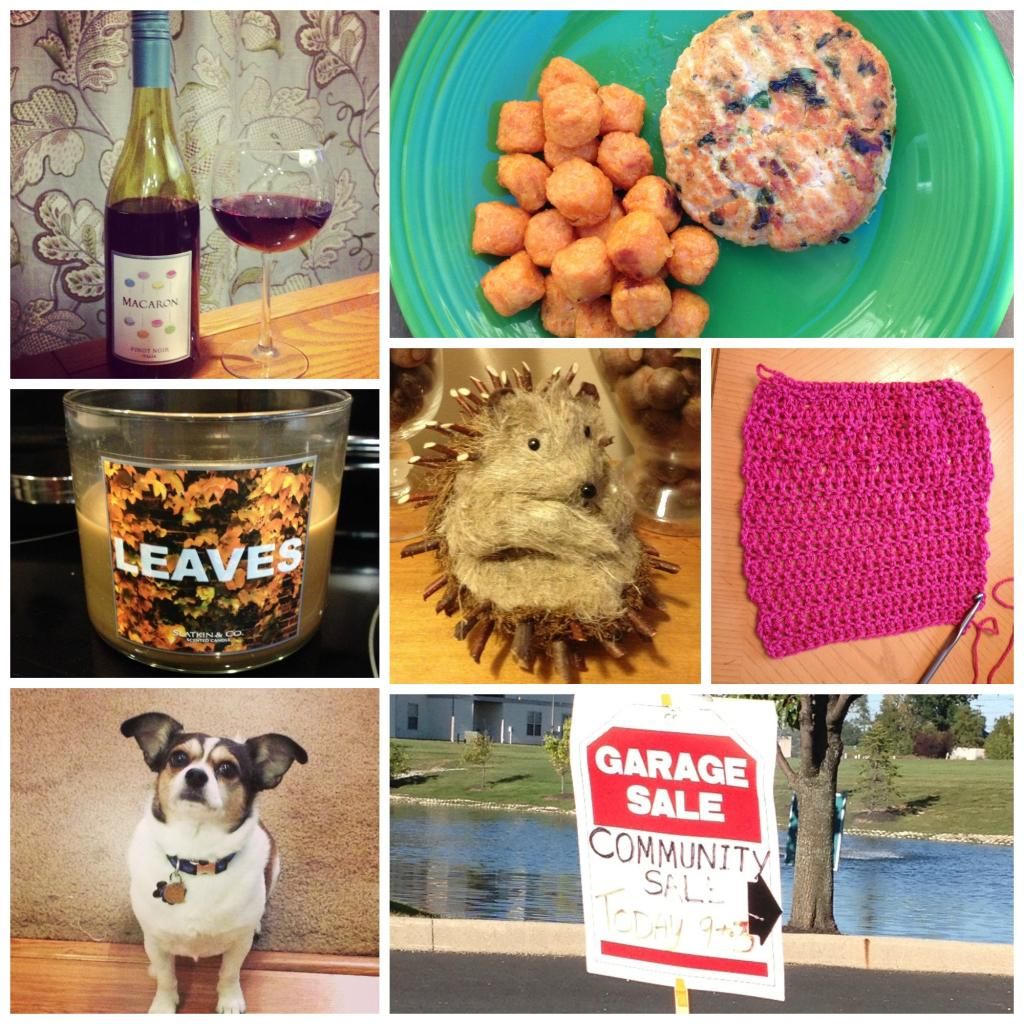 ~~ I had sort of a rough Friday afternoon, so a little wine was needed to wind down after a busy day. I had wanted to try
this wine
, and finally found it at Kroger's on Polaris. It was actually really good, and I am definitely going to be trying again. A little pricier than what I typically buy (it was $9.99, and I usually stick to the $5 or $6 bottles, yes I am cheap), but would be perfect for special occasions or when I just need a little treat!
~~ I had Chipotle on Friday night and my latest favorite meal on Saturday. They have these amazing salmon burgers at the meat counter at Giant Eagle. They have many different flavor combinations such as Bruschetta, Garden Veggie and Spinach and Feta (pictured above). I am obsessed with these, and it seems we get them once a week. I also love these sweet potato puffs! Like tater tots, but fancier!
~~ I am so glad that the temperatures have finally cooled down a bit. I love to open the windows in the evenings and listen to the cicadas and bull frogs at night. I also love this Fall
candle
from Bath and Body Works. It's really helping to get me in the mood for Fall.
~~ And speaking of Fall, I did a little Fall decorating this weekend. I still have one more project to complete that I am still working out, so I will hopefully be able to share the full reveal later this week. In the mean time, here is a little sneak peak. I just feel in love with this little critter at
Pier 1
over the weekend.
~~ On Sunday, my friend Rachael had a crochet party. She runs a business called the
Knotty Nanny
where she sells all kinds of cute items that she has crocheted. She thought it would be fun to teach some of us how to crochet and have a sort of "stitch in bitch" party. I have always wanted to learn, and I jumped at the chance for her to teach me. This is actually our second party. The first party she taught us the basic stitch, and this time she got us started on actual projects. I am working on a scarf using the double stitch. It's a little messy, but I am still working on my tension and I figure no one will notice when it is wrapped around my neck right?? This is what I got accomplished between the party and last night. I am going to work on it every night while I watch tv, so I am hoping that I can have it finished in the next week or two. I'll have to share the finished project when I am done.
~~ This little fella was my shadow all weekend long. He followed me around and kept me company while I baked, decorated and worked on my crochet project. He is such a little sweetie and was the man of the house while Rick was gone. He made sure I was watched over.
~~ We had a garage sale on Saturday and let me tell you, it was an experience. I have never really had a garage sale before. We had a family one a few years ago at my parent's store, but my Mom organized it all. It was sort of overwhelming, and I really had no idea what I was doing, but I did learn a few valuable tips that I wanted to share. When I spoke to a few friends about it, I found that not many people had ever had a garage sale, so I figured this information might be useful to someone.
1.
Serious garage sale people come early
- We had signs that our sale was from 9 am – 3 pm. I opened my garage door at 8:30 am thinking I would have about 30 mins or so to set everything out, and the minute my garage door opened, cars were pulling up and people started going through my stuff even before I had a chance to set it out. The good stuff went quick. We made the majority of our money from 9 am – 10:30 am. I'll be honest I could have closed up at noon and probably would have been just fine. I held out until 2 pm and did have a few small sales. At this point people were just driving by and weren't even getting out of their cars unless they saw something of interest.
2.
People want the good stuff
- I kept asking people what they were looking for to start up conversation. One guy was looking for electronics (GPS, stereos, computers, ect). A few ladies kept asking for jewelry. I found out later they were looking to buy gold jewelry. One lady even had a scale in her purse and said she would offer more than the jewelry store. Furniture and my old dishes went fast. We were selling some tires and a lot of people were interested in them. One set sold really quickly. The other set a lot of people were interested and took down my number so they could check and see if they would fit one of their cars. Another couple was looking for old records. I kept trying to sell some of our old VHS tapes and said well if records can make a comeback, I'm sure VHS tapes will be next. We were selling some of Rick's old army stuff, and one guy asked me if I had any old army stuff. I was like this stuff is old…ha! But he wanted army memorabilia. I wanted to say buddy if I had that stuff I wouldn't be selling it at a garage sale…ha! Which brings me to my next point…
3.
You have to sell stuff cheap
- People are not going to pay top dollar for items. I kind of already knew this and priced everything pretty cheap. But people will typically try and get 50% off, so be prepared for some of your higher ticket items ($5 or more) to come down about 50% when negotiating. We actually had already planned on this for all of our items, so that worked out pretty well. People thought they were getting a good deal, and we were happy to be making some money.
4.
You need big ticket items
- We had a few bigger items (tires, furniture, bike accessories, car parts), and a bunch of small stuff. We ended making about $100, but we wouldn't have gotten that close if we didn't have some bigger ticket items. The dollar items add up, but not as quickly as the bigger ticket items.
5.
Set up items by price
- To save time I had a dollar and a 50 cent section. I just laid out a sheet and taped a sign to it that said everything on this sheet was a priced $1. This helped me to not have to price all of the little items. And people will pay a $1 for almost anything.
6.
Get small bills for change
- Although I was pricing everything pretty cheap, I did have some people ask for change for a $20. We ended up getting $50 in change (2 fives 40 dollars in ones and a roll of quarters), and I was so glad we did this. You don't want to miss a sale because you don't have any change.
7.
Community garage sales are the best
- If your neighborhood or condo complex offers a community garage sale jump at the chance. We had a ton of people stop by and we didn't have to advertise because our condo board did everything for us.
Have you ever had a garage sale? If so, what tips do you have?
Linking up today with Life of Meg for
Mingle Monday
.

Follow Me: