Happy Monday!
Hope you had a wonderful weekend! We had a lot of fun this weekend, got to spend some time with family and friends, AND I crossed something off my bucket list! Of course now I am sad it's over, but I have a ton of pictures to share this week and will be sharing a few different posts dedicated to this weekend, so stay tuned.
One fun thing we did on Saturday was spend some time with friends at Buckeye Lake.
One of Rick's good friend's parents have a lake house at Buckeye Lake, and she invited a bunch of us over to spend some time and hang out and watch the OSU game. We took a boat ride across the lake (I had no idea how big it was, but it took us about 1.5 hours), and looked at some fabulous homes.
Back in the early 2000's the Parade of Homes was at Buckeye Lake and the one pictured above we all fell in love with. There was actually a plot of land for sale right next to it and we joked we could buy the land and then set up tents and camp on it. That is probably all we would be able to afford to do...ha!
We also enjoyed a few beers on the deck (the pic at the very top was the view from their deck...beautiful!), and then watched the OSU game...which of course they won...go Bucks!
As we were leaving Rick was like...do we need to buy a house here so we can be neighbors with our friend? I was like yes please! And then he was like, do we need a boat, and I said...of course! If we are going to buy a lake house, we might as well say throw in a boat! Only in our dreams right :)
On my Friday Favorites post I mentioned that I had something really big planned over the weekend. Well on Sunday, I got to cross something off my bucket list...
...visit an alpaca farm. They were having Alpaca Days this weekend at the
Alpaca's of Spring Acres Farm
and I begged Rick so that we could go. I love alpacas and have been wanting to visit an alpaca farm and see one up close and personal for YEARS!! I was so giddy and excited and nervous (yes nervous), but it was so much fun. I want to go back again soon and see my little buddies. I will have a full recap later in the week because this just deserves a full post! I took a million pics, so make sure to come back for more!
Oh and I also wanted to share a funny story about Friday. So last week was a rough week. We are working on 2014 Brand Planning with one of our clients and I am in charge of working on the budget, so all of last week was spent working on budget spreadsheets. Normally I love budgets and spreadsheets (yes I am weird), but there were some long days looking at tiny lines spreadsheets and a million numbers and formulas, and my head was just mush by Friday evening. I was totally ready for bed by 9 pm, but I didn't want Rick to think I was a loser. So I put on my pjs, and decided to work a little on the scarf that I have been crocheting, just to have something mind numbing to do. Napoleon jumped up on my lap, and my evening might have looked like this...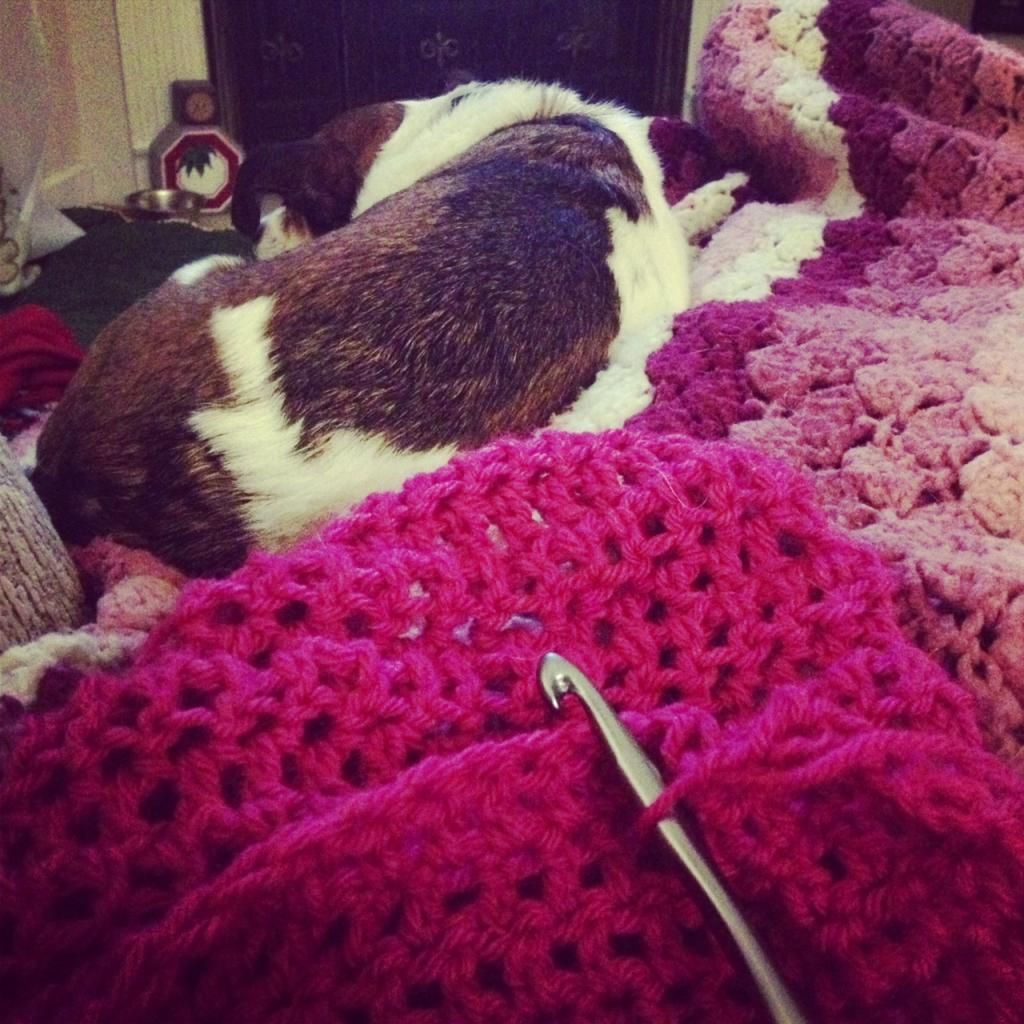 At one point Rick looked over at me and said "Have we just aged by 30 years? Here we are on a Friday night and you are in your pjs knitting" and of course he was sitting there sharpening his knives and we were watching really bad TV (like the top 20 stupidest partiers). I said "well first of all I am crocheting, and second of all, I don't care." Ha! I think we made up for it this weekend, but it was kind of funny to think about how a year ago we were dating and spending Fri and Sat nights out, and now we are such homebodies. Well I am the homebody, and Rick is just dealing with it.
What all did you get into this weekend? Have you ever seen an alpaca? They are weird looking but kinda cute!
Linking up today with Life of Meg for
Mingle Monday
and Sami's Shenanigans for
Weekend Shenanigans
. Check them both out!!

Follow Me: