Happy Fall y'all! I am a day behind on my Weekend Recap. It was kind of a busy weekend and I just didn't get a chance to sit down and recap everything. Here is a quick little glance of what we got into this weekend.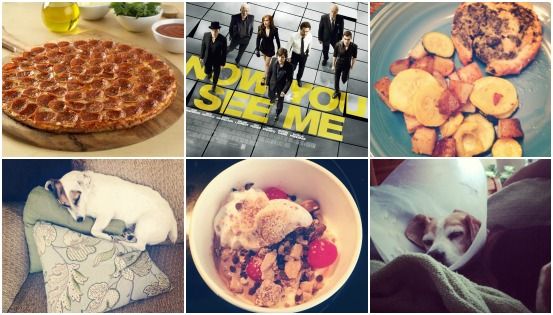 1. I had told Rick earlier in the week that I wanted to order a pizza and rent a movie on Friday night. so we did just that. We got pizza from Donatos and I tried their
gluten free pepperoni pizza
. My goodness it was so good! And tasted just like their regular thin crust pizza. It was a little pricier, about $13.95 for a medium, but so worth it to have gluten free pizza that didn't taste like it. They used Udi's pizza crust, which I have purchased in the store and already loved. I got about 3 meals out of it, so it was really the perfect size for me.
2. We rented
Now You See Me
and it was just ok. I got a little lost at the end as the ending was not what you expected. Rick might have had to explain it to me and then I was like...that doesn't make sense...why would he do that...ha! The concept was good, the ending just wasn't what I expected. Hope I didn't spoil it for those still wanting to see it.
3. We had Jackie and Nate over for dinner on Saturday. I wanted to make salmon burgers (my latest obsession), but they didn't have any at Giant Eagle...sad panda :( Instead I got salmon pinwheels with feta and spinach, and cheddar/bacon burgers for the boys. The pinwheels were still pretty tasty. Gotta love Giant Eagle!!
4 & 6. Had to show some cute shots of the puppies being lazy. The first one of Bryn on top of all of those pillows cracked me up. She looked like she was about to fall, but she didn't care. And Abby was still wearing her cone up until Sun afternoon. She was cuddling up with me on Sunday morning, and although it was a little awkward cuddling with a beagle in a cone, she was still pretty snugly. Abby doesn't cuddle as much as she used to, so when she does, you definitely have to take advantage of it.
5. Saturday afternoon was kind of crazy (see next item), so some frozen yogurt from
Cuzzin's
was definitely required! They now have pumpkin frozen yogurt and it was sooo good, especially with chocolate candy bar pieces!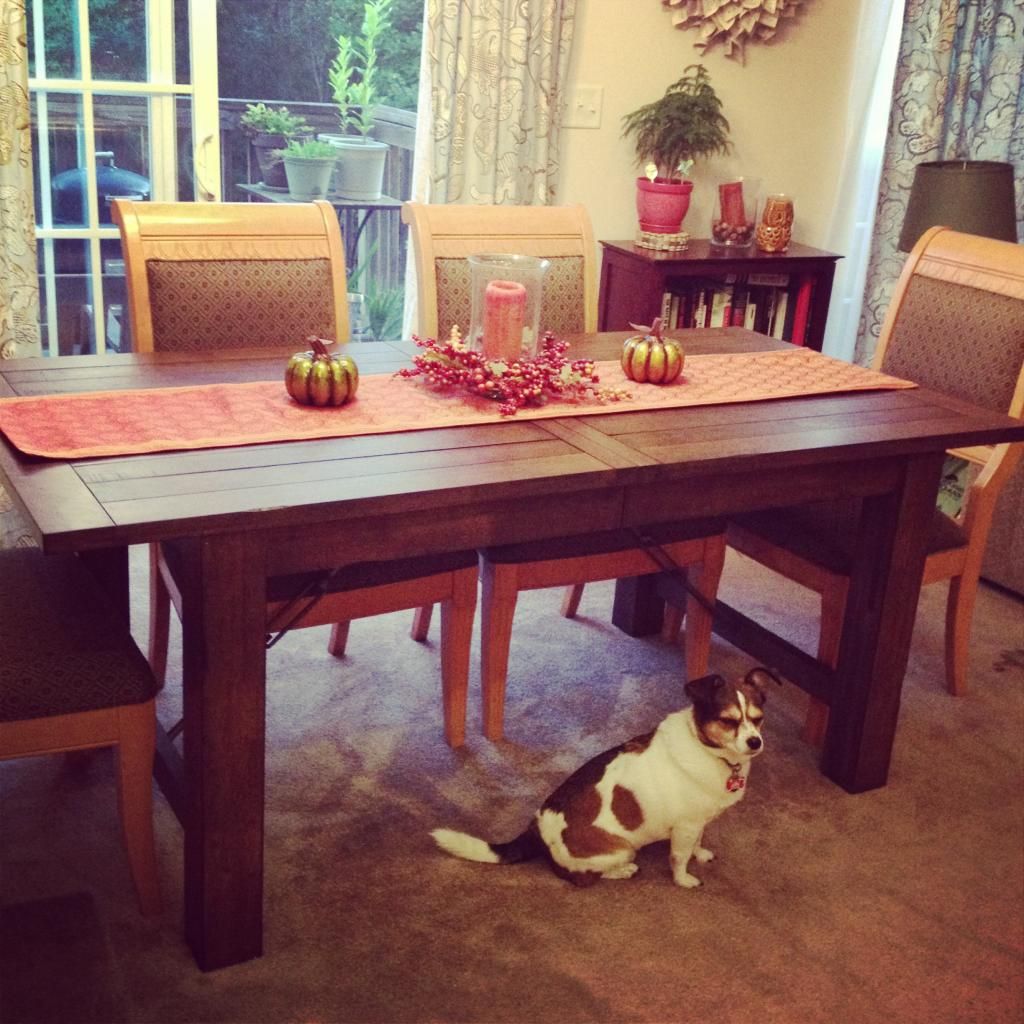 If you follow me on
Instagram
or
Facebook
, you may have already saw that we got a
new table
over the weekend from World Market. As you can see in the pic above, Napoleon approves of our purchase. We actually purchased it Fri night, but then had to go back the next day after we rented a truck to pick it up. It was in a rather large box, and it was like 150 lbs. They girl at World Market was like..."you don't want to put that on top of your car...it's like a beast!"
After driving around looking for trucks (Lowe's and Home Depot no longer rent trucks by the hour, and U-Haul closed at noon). We found a truck at
Menards
for $18.95 for the first 75 mins, and then $5 for each 15 mins after that. Score! It took us roughly 1 hour to drive back to World Market, drop off the table at the house, and then return the truck. Granted we live within 5 miles of all of these places, but it was perfect for us and we will definitely use Menards again in case we ever need to move furniture.
I am very excited about my table, and can't wait to get the
matching chairs
. We ordered 4 matching chairs, and are hoping to get some nice head table chairs (maybe like
this
or
this
) within the next couple of months. I wasn't expecting to get a new table and chairs this weekend, but World Market was having such a great sale (40% off!) that I just had to pull the trigger. Hopefully once I get some more money saved (and after I purchase some tires for my car), I can then get the head chairs.
Not pictured, but still fun this weekend:
1. Picked up coffee with my friend Suzie and took it over to Highbanks for a small walk/hike.
2. Started organizing the guest bedroom/office so it no longer looks like a junk room.
3. Went over to my friend Lisa's for dinner and we had veggie soup (with meat...I was like, there is meat in your veggie soup...I thought it was just supposed to have veggies...ha!) and just chatted.
What were you up to this weekend? Did you do anything to celebrate the first of Fall?
Linking up with Life of Meg for
Mingle Monday
(on a Tuesday :) )

Follow Me: