I have some big news to share today! Over the weekend we got engaged!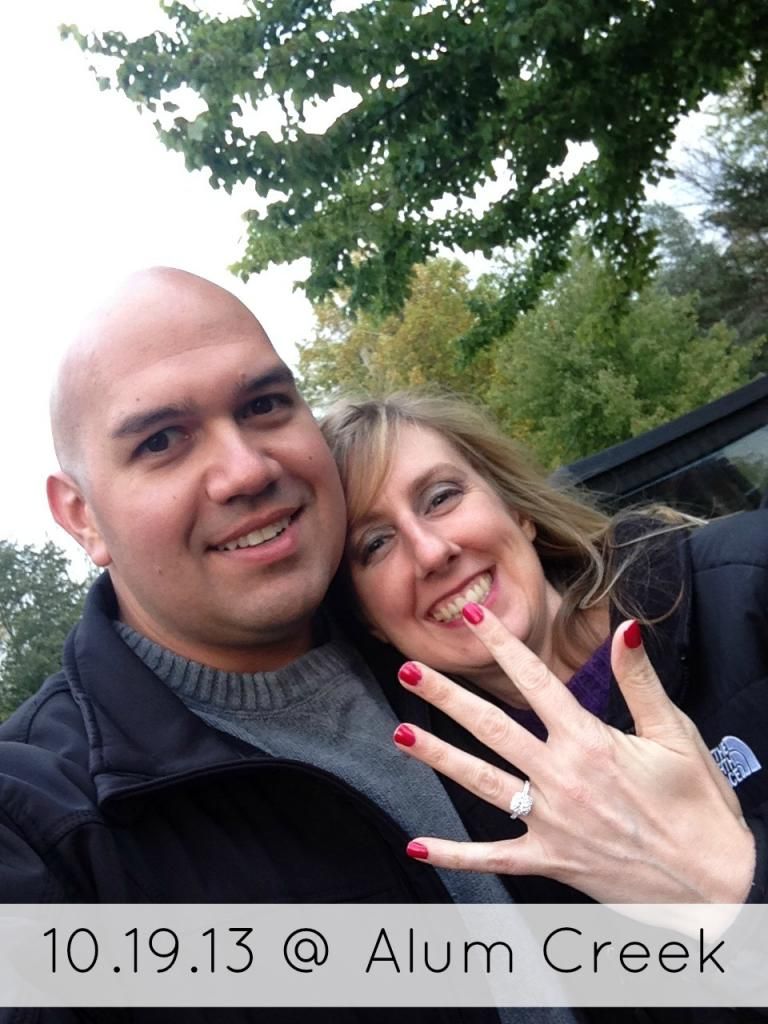 We have finally told all of our close family and friends, and made the big announcement on Facebook, so I can finally share our story here on our blog.
Let's start by saying that the latter part of last week was super crazy for me. Work was super busy, and I had attended the Mary Kay Fall Summit on Friday night and most of the day on Saturday (more on that to come soon...good info was shared!). So I had already warned Rick that come Saturday night, all I wanted to do was get a gigantic burrito bowl from Chipotle and just veg out all night long. I told him, please don't make any plans on Saturday. Of course he had other plans.
The summit lasted from 8 - 5 pm on Saturday, and as with all Mary Kay meetings I was super dressed up. It was rainy and cold and all I wanted to do was go home and take a hot bubble bath and put on my oldest comfiest clothes and then go get my Chipotle. Somehow Rick talked me out of the bubble bath, but I did put on one of my oldest sweaters from high school, and comfy pair of jeans and my Ugg boots. Rick asked me if I was sure I wanted Chipotle and I said my heart was set on it all day long. As we were heading out the door to get dinner, Rick asked if I mind if we go exploring a little before we grabbed dinner.
I honestly didn't think anything of it because we tend to go exploring in the Jeep often, the weather had finally cleared up and the leaves were beautiful. I asked Rick if he was going to take me off-roading in the Jeep, which he did one other time and totally freaked me out...ha! He said no, he just wanted to drive around. After a bit I did ask where we were going, because come on I am a planner and just need to know the plans at all times, but he was keeping quite, and I was too tired to keep pressing on.
We finally pull into the parking lot for the Mountain Bike trail at Alum Creek. Rick rides this trail often and wanted to show me around. We looked at the leaves and walked over to the lake and just talked about the Summit that I attended earlier that day.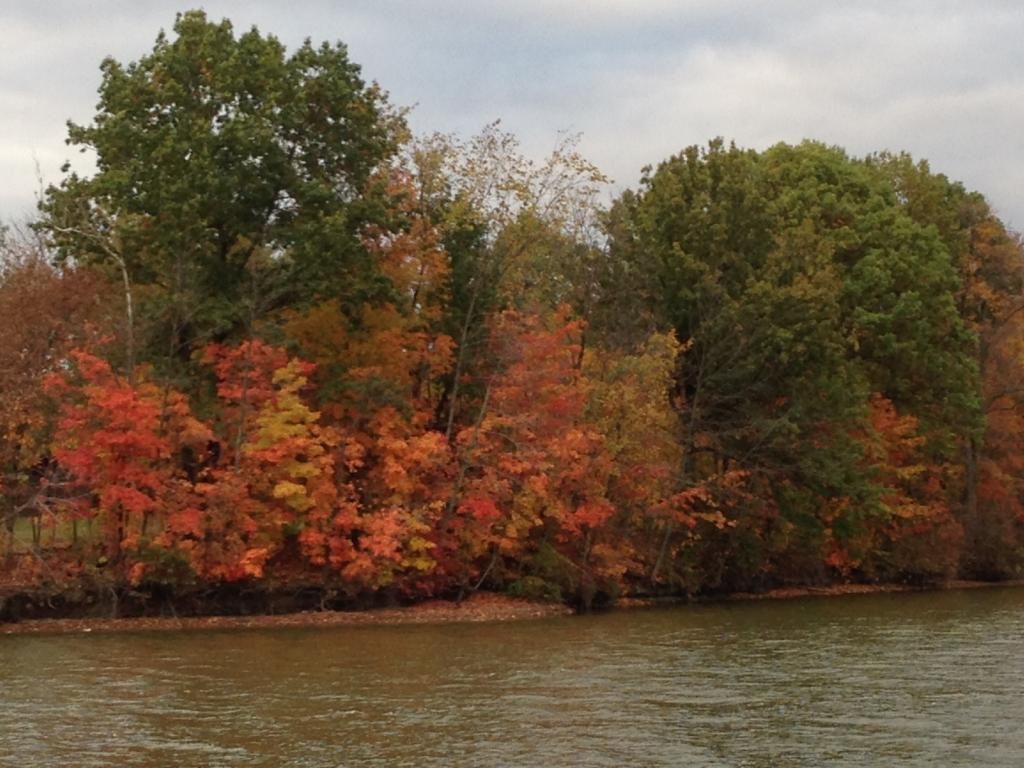 I was starting to get suspicious because he kept taking pictures of different things and me. I am typically the one that takes all the pictures, so it was a little odd that he was taking them, but the view was very pretty and he kept saying the pics would make great screen savers for his computer and his phone. After a bit we started to walk back toward the parking lot and I had started to tell him about one of the things I had learned at the conference.
The speaker was telling us about some crazy laws in Columbus, Ohio and other places in the country. He had said that somewhere (Ohio or Columbus, honestly I can't remember), it was against the law to walk backwards and eat a donut. I was like isn't that crazy and that it must have to do with multitasking because we then discussed how multitasking is bad for your brain (it drops you IQ like 10 pts.).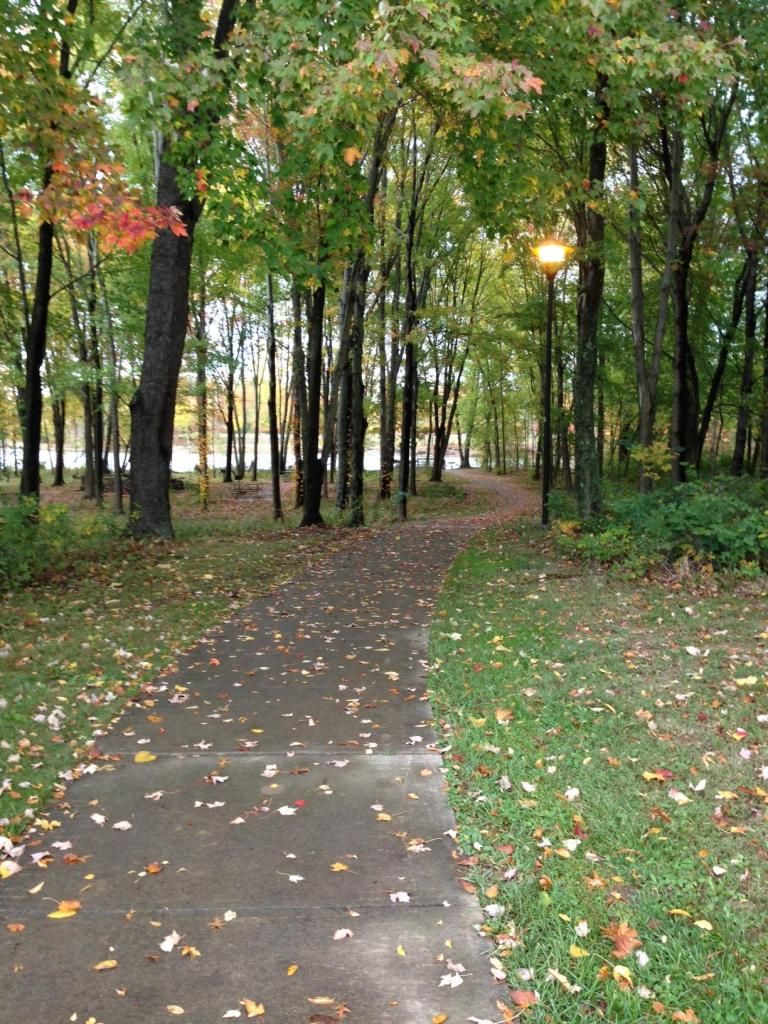 Rick said that was crazy and that he was perfectly good at multitasking. He started walking backwards in front of me, and then pulled the ring box out of his pocket. I immediately stopped, probably with my mouth hanging open. He had to stop walking backwards and walk back to me...ha! We both just stood there, and I started to tear up. I then realized he wasn't saying anything and I was like "Don't you have to ask me a question?" He finally did and then asked me for my hand. I was still so much in shock that I said, "I don't know which hand it goes on"
We finally got in the car and started to head down the road when I realized we didn't get a picture of us at our spot. So Rick drove back and we took a few pictures to share with our family and friends (pic above).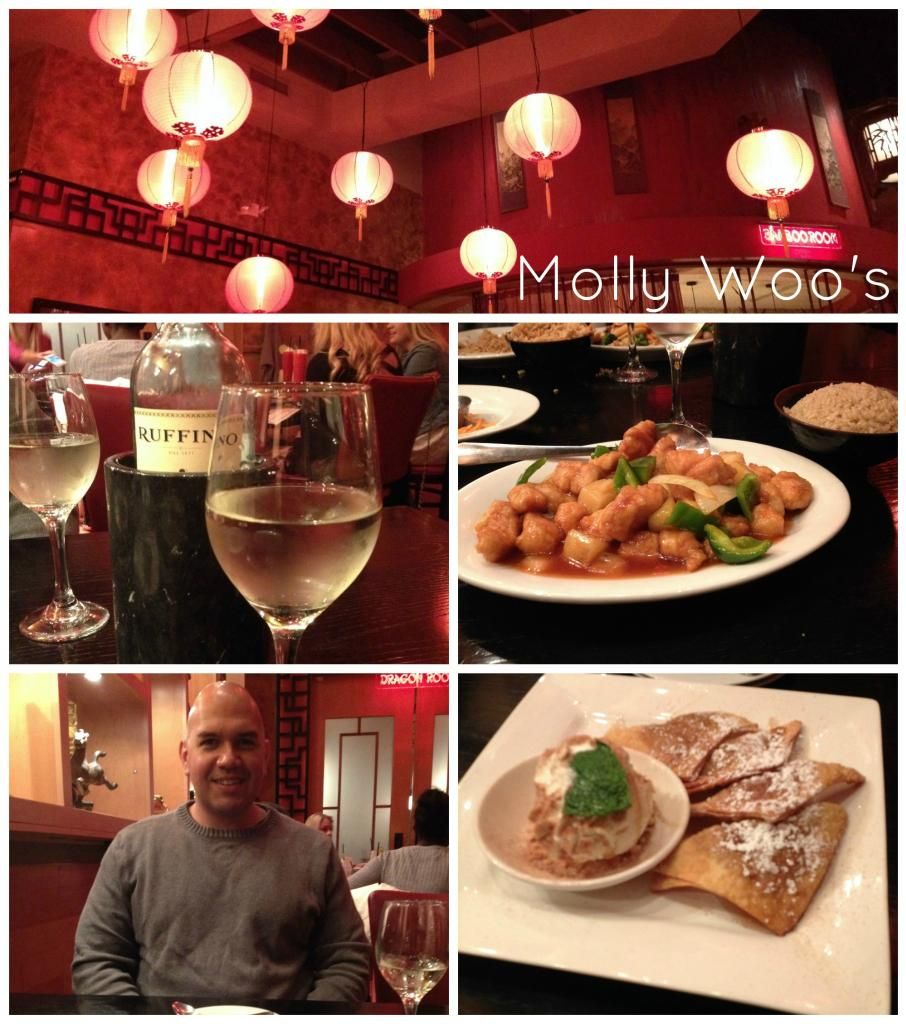 As we were heading out of the park Rick asked if I still wanted Chipotle. I told him that I thought we needed to do something a little more exciting, so we ended up at Molly Woo's. We had some spring rolls, I had the Pineapple Chicken, Rick had the Happy Family, and then we finished off with Pumpkin Wontons (OMG it was like eating pumpkin pie and so delish!).
We then headed home and called a few friends and my parents and my brother. The next day we were visiting Rick's family for his Grandmother's 80th birthday party, so we told his entire family then.
It's been a whirlwind couple of days, and I'm sure it will probably get even crazier as we get into the wedding planning. There is so much to do, and I can't wait to finally start figuring things out. I already have a few fun ideas and I can't wait to share the progress as we go through the planning process. We both want the ceremony outside, so we are thinking we will probably set a date sometime this summer.
I started this little blog a year ago when I moved in with Rick to document our journey, and have virtually met some great people along the way. I can't wait to continue to share our journey as we make our little family official!

Follow Me: