Oh Monday, here we meet again. Oh how I miss my perfect Fall weekend. It was a very laid back weekend, full of the things I love. Organizing, apple/pumpkin picking, and full of delicious recipes.
I have been wanting to go apple picking at
Lynd's Fruit Farm
FOR-EV-ER! And I was so excited to finally get to go this weekend. Since I have never been apple picking, like ever, I had no idea what to expect. We decided to go with a large bag (for $20), and have probably about 25 lbs of apples. I think the ones we got were either Suncrisps or Melrose. Whatever they are, they were perfect.
We also stopped by the pumpkin patch and picked up a few pumpkins for outside. I haven't decided yet if I want to carve them, or do something creative, but we will wait a few weeks until closer to Halloween. It's been too warm out I'm afraid they might go bad too soon if we carve into them now.
I think the puppies approved of our pumpkins. Either that or they were confused as to why Rick and I were outside taking pictures of the door...ha!
For dinner we had the most amazing fall meal. You guys, you seriously need to make this. And it made the house smell amazing!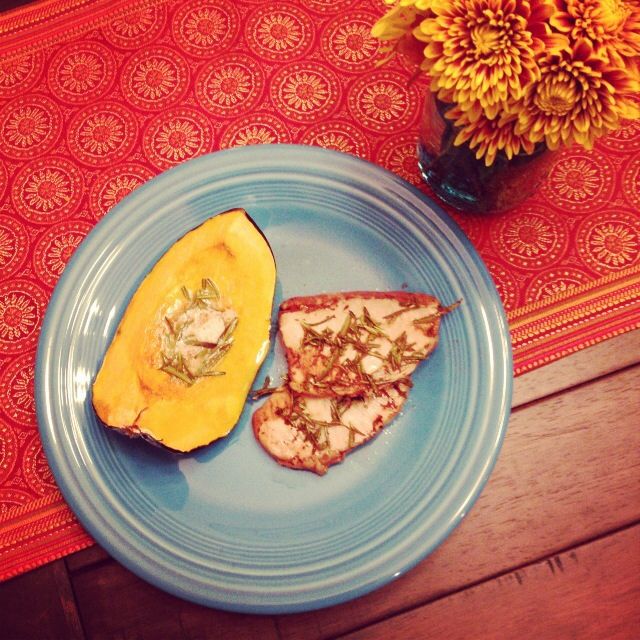 And what do you do when life gives you a million apples? Make an apple crisp. But not any ole apple crisp, how about Butterscotch Apple Crisp!
Butterscotch Apple Crisp
Filling:
5 medium or 4 really large apples (about 2 pounds), peeled and roughly chopped
1 (11-ounce) bag butterscotch chips
1/4 cup light brown sugar
1/4 cup all-purpose flour (I used gluten free all-purpose flour)
1/2 teaspoon ground cinnamon
1/4 teaspoon ground allspice
1 lemon, juiced
3 tablespoons unsalted butter, cubed, plus more for greasing
Topping:
3/4 cup all-purpose flour (I used gluten free all-purpose flour)
1/4 cup light brown sugar
1/2 cup quick oats
Pinch kosher salt
1/2 cup butter
Directions:
Preheat the oven to 350 degrees F. Butter a 2-quart baking dish.
For the filling: Toss the apples, butterscotch chips, brown sugar, flour, cinnamon, allspice, and lemon juice together in a large bowl. Add to the buttered baking dish and dot with butter.
For the topping: In a separate bowl, combine the flour, sugar, oats, and salt. Blend the butter into the mixture until it forms pea size lumps. Stir in the pecans and sprinkle over the filling.
Bake until the apples are tender and butterscotch is bubbling, about 45 minutes. Let cool for 5 minutes before serving. Plate with a scoop of butter pecan ice cream on top.
This stuff is seriously amazing. I asked Rick if I had ever made this for him before, and when he said no, I was like "I am so sorry." Ha!


In other fun news, I finally broke down and purchased the
head chairs
I have been dreaming about the last month or so. World Market was having their 25% off Friends and Family sale this weekend (goes through today I think if you are still looking for a great deal).

I'm seriously in love with them and keep walking by and admiring them, and touching the soft microfiber fabric on the front side. Now I just need to figure out what to do with the china cabinets (stain vs paint vs find something complete different), and the dining room will be complete!
I'll share more fun pictures from the apple/pumpkin patch tomorrow. If you ever get a chance to go apple picking, I would highly recommend you go :)
Linking up today with Sami for
Weekend Shenanigans
and Our Little Nest for
Kitchenspiration
.

Follow Me: