Happy Monday everyone!
Can you believe Thanksgiving is here already?!? I still feel like it should be Summer, although the temps outside have been very chilly, and I feel like we totally missed out on Fall. It's been in the 20's-30's these last couple of days, and it looks like it's going to continue for the rest of the week. I sure hope this isn't a sign it's going to be a very cold and long winter.
Since Thanksgiving is in a few days, and many people are working on their meal plans, I thought it would be fun to show some Thanksgiving Remix Recipes. Last year was the first year that I hosted and cooked our Thanksgiving meal, and it was a lot of work, but a lot of fun. You can find last year's meal plan
here
, and my favorite recipes
here
.
But if you are looking for something a little less traditional, or are hosting for a smaller family this year and don't want to cook a big turkey, here are some fun options that you should try. They are very Fall-like meals, and my family loves them, so they would be great options to share with your family as well.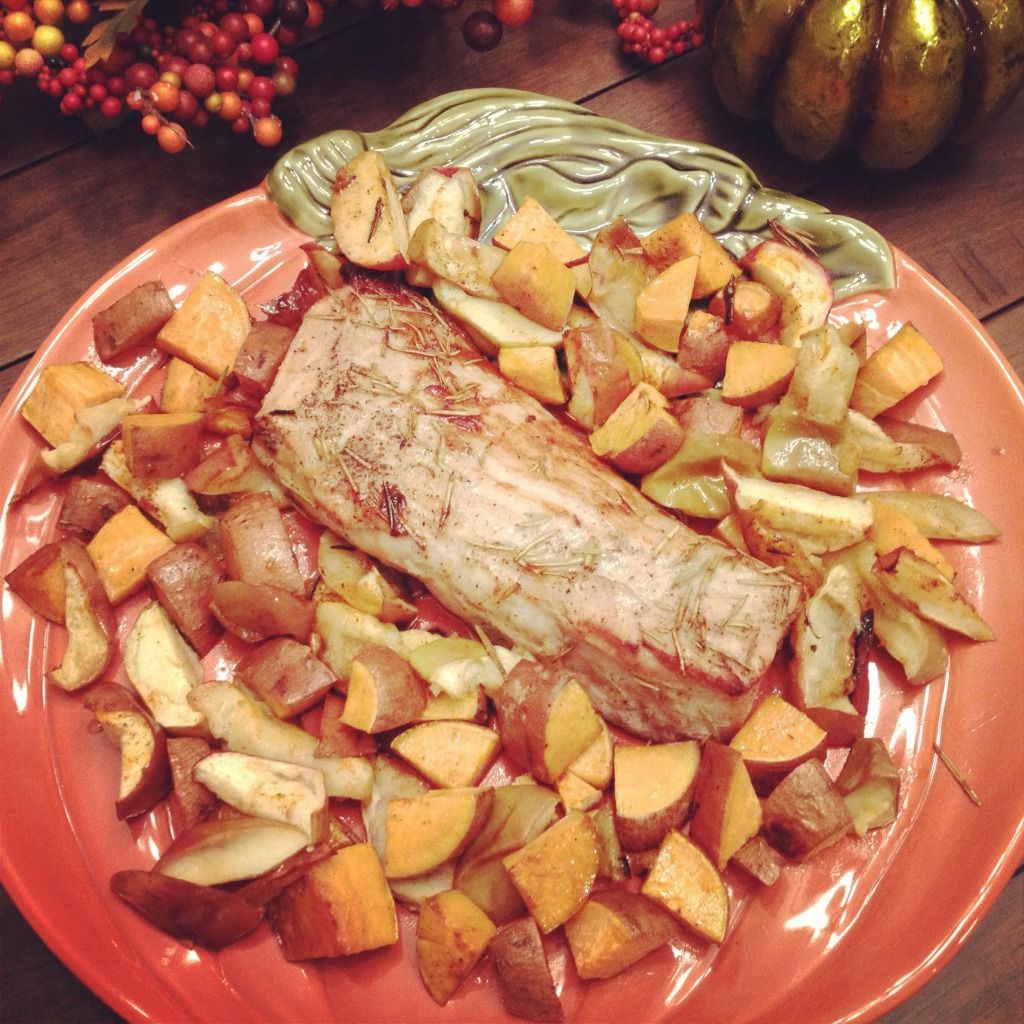 Pork Roast with Roasted Sweet Potatoes and Apples
- If you are looking for something different than the typical turkey, and especially if you are cooking for a smaller crowd, this is a really simple and easy recipe. It takes less than an hour to make, which is perfect for a quick meal, and everything cooks in one pan for easy clean up.
Pumpkin Mac & Cheese
- I keep seeing more and more people adding Mac& Cheese to their Thanksgiving meal. I have never had it for Thanksgiving, but if we end up hosting again this year, I might have to sneak this recipe in. It tastes sinful, but it's actually somewhat healthy by cutting the cheese in half and using pumpkin to make it extra creamy.
Cranberry, Sausage & Apple Stuffing
- If you are looking to take your stuffing to the next level, you have got to try this recipe. I made it last year, and I could have been just as happy eating this only for dinner. I used sweet Italian sausage, and the addition of the apples and cranberries just give it extra flavor. I may never eat regular (i.e. boring) stuffing ever again.
Cranberry-Orange Relish
- I am not a huge fan of the typical cranberry's out of a can. So when I came across this recipe last year, I totally had to try it, and just loved it. It's just nice and fresh, and the salad will keep good in the fridge for up to 2 weeks, so it's great to make an extra batch and enjoy with your left-overs.
Cranberry Pineapple Upside-Down Cake
- I have not tried this recipe before, but my Mom is planning on making it this year for Thanksgiving, and I thought it was to fun not to share. My Grandmother loves to make Pineapple Upside-Down Cake, and she has made this for Thanksgiving before. My Mom came across this recipe and thought it looked festive with the addition of cranberries. If I end up hosting this year, I might try and make it as well.
What are you serving for Thanksgiving? Do you have any remix recipes of your own? If so, please share in the comments below. If we do end up hosting again this year, I would love to have some new recipes to try :)
Linking up with Our Little Nest for
Kitchenspiration
and Meg's
Mingle Monday
.

Follow Me: